Energizer Inverter Review covers almost all major aspects, so please keep reading. In my view, Energizer is a well-known inverter manufacturer. It has numerous power inverters in different sizes and designs. Well, Energizer 12V inverters are very famous. That is why, you are reading about Energizer 12V inverter because it is also a 12V DC to 110V AC inverter.
For reliability and safety, the Energizer 500W power inverter is UL certified under 458 by METLab. So, you should not have any fears of buying a low-quality power inverter.
Energizer 500W power inverter delivers modified sine wave inverter after converting 12V DC to 110V AC. It is true that pure sine wave is highly demanded but modified sine wave is not too bad. It also works with most devices except the sensitive electronics. In case, you need to run some sensitive electronics such as laser printers, radio equipment, please consider buying a pure sine wave unit.
For the battery connections, you can connect it directly to your vehicle batteries. The 12V power inverter comes included with the battery cables. Once the battery connection is successful, you have the electricity to charge your devices and power your heavy appliances. Please note that total output draw should not exceed its rated 500W power.
Highlights of Energizer Modified Sine Wave Inverter
| | |
| --- | --- |
| Product name | Energizer 500W inverter |
| Output wattage | 500W |
| Peak wattage | 1000W |
| Input voltage | 12V DC |
| Output voltage | 110V AC |
| Output waveform | Modified sine wave |
| Color | Black, gray |
| Fan | Ultra silent fan |
| Connectivity options | 2 x 110V AC outlets, 4 x USB ports, alligator clamps and cigarette lighter plug |
| Safety features | Highly protective against low / high voltage, short circuit, overload & temperature protection |
| Availability | Check on Amazon |
The Energizer inverter review also has a highlights section (mentioned above). As per the highlights, the fan runs silently, has all the connectivity options like USB ports, AC 110V sockets, alligator battery clamps and the cigarette lighter plug. It delivers 500-watt output power, which is good for those devices that require less than 500W electricity. One thing to note here is that it is not a pure sine wave inverter, it is a modified sine wave inverter instead. So, some of the sensitive electronic may not run properly. However, a modified sine wave inverter can be used to power a wide range of home and kitchen appliances without a doubt.
Good Connectivity Options Like Alligator Clips, AC Outlets, USB Ports & Cigarette Lighter Plug
According to the product description, a cigarette lighter plug and alligator cables with clamps are included with the inverter purchase. You do not have to buy them separately. Users will be able to run your 110V AC devices using the cigarette lighter plug. You will be able to run several devices such as laptops, smartphones and other electronics. Please note that a cigarette lighter plug is less capable than the alligator clamps so you need electric output in a large amount, more than 150W, try using the alligator clamps.
Energizer 500W power inverter features a thermal fan that operates quietly. You will not hear any annoying sounds coming from the thermal fan. Apart from the cooling fan, the 500W power inverter has four USB ports. Each USB port has 2.4A capability, which will deliver an average performance for charging the connected devices. Apart from these four USB charging ports, the 110V power inverter has two 110V AC outlets. You can use these 110V AC outlets to charge those appliances that need 110V AC input power. In case, the connected appliances draw up to 500W power, the cigarette lighter plug will not work. You have to connect the power inverter with the battery using the alligator clamps that are included with the package.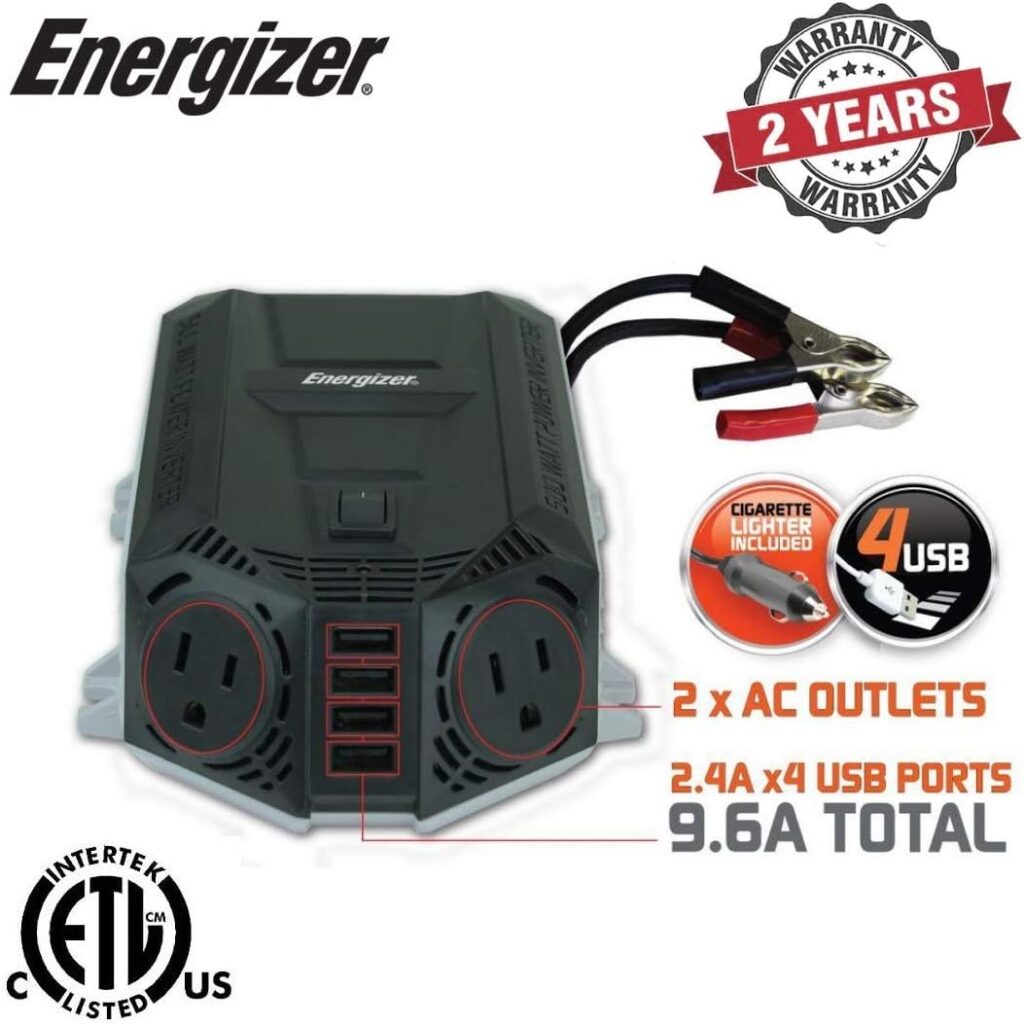 The high-grade Energizer 500W power converter comes included with a 2-year warranty. Actually, Energizer believes in this power inverter so he is very confident to offer a long 2-year warranty. More importantly, you get the power inverter that is well tested and METLab approved.
Pros
Delivers the rated 500W output power
Great for camping and outdoor uses
Very simple to use
It feels like a quality product.
As per many users, it is far better than Cobra 500W inverter
Protected with a 2-year warranty
For numerous users, it worked flawlessly.
Cons
The fuses may blow if it is given very high load.
As per some users, it may not handle the rated 500W load.
This Energizer inverter review features a Pros & Cons section written above. As per the pros and cons, the 500W unit looks very good but not excellent. personally, I will give it 4.5 out of 5 stars. Of course, the Energizer power converter is very easy to use and it has various protection and connection features. However, as per some users' comments, the power inverter may not give the rated 500W output under some circumstances, so a question related to the rated output capacity arises.
Conclusion – Energizer 500W Power Inverter
To conclude, I will say that this modified sine wave inverter has created many happy users, so it is a buyable product. The only problem I see is related to its output capacity. It may not handle 500W load but it is good to go with 400W load or less than this.
The solid Energizer inverter has good connectivity options, a long-period warranty and comes included with all the accessories. I hope Energizer Inverter Review was helpful to you.