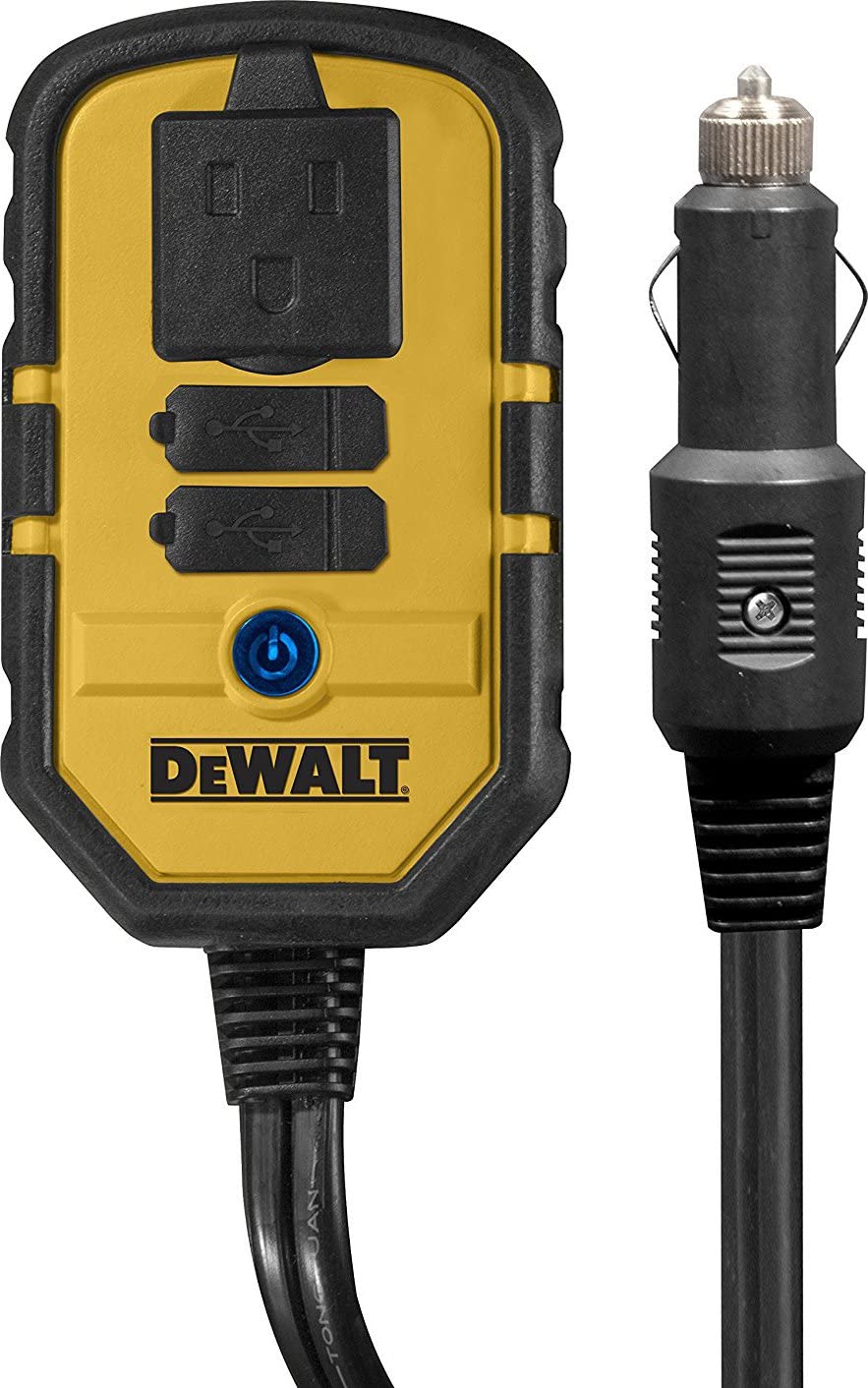 In case, you need to buy a small and portable power inverter from a reputed brand, please check DEWALT DXAEPI140 power inverter. It delivers 140W output and it is a great small size 12V power inverter. With this power inverter, you will be able to converter your vehicle battery power to 110V AC power.
The 140-watt Dewalt power inverter features an AC 110V socket and two USB ports. The USB port has 3.1A capability. With the high-capacity USB ports, you will be able charge your smartphones and other USB devices at a good speed.
Dewalt 12V to 110V power inverter does not have a fan so it runs silently. The 140-watt power inverter is designed very well that does not require too much idle power. This way, you will be able to save your battery for a long time use. The ultra-compact power inverter has an automatic shut-off capability, which is a good safety feature in this power inverter.
DEWALT DXAEPI140 12V power inverter comes with a mounting kit that facilitates easy installation on your desired location. With the help of the mounting kit, the power inverter is fixed at a place that will not get affected from the vehicle movement.
If you usually shop on Amazon, you will be able to read reviews on this Dewalt inverter on Amazon. As I am able to see on Amazon, the power inverter has thousands of happy customers that indicate quality of this power inverter.
Pros
A good small inverter to charge small devices.
Ultra-compact
Perfect for travelers, vehicles and portable power needs
A well-constructed unit
Fast USB charging performance
It is also a good DeWalt battery charger
Cons
Some customers complained that the AC outlet has fitting issues.