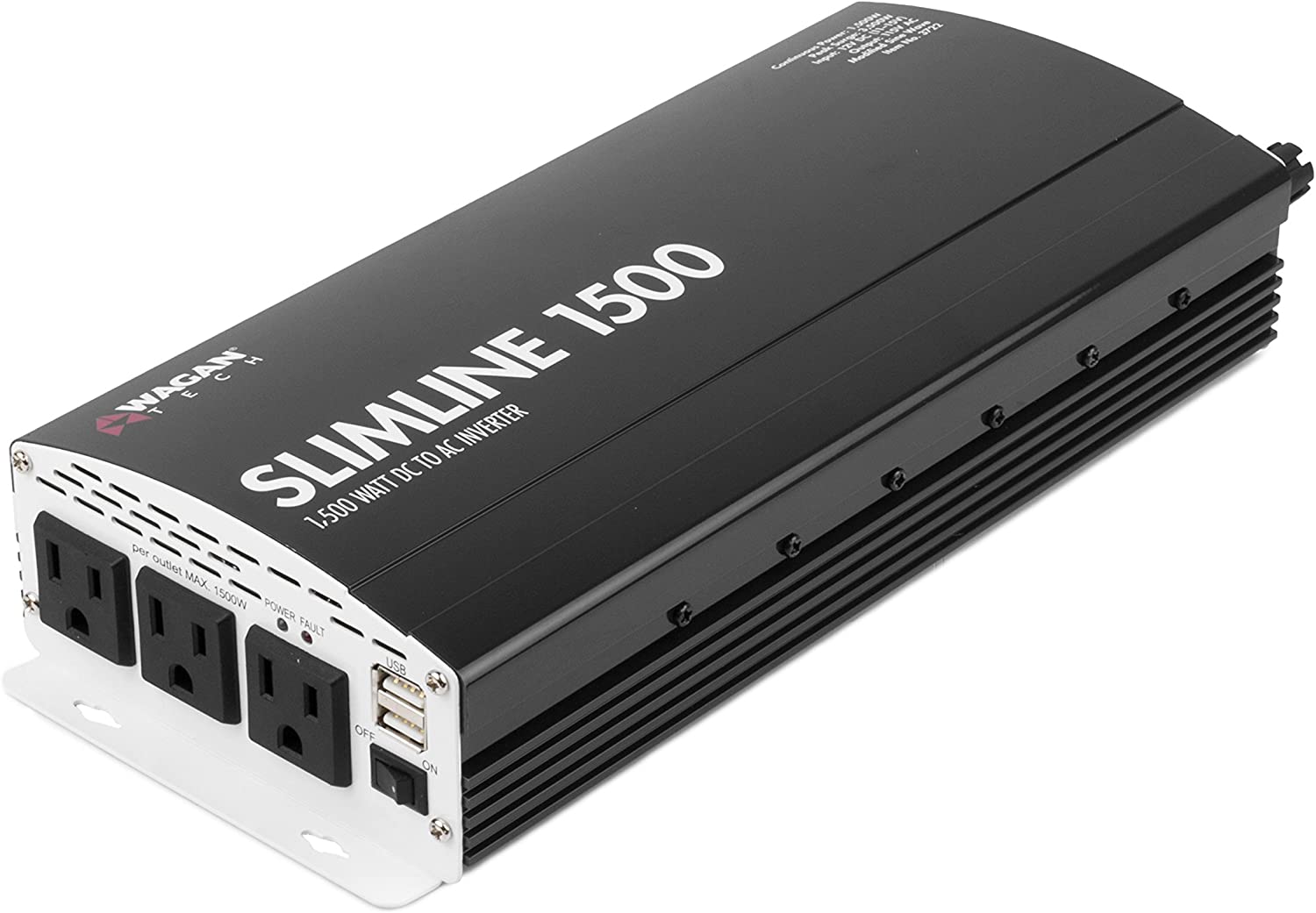 From Wagan brand power inverter, you can expect average-level of performance. These inverters are affordable, lightweight and perfect for vehicles, emergencies, home appliance and running all the appliances that require less than 1500-watt power.
According to the manufacturer, the 1500W power inverter is the Wagan Tech SlimLine power inverter that can be used for many applications. You can use it in your vehicles such as RVs, truck, boats etc. The 1500W power inverter is also perfect for tailgating, camping, kid's soccer games and mobile power requirements. To operate this Wagan high power inverter, you need a 12V battery because it is a DC to AC power inverter. After the successful inverter and battery connection, you will be able to get its 1500W continuous power that can be used to run your electronics.
The small-size Wagan 1500W power inverter offers huge performance. According to the manufacturer statement, it delivers true rated power and it comes with three AC receptacles. The AC receptacles are USA-type receptacles that are found in most homes, offices in the USA. Apart from the 3 x 110V AC outlets, the 12V DC to 110V AC inverter features two USB charging ports that can be used to charge those USB-powered devices. It has smart cooling fans to protect the inverter from over-heating. In fact, for many customers, the SlimLine 1500W power inverter is very reliable and efficient and it delivers the total rated power to run your appliances.
According to the manufacturer's claim, the Wagan 1500W power inverter has the peak power up to 300% of the continuous power, which is good for running high-surge appliances like power tools, air conditioners, microwaves, refrigerators and many others. The 12V DC to 110V AC power inverters are top quality inverters with good components and reliable MOSFET transistors, which are considers the important parts of an inverter.
From the Wagan 1500W power inverter, you can expect the actual rated power that is claimed by the manufacturer. Therefore, you can trust these Wagan power inverters for the rated output power because you get the output power that is printed on the inverter.
On the front side, you can find important settings such as 3 x USA-type 110V AC outlets (3-prong), 2 x USB ports (5V, 3.0A shared), red LED light that indicates fault, green power LED light, cooling vents, front mounting flange and power switch.
As you already know, this Wagan 1500W power inverter converts the DC battery power to AC 110V AC power. You can use the AC power to run several household appliances such as blenders, microwaves, box fans, televisions, radio and a wide range of other electronic devices. You can use this power inverter in your vehicles, for camping or tailgating and emergencies.
On the rear side, you can see negative and positive battery terminals, neutral to ground bonding terminal, mounting flange and the two thermal cooling fans.
The SlimLine 1500W power inverter is slim and compact that is why it comes under the SlimLine series of the Wagan power inverters. In fact, the manufacturer has tried to make it as portable and as performative as it is possible. Therefore, you can use the slim-size power inverter for the varied power requirements.
Features & Specifications
Wagan brand
EL3722 model number
SlimLine series
12V DC to 110V AC power converter
1500-watt continuous and 3500-watt surge power
Lightweight and portable
Two USB ports and three AC 110-volt outlets
Twin cooling fans
Automatic shutdown feature
Built-in mounting points
24-month warranty
Low-battery alarm
Pros
Excellent customer service
A well-made inverter
Full rated power as advertised
Less noisy fan
Appropriate price
Small size for its rated capacity
Comes with all the cables, easy to install
Cons
It cannot run big saw or other similar power tools