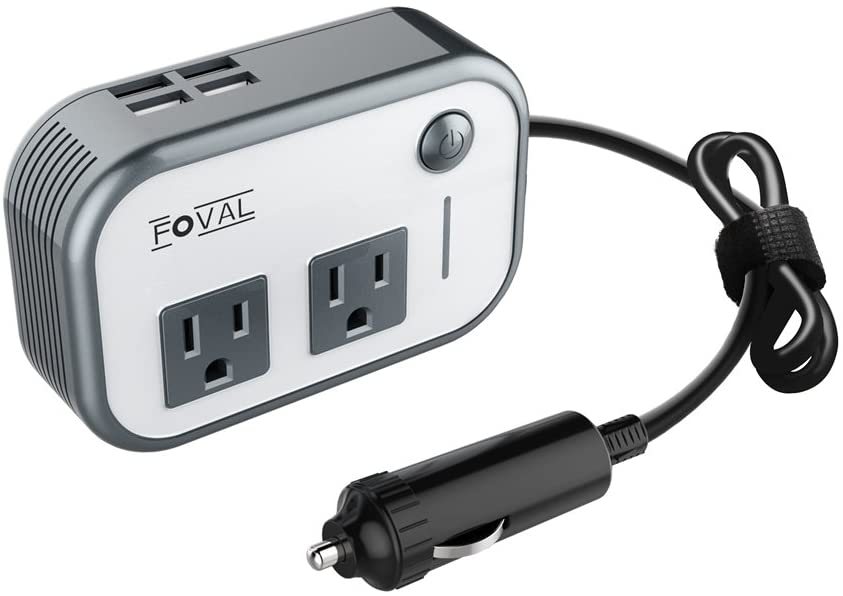 Foval 200W power inverter is a space-saving unit. You will not have any problems for the storage because the 200W power inverter is made in a thin size that measures 3.2 x 2.5 x 1.5 inches.
The lightweight and portable Foval 12v power inverter is durable also because it is made using high-class aluminum material. The lightweight unit weighs just 8 oz.
The portable and lightweight 110V power inverter has the best protection features because multiple protection mechanisms have been deployed in this power inverter. It has built-in fuse to protect voltage related issues. The Foval inverter has a long-lasting metal case that is also very protective. It will save the inverter from external bumps, strokes, drops and other similar effects. Additionally, the power inverter has a cooling fan that runs conditionally and silently. The cooling fan is a protective component in this power inverter because it gets rid of over-heating.
The Foval 12V power inverter is very popular because thousands of units are sold on Amazon only. It is very popular because it is reliable, affordable, portable and a lightweight power converter. You can buy this car power inverter because it carries best features that will help you run your appliances while camping and traveling. The Foval 200W inverter features a 10-inch cigarette lighter plug that provides the utmost convenience. You will be able to run your devices seating in the back seat. Such ultra-portable inverters are perfect for road trips, vacations, outdoors and the emergency power requirements.
Highlights
Smart cooling fan
Noiseless operation
200W total output power
12V/40A input
Grey color
USB charging port
AC 110V outlets
Fully protected from short circuits and over-voltage
LED indicator
3.2 x 2.5 x 1.5 inches size
573G weight
Pros
USB output delivered without inverter operation
A well-made inverter
Portable and lightweight
Cons
It gets warmer a little but it is acceptable by many.
Slow charging performance