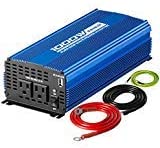 Kinverch is a well-known inverter manufacturer. It has a wide range of DC 12V to AC 110V power inverters. If you know about Kinverch and want to purchase a Kinverch power inverter, you can check Kinverch 1000W pure sine wave inverter. The DC to AC inverter has best features and delivers good performance. Well, for a wide range of varieties, Kinverch inverters are available in different sizes to choose from. You can choose a suitable size as per your power demand. Currently, the Kinverch inverters are available in 1000W, 1500W, 2000W and 3000W wattage.
The Kinverch 12V power inverter has 2000W surge power. Such powerful car converter is perfect for many purposes such as road trips, vacations, camping, large vehicles, remote location power requirements and mobile power requirement.
The 110V Kinverch power inverter is capable to deliver stable current because it is a pure sine wave inverter. You should know that pure sine wave has no deformation so it is the cleanest power to run several sensitive electronics. You will be able to receive constant and clean power that is welcomed by most devices, home appliances, medical equipment, variable speed power tools and many others. Of course, the durable and efficient Kinverch power inverter has wide applications for running medical devices, industrial appliances, household appliances, precision tools and other sensitive electronics.
The mutli-function and multi-protection 110V power inverter features two 115V AC outlets and one USB 2A port. Since it has a USB port so you can use it for charging phones, cameras, DVD players, laptops, tablets and use the AC outlets to run 110V/115V/120V appliances such as fridges, TVs, microwave ovens and many others.
Like other popular and protective power inverters, the Kinverch 1000W power inverter is also highly protective. In fact, Kinverch claims that it has five protection systems. Therefore, the car power adapter is highly protective against over-voltage, low-voltage, over-heat, over-load, short circuits and other electrical issues. In addition, you do not have to buy its external components separately because all the accessories come included with the Kinverch 1000-watt power inverter. You get Kinverch 12V power inverter, two battery cables a user manual and friendly customer service.
Kinverch 1000 watts power converter has a built-in cooling fan, internal fuses, an LED light alarm circuit shutdown protection capabilities. In fact, it covers multiple protection to safeguard the connected devices, batteries and the inverter system. Additionally, the Kinverch inverter is not only for small appliances, but also for large appliances, home appliances, kitchen appliances, DIY tools and many others. Also, please know that Kinverch has more than 11 years of inverter manufacturing experience, friendly customer service team and it is devoted to manufacture only high quality power inverters.
Features & Specifications
12.8V to 13.2V normal input voltage
110V to 125V output voltage
1000W rated power, 2000W peak power
16V input over voltage shutdown
10.5V input low voltage alarm
40A x 3 internal fuses
Pure sine waveform
2A/5V USB port
2 AC 110V outlets
Smart cooling fan
Durable aluminum case
Pros
Works perfectly
No overheating issues
No annoying sounds
Good price for the performance
Cons
A user says that it has signal imperfection.
Does not come with alligator clamps
Fails to handle the rated load
The fan runs unnecessarily even at low load and low temperature