Before you read 48V inverter reviews, let me show you some figures of inverters available in different volts. Well, to get these figures, I took help of Google search engine. I searched in Google with exact match keywords in quotes. At this point, you may be curious about the search term I put in the Google search box.
OK, the keywords and returning results from Google are below:
"12V Inverter" — 407,000
"24V Inverter" — 541,000
"36V Inverter" — 36,100 and
"48V Inverter" — 439,000
Actually, I used these search words to know how popular they are according to Google. And, the result is in front of you. On the popularity scale, they will be ordered as 24V, 48V, 12V then 36V inverters. Previously, my belief was that 12V inverters are the most popular inverters. If these figures are relevant to you, take it otherwise leave it. It was my personal thought. Next, I will focus on some of the best 48V inverter reviews.
KRXNY 1000W Pure Sine Wave Power Inverter 48V DC to 110V 120V AC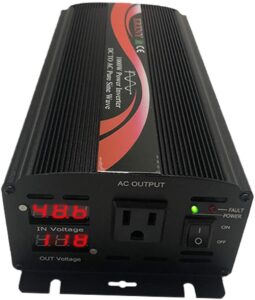 The main specialty of the KRXNY 1000W inverter is it converts 48-volt DC (battery) power into 110V or 120V AC power. The next highlight is it is a pure sine wave inverter. I think no need to explain Pure Sine Wave. It is a clean and steady electricity just like the grid electricity, which is fine with all devices including sensitive electronics, bulbs, microwaves, radio devices and so on.
You can also use this 1000-watt inverter for storing electricity in home for the emergency uses. The maker says that it aptly control the temperature built up in the system. This way, the KRXNY inverter becomes very safe to not only itself, but also the other attached equipment.
Additionally, I would like to highlight its inductance because it is a real copper inductance. An inductance refines unstable electricity into stable electricity. At the same time, it provides the greatest level of safety to your devices.
PCB (Printed Circuit Board): the KRXNY 48V inverter features a heavy PCB, which does not get affected from the rough current. This way, at the time of increased load, the inverter keeps doing its job with no issues. Also, it carries a high capacity transfer that helps transfer direct current into alternating current with the highest level of stability. Read more…
Specs
48-volt DC incoming voltage
42-volt to 58-volt DC incoming range
0.4 Amp idle electricity consumption
110-volt ~ 120-volt AC outgoing
3% effectiveness
60-Hertz frequency
US style outlets
41-volt to 43-volt low-voltage beep
39-volt to 41-volt low-voltage OFF
60-volt over-voltage OFF
Thermal fan starts when it detects over 45° C temperature.
The prime specs of KRXNY 48V Inverter look good. However, these specs resemble specs of most power inverters on the market. Actually, I do not want to exaggerate about this KRXNY 1000 watts inverter. The 3% efficiency, 60Hz frequency over/low voltage alarms are with even normal inverters. I wrote the above specs for your information. In case you become an owner of this inverter, these specs will work like precautions.
Plus Points
This is a 48-volt inverter, though it may work with 48-volt to 55-volt battery as well.
Low electricity uses in the idle mode.
Quite operation
True sine wave electric current is the best for power sensitive devices.
Strong PCB (Printed Circuit Board) for stable performance
Minus Points
A user criticized this 48V inverter because it failed to run a 700W microwave.
Some customers doubt its pure sine wave capability because LED bulbs light unsteadily.
Both plus and minus points indicate that this KRXNY 48V inverter is an average performance unit. On Amazon, the 120V inverter has received both positive and negative comments. Therefore, I will not say that it delivers the best performance rather it delivers an average performance. If you are an imminent buyer, please research more on this before you shop it.
Xijia 1500W Pure Sine Wave Solar Power Inverter DC 48V to AC 120V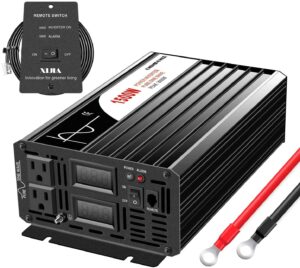 In the 48V inverter reviews, the first inverter was from KRXNY brand. Now please check Xijia 1500W pure sine wave inverter. The DC 48V to AC 120V power inverter is perfect for houses, vehicles and many other applications.
The Xijia inverter looks solid from outside, it can be a durable inverter that will last for years to come. You receive 1500W pure sine wave output that is perfect to power several appliances simultaneously. People are using it to run large-size home appliances such as ACs, fridges, televisions, masticating juicers, coffee machines, toasters and many others. The 1500W & 48V power inverter is capable to power these appliances because it has 3000W peak power.
One question arises here. How is it surviving in the toughest conditions? Well, the answers to this question are 2mm PCB board for circulating strong current on the circuitry board, high frequency & high-class transformer, many fuses for over-current and short circuit and a clever inverter fan.
Some prominent properties of Xijia 48V inverter are: distant control, easy start, countless safety features, plastic infused terminals, two LCDs, thicker circuit board.
Of course, this Xijia brand inverter poses some unique characterizes that you not find in a normal inverter. What I want to say is that most inverters on the market do not have these impressive features. Apart from so many good features, it has a simple design, which is ideal for multiple purposes. You can use it in your RV without any doubts. I am sure that the level of comfort you enjoy in your home, you would also enjoy in your RV as well. Read more…
Plus Points
On Amazon, many users confirmed that it delivers good pure sine wave current.
It operates quietly.
You can operate it remotely with the help of a wired remote.
Many users say that it delivers overall good performance.
The inverter remains cool even on high load.
Users thought that it is a usual Chines inverter but after using it, they realized its good performance.
People are able to run their air conditioners from this Xijia 1500 watts inverter.
For the installation, you do not have to take help of an expert because it is easy to operate, just follow the owner manual.
The display that show input and output voltage is very useful to many users, as they have written in their reviews at Amazon.
Minus Points
The Xijia inverter is made in China so people underestimate its capability.
The quality of battery cables and terminals should be improved.
Considering plus and minus points of this Xijia 48V inverter, I will say that you will receive good power from it. The full rated pure sine wave current is very good to run any electronic device. For the convenience, it carries an LED display that shows input and output power. Actually, the fact is people do not trust Chines products but it is being a Chinese product, it is made with quality and passed numerous tests. Consequently, the Xijia 48V 110V inverter is powerful, safe and friendly to users.
AIMS Power PWRI150048S 48V Pure Sine Inverter, 1500W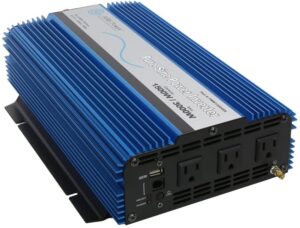 Subsequent inverter is AIMS Power PWRI150048S in the best 48V inverter reviews. The 1500 watts power inverter has 200% surge power of its continuous output. And, you can connect it with a 48-volt battery for a reliable performance.
AIMS has numerous power inverters, one of them is 48-volt inverter that has many protection capabilities. It saves the linked devices from short circuits and other related issues. Also, when the inverter finds that the connected battery has low voltage, it will warn. The inverter has two thermal fans that run conditionally. Read more…
Prime features
Input: 48V DC
1500-watt pure sine wave output
3000-watt peak power
USB port
Three AC 110V receptacles
On/off switch
Overload, over temperature indicator
Programmable system off capability at the time of high input voltage
Low battery voltage shutdown
Dual cooling fans start when system temperature is more than 104° F.
Short circuit protection on the AC output side
Most of the features are protection features, which mean it is a highly protective inverter. Most inverters feature one cooling fan, it features dual cooling fan. To power multiple appliances, it has three AC outlets to power your appliances.
Specifications
It supports input voltage from 38V to 62V, which means if your battery delivers 12V less or more than the rated 48V, the inverter can work with that.
120V output power, which is required by most home appliances. With the 120-volt AC power, you will not face any issues for the connection with your desired appliances and devices.
Pure sine waveform means the output power is clean and refined just like your regular household power. In fact, pure sine wave is better than other type of electricity.
90% efficiency
5V DC USB output, 1A
On the battery side, over-voltage is considered 62V + 1V DC
Under voltage is considered 38V DC – 1VDC
0.5A no-load current means it requires very less electricity on the idle mode.
32° F to 104° F is acceptable temperature.
Dimensions: 15.87-inch length, 8.37-inch width and 3.87-inch height.
Weight 10 lbs.
Product specifications are helpful to understand a product in details because you know the exact figure of most of the elements that can be translated into numbers. In case of this AIMS 48V inverter, many specifications look impressive to me except for the 1A USB capability. I think the inverter should have an advanced USB port for a fast charging result.
Plus Points
Quiet performance: the fan starts when needed usually on high temperature or high inverter load.
People are running up to 9 BTU AC, air compressors without issues.
Good for power backup, running refrigerators and other appliances
Competitive price
Highly safe to use
Minus Point
The power button is a little small but works very well for the purpose.
Some of the plus and minus points you can check above about this AIMS 1500 watts inverter. One thing is sure with this unit is that you can use its full rated power. I read many users review; they say that they were utilizing the 1500 watts rated power. Also, who does not want an inverter with silent operation? This runs very quietly, which is also a plus point in this AIMS inverter.
Hybrid Inverter 48V 3000W Inverter Built-in 80amp MPPT Controller, 110V/120V AC 3KW Pure Sine Wave Inverter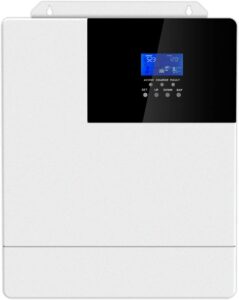 The Hybrid 48V inverter is the best part of 48V inverter reviews. One thing is sure that the Hybrid inverter gives you too many flexibilities. Well, I am saying it is flexible because it is compatible with solar, generator and mains (household power).
It is both an inverter and a battery charger. The unit offers 3000 watts output. You can use the 3000 watts output via the 110V/220 AC outlets running your appliances. In addition, you receive pure sine wave current, which is high quality and clean power for the sensitive electronics. I will say this is a comprehensive 48V inverter to solve your most of the clean electricity requirements.
The Hybrid inverter is based upon MPPT (Maximum Power Point Tracking) expertise. This advanced charging capability delivers a 99.9% efficiency. Apart from the high efficiency charging capability, the power inverter uses SPWM mechanism that helps convert the DC battery power into the AC 110V pure sine wave output.
Hybrid 120V inverter and charger works with DC voltage ranging from 40-volt to 60-volt. It supports lithium and lead-acid batteries. To charge a battery, the inverter has four charging modes such as Utility Priority, Only Solar Charge, Solar Priority and Utility & Solar Hybrid Charging. On the other hand, for the output, it has three modes such as PV Priority, Utility Priority and Inverter Priority. With these output modes, you will be able to run your appliances as per your different power requirements.
Additionally, the Hybrid 48V inverter and battery charger has LCD screen to display all the relevant status. It also has a cooling fan, which gets rid of heat build-up in the system. Of course, the power inverter is well protected with various fuses and an intelligent cooling fan. Read more…
Plus Points
Consumers have appreciated the four modes such as solar, mains, generator and hybrid.
The inverter and battery charger are compatible with many types of batteries.
If you buy it from Amazon, you get good support from the seller.
Pure sine wave output
You may not have to use too many solar components with this inverter.
For many, it worked as expected.
Minus Points
Some users had problems with the provided Wi-Fi dongle.
The user manual is difficult to understand, it needs more explanations.
In short, the Hybrid solar 48V inverter is not an ordinary item. It has too many useful features that simplify operation, protection and compatibility. You will not complain the current quality it delivers because it is a pure sine wave inverter. Also, using this solar inverter means using few solar components because it replaces the need of too many solar components. On, Amazon, you can easily find satisfied users of this item.
Victron Energy Quattro 3000VA 48-Volt Pure Sine Wave Inverter 35 amp Battery Charger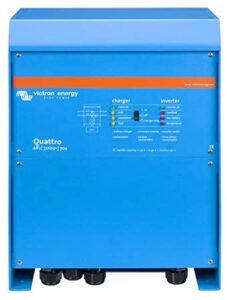 Another 48V inverter is the Victron Energy Quattro 3000VA. This is also the best and last part of the 48-volt inverter reviews. This heavy-duty inverter brings pure sine wave output. Currently, this Quattro inverter is available in many sizes such as 12V – 5000VA, 24V – 5000VA, 48V – 3000VA and 48V – 5000VA. You can choose a size that will meet your needs.
Connection with two AC sources: the inverter is designed in a way that accepts two AC sources. Which means more flexibility, more power and more uses. This Victron Energy 48V unit is combined with an inverter and a battery charger. It delivers 35A output.
Power Assist: it has a special feature called Power Assist. This feature is very helpful to check overload coming from AC sources such as generator or marine connection.
UPS: if the household electricity supply is stopped suddenly, the Victron Energy inverter starts supplying energy from the connected batteries.  The changeover is very quick to keep connected computers and other similar electronics.
The 3000VA inverter supplies sufficient power to run several appliances in homes, outside the homes. What is VA? VA = Volt-Amps Also, it supports three phase or split phase operations. If you are going to install it for the first time, please install it correctly. If it is difficult to understand, please take help of a qualified electrician. Read more…
Plus Points
Combined with inverter and charger
Accepts two AC inputs
A true sine wave inverter
Three phase or split phase operation
Power Assist special feature to prevent overload
Minus Points
This model has not too many ratings on Amazon.
The price seems a little high.
Pros and cons are above. Please refer to the each point of these pros and cons. To me, it looks a solid inverter and battery charger. In fact, it is a feature-rich product. The 48V inverter works with two AC supplies. It delivers pure sine wave output, allows three-phase operation.
High Demand of Solar Panels and Inverters in Not Only Urban Areas, But Also in Rural Areas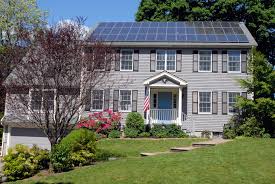 Power inverters are in high demand everywhere. In cities, inverters are used because sometimes the household power supply stopped. Or, the inverters are used to save on electricity bills.
In rural areas, the demand of power inverter is increasing day by day. The reasons are: in many rural areas, the utility line is not available. In some rural areas, the development works are going on. And in some areas, there is a big fluctuation in the power supply.
Therefore, to fulfill their needs, a combination of inverter, battery and solar panel is very important. The good news is that for the solar panel setup there is no issues of sunlight. It is available in sufficient amount because most of these areas are vacant. In some rural areas, cultivation is the main work so these areas are open from all sides. Sun shines everywhere. So, it is easy to install a solar system in villages, semi-urban areas.
Amazingly, it is easy to buy inverter/solar panel/batteries in these areas. You can easily buy them from the nearby shop. In worst condition, you may have to travel 10 kilometers from your village to the nearby inverter shop. Here, you can buy any inverter in any sizes such as 12V, 24V, 36V or 48V inverters, batteries and solar panels.
Solar Panels, Inverters and Batteries are Affordable Source of Power Generation in Shops, Small Industries, Poultry Farms, Goat Farms and More
The prime purpose of writing best 48V inverter reviews is to guide you in buying the best inverters in the best prices. However, an inverter system is a distant power bank; it is useful in many areas. With the invention of solar system, electricity is becoming affordable, accessible in remote areas, small-scale enterprise etc.
In case, you want to generate electricity with the help of a power inverter, you need a large size battery, inverter and solar panel. A 48V inverter and battery system is good to run various shops, small poultry farms and small businesses. In case, you already have a household power supply line, you can still use inverter/battery/solar system to save money paid on the electricity bills.
One of my friends in India is an owner of a goat farm. In his goat farms, approx. 500 male and female goats including the baby goats are there. He says that this is a very profitable business. I observe his lifestyle too; he is getting richer and richer day by day.
The amazing thing is that he does not have to pay for the electricity bills because he is generating electricity from the solar system. Actually, his goat farm is far distant from his house where the electricity line is not available. For him, the sun is very graceful. I will say that the adoption of solar system, goat farming and other agricultural industry are very appropriate. Well, government subsidies are also available for the installation of a solar system. And, for the agricultural business, Govt. is always ready to provide loan and other assistance.
Conclusion – Best 48V Inverter Reviews
In the best 48V inverter reviews, you learned about 5 best inverters that run on a 48-volt battery bank. These inverters are from different brands such as KRXNY, Xijia, AIMS, Victron Energy and PawMr. Well, some mentioned brands are popular while some are not. However, I tried to select best inverters available on the market.
These inverters have different output wattage such as 1000W, 1500W and 3000W. But, all the inverters have same 48V input power requirements. So, you can choose a power inverter based on your requirements.
A 48V inverter is far better than a 12V inverter because with the 48V inverter, the idle mode power consumption is very less. With 48V inverters, a weak cable may work. But with 12V inverters, you need heavy cables.