Before I start describing the inverter in details, please let me know some of the disadvantages of this inverter. Well, DeWalt is a popular brand name of countless power tools and other industrial products. Therefore, undoubtedly the expectation should be high from this product.
However, some customers on Amazon have given negative ratings. Which means they are not impressed with the performance the inverter delivers. On the other side, the inverter has also many happy customers. Consequently, I will say that inverter has received mixed reviews, which are composed of both positives and negative reviews.
According to the manufacturer, the DeWalt 1000W inverter delivers good performance. For easy connection, it features multiple connection ports. Yes, it features dual 110-volt AC outlets and three USB ports. The USB port is of 3.1A capacity, which is good for fast charging requirement.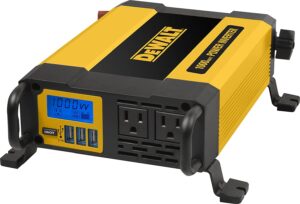 This DeWalt inverter can be used to charge various electronic devices like laptops, power tools, mobile phones and other appliances. In short, you can charge all those devices that consume less than 1000-watt power.
LCD screen – the unit features an LCD screen that shows battery status, output current and error information.
Accessories included – DeWalt 1000W inverter comes included with accessories like battery connectors and mounting hardware. Please note that 12V DC accessories are not included with the purchase.
DeWalt 1000W Inverter – Questions & Answers
Q: can it run a power tool?
A: yes, it can run a table saw and other power tools. However, please make sure that total consumption power is not more than 1000W.
Q: will it run a 4-inch Makita grinder?
A: yes. It can run even a DeWalt chop saw.
Q: how can I plug this inverter to receive full 1000W power?
A: yes, for this, you need to plug it via a battery cable. Please make sure that the cigarette lighter plug will not be helpful to deliver 1000W. The cigarette lighter plug is only good for less than 150W output.
Q: can I run this inverter from a solar panel to power some LED bulbs.
A: yes, of course! Please make sure that you don't connect directly to a solar. You need to connect it with a battery. The battery should be connected with the solar.
Q: is this a pure sine wave or modified sine wave inverter?
A: this is a modified sine wave inverter. As of now, DeWalt only makes modified sine wave inverters. In case, you need a pure sine wave inverter, please check with other brands.
The frequently asked questions and answers are related to the DeWalt 1000W inverters. In case, if you have any questions, please scan the list of FAQs; I'm confident that most of your questions will be answered here. If you still do not get answer to your question, please visit Amazon on the same product page. There is a section to ask questions. I'm sure you will find your answer there. If the question is not available, please create your own question.
Users' Comments on DeWalt 1000V Inverter
One – a customer on Amazon says that the DeWalt inverter burned out after three months. I would not purchase an inverter from DeWalt in future.
Two – this user complains that inverter is constantly beeping without any valid reason. Additionally, the user complains that the inverter is automatically turning off on less than 500W load.
Three – According to this Amazon customer, the Dewalt 12DC to 110V AC inverter came with a detailed manual. The inverter allows connections via three ways such as cigarette lighter, alligator clips and a permanent bolt. The unit is very useful and convenient to this user.
Four – the customer says that he used this inverter with his solar panel to charge DeWalt batteries. It works fine but it has beeping issue.
Five – according to this customer, the inverter only worked for two months. Now it does not turn on.
Six – the DeWalt 1000W inverter worked good in a pickup truck according to a customer on Amazon. He used this inverter to power on a pancake-style air compressor and other electronic devices. Further, he suggested that for a low consumption, one should use the 12V adapter in a vehicle.
Seven – according to this customer, the DeWalt inverter impressed him. He uses the inverter to run a large sound system on a boat.
Pros
It comes from popular DeWalt brand.
Many connection options
Easy to use
Nice LED screen
Appropriate size
Comes with a detailed manual
It is good to run small power tools.
Cons
High price
The feet should be longer.
Normally, dual USB ports are fine; it comes with three USB ports.
All advantages and disadvantages are listed above. According to the list of pros and cons, DeWalt 1000-watt inverter is an average performance inverter. Same, you can find in the users' reviews if you read on Amazon. The price of this unit is a little high. I assume the high price is due to the popularity of DeWalt. Furthermore, some customers on Amazon complained that the unit stopped working after two months. Thus, I will say that be careful and research more on this DeWalt inverter before you commit to buy.
Ending Thoughts
To conclude, I will say that the DeWalt 1000W inverter has both happy and unhappy customers. I'm saying this because I read reviews on Amazon.com and other selling platforms. The product has received mixed reviews.
Personally, I'm unable to understand that why Dewalt (a popular brand) is failed to deliver quality. Roughly, the inverter is good but it should be with increased quality. Our expectations are high from DeWalt because we are paying a high price.
On an ending note, I will say that only buy this inverter if it fulfills your needs. In some situations, an average quality product becomes the best quality product. I know you may have good faith in the DeWalt name or you liked the design, some unique features the inverter comes with.