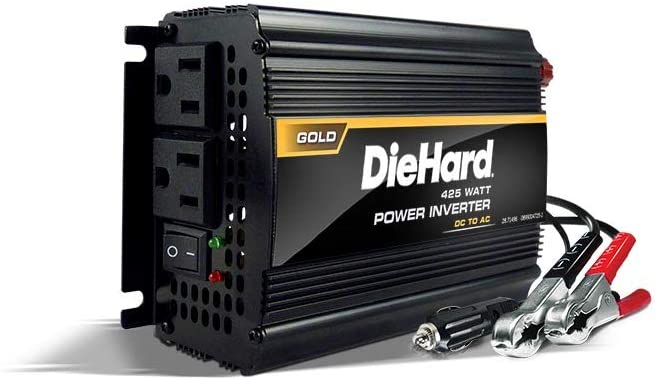 Schumacher for inverters is also a good manufacturer because this DieHard 425W power inverter has received good reviews from its existing users. Most importantly, the price looks super cheap to me so if you want to buy a good and cheap power inverter, you can consider buying DieHard 71496 425W power inverter.
The main task of the Schumacher 425W power inverter is converting 12V DC to 110V AC power. So, if you need to converter your 12V battery power to household AC power, you can use this power converter without any doubts. From outside, it looks solid and it is indeed a durable power inverter. In case, if the internal things are good, the power inverter will last for years.
For the vehicles such as cars, RVs, trucks, the DieHard 12V power inverter is very popular because it comes included with everything that facilitates easy operation and easy installation in vehicles. Schumacher 110V/120V power inverter features two AC outlets. With these two AC outlets, you will be able to run your devices that do not exceed the 425W rated power. As a result, you will be able to connect video games, mobile phones, computers, televisions and some DIY tools as well.
For the protection of the inverter, connected appliances and the battery, the DieHard 425W power inverter has overheat shutdown capability and overload protection. Actually, the internal system is very protective to any common issues so you do not have to worry for short circuits, over-temperature, over-current and other similar issues.
Highlights
Schumacher brand
71496 model number
2.27 pounds item weight
Size: 6.13-inch length, 4-inch width, 11-inch height
The package includes: DieHard 425W power inverter, clamps & cables, 12V DC adapter and user guide
Two 110V AC household sockets
Built-in safety capabilities
Overheat, overload and overcurrent protection
850W peak power
Pros
Many customers are happy; they do not have any issues with this DieHard inverter.
Affordable price
It is good for cordless tools, vehicles, emergency etc.
Easy to use, easy to install
Cons
Low-quality battery cables