In GoWise Power Inverter Review, you will learn about the major aspects, so please keep reading. GoWise Power is a reputed brand for power inverters. If you need to buy a solid power inverter, you must check this GoWise 1000W pure sine wave power inverter. It does the great job of converting 12V DC to 110V AC current. The 12V power inverter features two 110V AC outlets, one 5V USB port and a remote switch. With all these features, the power conversion can be very easy.
The model number is PS1002, which is an upgraded model that comes with various improvements compared to the previous model of the
GoWise Power 1000W inverter
. It provides 1000W continuous power and 2000W surge power.
With the purchase of this GoWise Power 12V DC to 110V AC power converter, you also get battery cables with ring terminals and a remote switch. For the device connections, it features three outlets (AC 110V). It is protected with five kind of protection features, so you will not get any problems related to temperature and over-voltage.
Such heavy-duty power inverters are perfect for many vehicles such as cars, trucks. The GoWise Power inverter is also good for the emergency power backup because it has impressive efficiency and it is a pure sine wave power inverter. You will not get any issues from powering sensitive electronics such as laser printers, medical equipment, variable speed power tools and many others.
GoWise Power Pure Sine Wave Inverter with Good Safety Features
The GoWise Power 1000W inverter is highly safe and convenient to use because it has less THD, less than three percent. It is based on soft start technology. The inverter features a cooling fan to keep the internal system cool. For 110V or 120V output power requirement, it is a perfect unit that has 60Hz frequency.
It comes included with all the accessories for the installation and operation convenience. You get a 15 feet wire with 8-gauge specification for the easy circulation of 1000W power.
Moreover, please do not forget that it is a pure sine wave power inverter. A pure sine wave inverter is considered superior to a modified sine wave inverter. Of course, you will be able to get clean output from a pure sine wave converter. The output usually has low harmonic distortion, which is good for sensitive electronics such as medical devices, laser printers, computers and others.
Features of GoWise 1500W Inverter
GoWise Power brand
12V input power
PS1002 model number
12 x 8 x 4 inches product dimensions
6 pounds weight
1000W continuous power
2000W peak power
5 kinds of protection system
Three output sockets
Perfect for vehicles, emergency power backup, homes and offices
Less than 3% THD
Soft start technology
60Hz frequency
Temperature-control cooling fan
Please do not forget the model number, which is PS1002, so the product name becomes GoWise PS1002. I will say that not only the brand (GoWise Power) is respected, but also the product (GoWise PS1002) is reputed. And, YES, you are going to buy a product, which is full of useful features and good specifications. Among all its features, I liked the protection features including the soft start technology.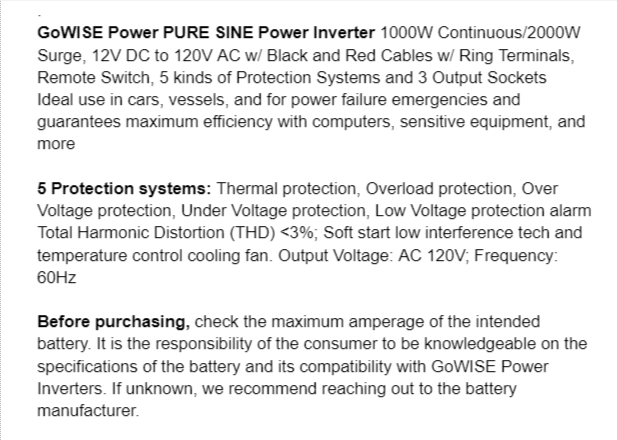 Pros
Pure sine wave output
Comes with everything for the installation
High efficiency
Long lasting performance
Remote switch
Good quality materials, good construction
Cons
GoWise Power Inverter Review has a Pros & Cons section, which can be a vital section for the future consumers. Therefore, I highly advise the future buyers to read these pros and cons because they are directly taken from the users' reviews. Well, I am able to see just one con, which is related to an unusual beep issue. I hope the product creator would know about it and correct it as soon as possible.
What Do Users Say about GoWise Power 1500W Inverter?
One – the user says that he got what he needed. He says that the inverter is quite large for the 1000W output power. However, it is very good for the user with a large-size room. Further, he got all the qualities he wished for. Actually, he wanted an inverter with bolt-style terminals, clean output power, low idle power consumption and the fan should run based on the temperature, not all the times as it is annoying.
Previously, he owned small form-factor inverters but these power inverters were with many serious issues. They were prone to temperature buildup and the device connections were too lose. On a wiser note, he used the same cables with this GoWise Power Inverter with heavy-bolt terminals and they stay tight, which is good for a steady connection.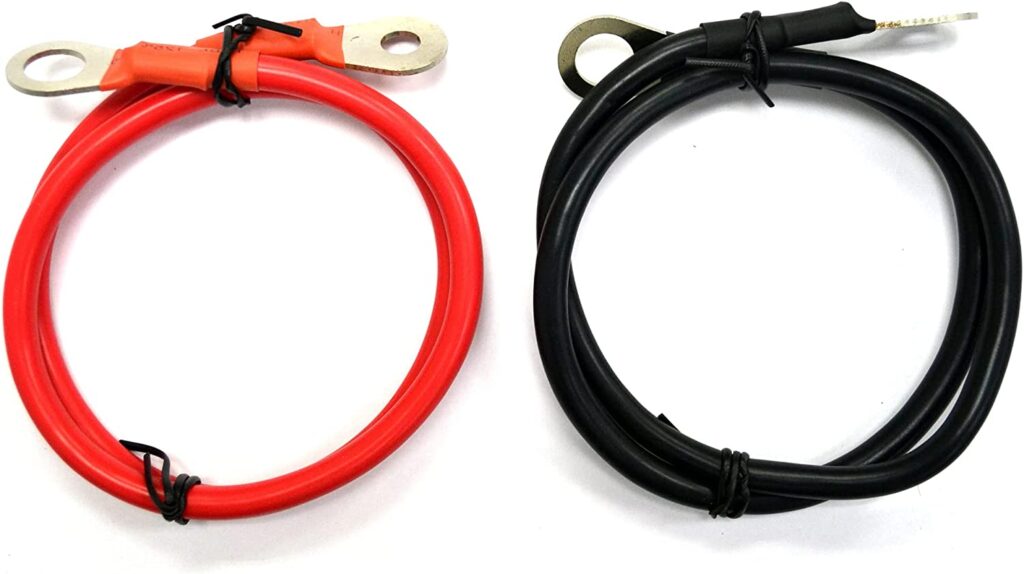 According to him, the total load was approx. 775w and the inverter runs well. He didn't get a problem to power his 3qt instant pot and some background load. Therefore, he is unable to tell about the rated 1000W capacity but it is confirmed that the GoWise inverter handled the 775W load without an issue. Further, he says that the idle power consumption is lower than his previous AIMS 300W pure sine wave inverter. And, the fan runs upon the load, not all the times, which is good according to this user.
Two – this user is using the GoWise 1000W inverter to power his TV and refrigerator simultaneously. Now, he doesn't have to run his generator for running the appliances during the camping. He is very happy with the performance. However, he didn't get a chance to hook up the remote switch, he plans to use in future.
Conclusion of GoWise Power Inverter Review
In short, the 1000W inverter is one of the best units, believe me! The pure sine wave inverter has earned good respects from its users and it is quite popular too. More importantly, this GoWise Power inverter is wisely designed that will surely deliver the best performance years after years, at least 5 years are confirmed.
Apart from the longevity, GoWise Power 1000W Inverter if full of good features including the protection features, connection features and the easy installation capabilities. Actually, it comes with everything that you need for the installation.