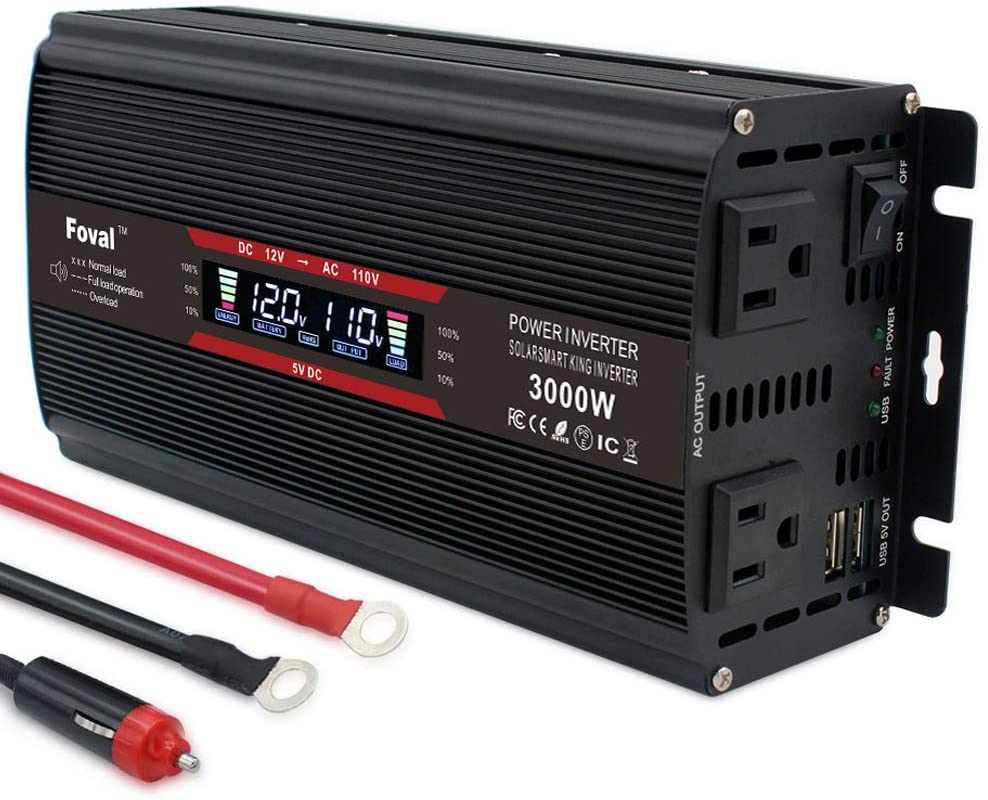 Yinleader 1500W power inverter is a solid unit that has received good appreciations and comments on various selling platforms. It is more than 85% efficiency and it is a full-feature 12V power inverter. The 1500W power converter delivers 3000W peak power. What is peak power? Peak power in an inverter is extra power; usually it is 200% of the continuous power. The peak power is used by some large appliances as the startup power for few seconds, so to meet this demand; inverters have extra power that is not the rated power.
The Yinleader 1500 watts power inverter is a portable unit that measures 10.63 x 4.72 x 2.76 inches and weighs 3.09 pounds.
Yinleader power converter does the great job of converting DC 12V from a 12V battery to AC 110V power. It features two 110V AC sockets, you can use these AC sockets to supply power to your household appliances and other devices that require 110V AC input power. The Yinleader inverter also has two USB ports, which are perfect for multi-purpose charging.
The modified sine wave power inverter has more than 85% conversion efficiency and 1500W rated power that means you will be able to power your devices up to 1500W power consumption. Please know that you do not have to give burden more than its rated 1500W power, otherwise the 1500W power inverter will not work or it may be damaged.
Yinleader inverter is really a leader because it is highly capable, efficient, powerful, feature-full and solid. It features a smart LCD display that shows input/output voltage, load, battery status and other safety information. Therefore, the LCD display is a good way to know the battery status, load status and other useful system information.
The 1500W Yinldeader power inverter is designed very well. In fact, the manufacturer says that it has gotten a special design because it has durable aluminum case that makes it solid and highly protective against drops and bumps. Yinleader car inverter 1500W features built-in cooling fan that runs conditionally. The main work of the cooling fan is to maintain sufficient inverter temperature. For the increased protection, the 12V Yinleader power inverter features isolated ground neutral connection. Additionally, the power inverter 1500W has sturdy construction that makes it a perfect inverter to run in any difficult situations.
The Yinleader inverter 1500W has highly protective because it has 4 x 40A external fuses. These 40A external fuses are easy to replace and are highly protective to over-voltage and other electrical faults. 4 x 40A fuses are already externally fixed in the inverter and you get extra four fuses for the replacement. Well, Yinleader says that this 12V power inverter has six kinds of protect. These protection features are very helpful to stop short circuits, reverse polarity, over-voltage, under-voltage and over-heat. With all these protection capabilities, your inverter, battery and appliances are always safe.
1500W power inverters like this Yinleader inverter have wide applications. Because it features well-protected sockets for the large-size plugs. You will be able to insert two plugs at the same time meaning you can run two AC 110V appliances at the same time. Please make sure they do not draw more than its rated 1500-watt power. You can use these connection sockets 110V for powering refrigerators, gaming consoles, electric fans, laptops, televisions, kindle, Christmas lights, breast pumps and many others. You can undoubtedly use it for camping, business trips, long journey, road trips, emergencies, outdoor mobile power requirements and running any appliance that requires up to 1500W input power.
Highlights
Yinleader brand
Four output sockets
More than 85% efficiency
120V output voltage
10.63 x 4.72 x 2.76 inches dimensions
3.09 pounds weight
1500W continuous and 3000W peak power
12V DC input
12V DC to 110V AC Converter
LCD display
40A fuses (four pieces)
Temperature control cooling fan
Isolated ground neutral
Rugged construction
Aluminum housing
9V to 15.5V DC voltage range
Less than 1.2A no load current draw
9V DC low voltage current draw
15.5V over voltage shut down
Package includes 1500W Yinleader inverter, two crimper, 1 cigarette lighter plug, 4 fuses and a user manual
Pros
Easy to install
Good value for the money
Perfect for emergency power supply
Solid inverter
4 x 40A external fuses
Cooling fan
Solid aluminum body
Cons