Please read Novopal 1000W Power Inverter Review. A pure sine wave inverter is a useful and highly demanded inverter. People like to use a pure sine wave inverter to power their sensitive electronics. I am talking of pure sine wave inverters because this Novopal inverter is a pure sine wave inverter that does its main task of converting DC current to AC current. Which means it converts the 12V battery power into household AC power that you can use to power your appliances such as microwave ovens, fridges, washing machines, hair dryers and more.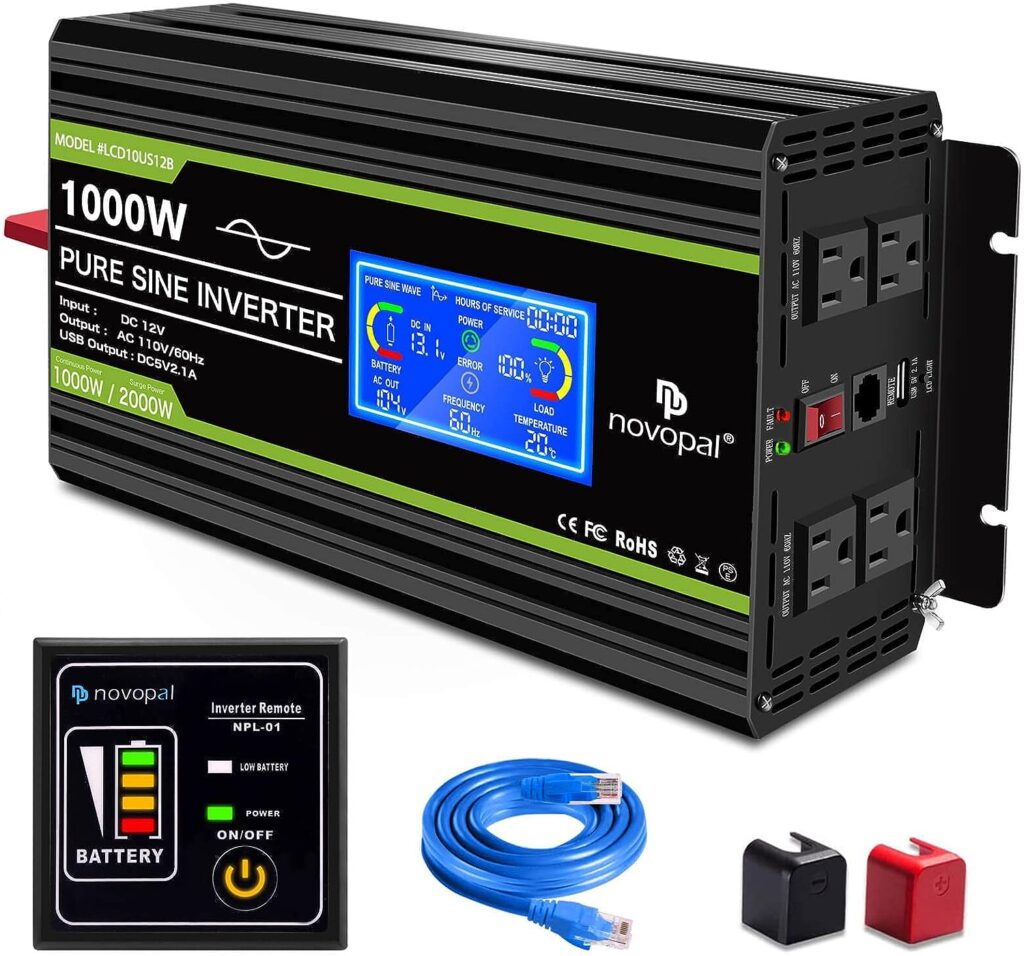 Novopal 1000W – https://amzn.to/45kWF3s
Well, I classify Novopal brand as a popular brand because it makes good inverters ranging from low watts to high watts. People love Novopal inverters because they are reliable, protective and affordable.
This Novopal 1000W power inverter has four AC outlets and one USB port (2.1A). It also features powerful DC terminals and a wired remote control in the length of approx. 16 feet. The Novopal 1000w DC to AC inverter features an LCD display that shows relevant information. The LCD shows battery level, input power, output power and protection related information.
Pure Sine Wave Novopal Inverter
This multi-purpose power inverter delivers clean power that is of the same quality that of the usual household AC power supply. For a reliable performance from the connected devices, you must use a pure sine wave inverter that this inverter delivers. The good thing is that the inverter is based on L.I.T – Low Interference Technology. So, the clean power you get is produced by this advanced technology. You can use the clean output power to operate sensitive electronics such as TVs, audio devices, multi-speed appliances, laptops, CPAP, laser printers and many others.
The Novopal 12V power inverter is fully protected because it has many protection features. With these features, you do not have to worry of voltage irregularity, high inverter temperature, short circuits and other similar things. The pure sine wave inverter has latest DC terminals that are good for the high voltage flows. In case, you get any problems, you do not have to worry because this true sine wave inverter is also protected with a 12-month warranty.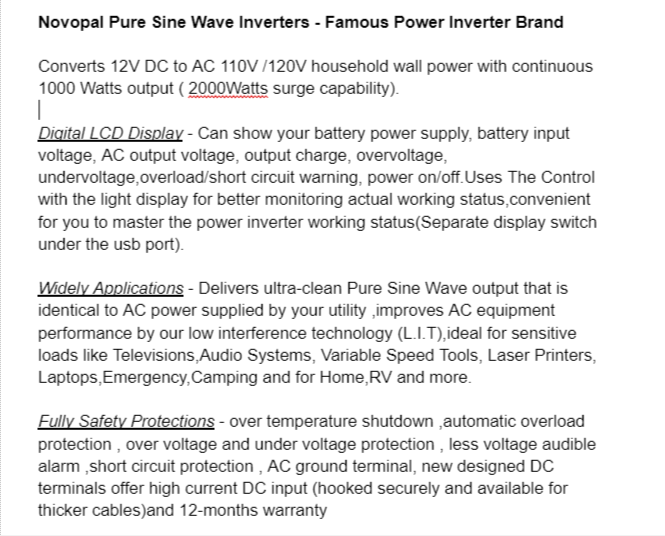 This Novopal 1000-watt inverter is a capable unit. It is a pure sine wave inverter with many protection features, so the unit is totally safe from short circuits, over-load, over-current and more. It features a digital display and many connection outlets so you can easily connect devices using the connection ports located on this pure sine wave inverter. I hope Novopal 1000W Power Inverter Review was helpful to you.