If you need a reliable performance from a power inverter, please go with PowerBright 600W Power Inverter. PowerBright is a trusted brand name for giving us quality products at reasonable prices.
From this inverter manufacturer, the above mentioned pure sine wave inverter may not be very popular but it is a reliable unit. The PowerBright 600W inverter features multiple 120VAC outlets and USB ports so you will not experience a device connection limitation. You will be able to power multiple appliances at the same time using the multiple connection sockets and the 600watt output power.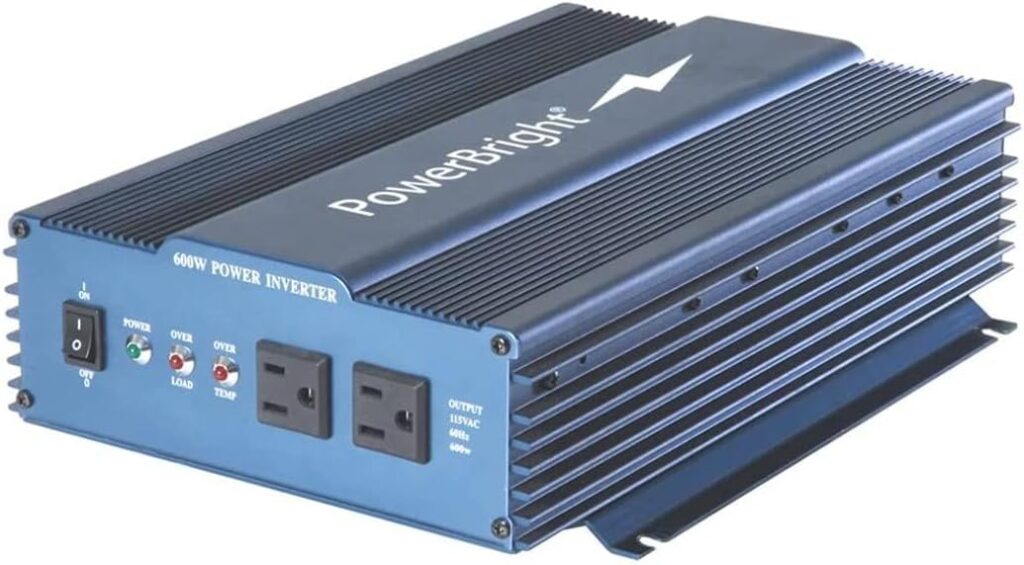 I am able to see three varieties of this inverter in different output capacities such as 300W, 600W and 1000W. As mentioned earlier, this power inverter review is about the 600W unit. Of course, you can go with other inverters within this brand as per your requirements. Well, mid-capacity power inverter such as this 600W unit is perfect for vehicles, camping and the emergency electricity needs.
CE Approved Pure Sine Wave Inverter
As per the manufacturer, it is a CE approved and RoHS complaint power inverter, so quality and safety are ensured. It is also very good for the heavy-duty uses because it is very safe in operation. The PowerBright 600W inverter has all the protections to protect the connected devices from the common faults like over-voltage, under-voltage, over-temperature, short circuits and other common electrical issues.
Warranty – the PowerBright inverter consumers get one-year warranty on parts and labor. In fact, it is a high quality inverter, so the manufacturer says that you can't go wrong with their products because they believe in their product quality and the warranty is there for the peace of mind.
Less distortion rate – the pure sine wave power inverter has less than 3% THD (Total Harmonic Distortion), so it is a good inverter for the easy start-up on inductive loads. The less THD inverters consume lower energy compared to others, and these inverters deliver the best quality current to run almost all types of electronics that need clean electricity. Therefore, you will not complain about its current quality; you will be able to power sensitive devices like radio devices, laser printers, TVs, monitors, laptops and others very well.
Key Features & Specifications – PowerBright 600W
| | |
| --- | --- |
| Product name | PowerBright 600W Inverter |
| Brand name | PowerBright |
| Output wattage | 600W |
| Output voltage | 120V AC |
| Input voltage | 12V DC |
| Output sockets | 2 x AC 120V sockets |
| Certification | CE approved and RoHS complaint |
| Warranty | 1 Year on parts and labor |
| Item dimensions | 17.8 x 10.7 x 5.4 inches |
| Item weight | 6.3 lbs |
| Price | Check on Amazon |
PowerBright 600W power inverter looks impressive from the features. It delivers 600W clean electricity to power all your home and kitchen appliances under the 600W capacity. It is a lightweight power inverter that weighs just 6.3 lbs and measures 17.8 x 10.7 x 5.4 inches. More importantly, the pure sine wave inverter is a CE and RoHS approved product, which comes with one year warranty too.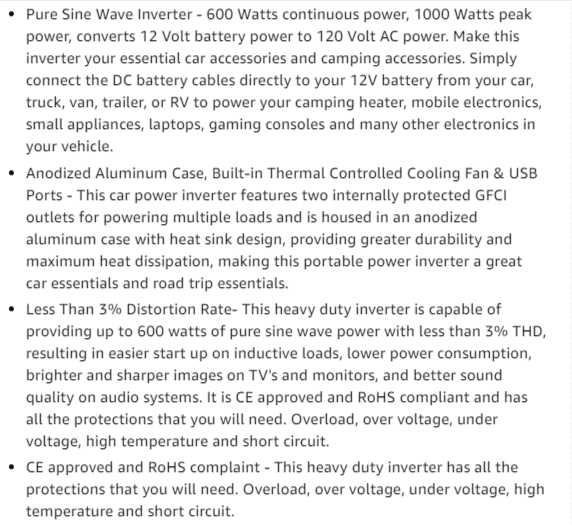 PowerBright 600Watt Inverter Has Anodized Aluminum Case, GFCI Outlets & More
For a long-lasting life, the heavy-duty inverter is designed in an anodized aluminum case, so it is a heat-preventive unit resulting in longer durability and maximum heat removal. Such power inverters are perfect for vehicles, camping, road trips and more.
Apart from the anodized aluminum body, the pure sine wave inverter has a built-in cooling fan (thermal controlled), which is also a great protection feature as the inverter fan is mainly to reduce the heat build-up.  Therefore, it is a highly safe power converter that can survive in multiple atmospheres. It has 120V AC outlets (GFCI), which are good for the robust connection as these outlets are highly secure to connect devices and they are totally different from the typical low-quality 110V AC outlets. For the connection of USB-based devices, the PowerBright 600W inverter features USB ports too. Of course, you can expect a fast charging speed from these USB ports.
Clean power generation – pure sine wave inverters are considered as the best inverters to supply clean electricity to the connected equipment. These types of power inverters have less distortion resulting in steady and less-fluctuated current. Therefore, the users do not have to worry about the quality of the electricity generated from a pure sine wave inverter.
12V DC to 120V AC electricity conversion – in the market, most of the power inverters are 12V to 110V / 120V inverters, this PowerBright 600W inverter is also for the same purpose as it can convert the 12V DC electricity to 120V AC electricity. However, you can also see numerous power inverters that accept 24V, 36V or 48V input power. Of course, these inverters have their own pros and cons. What I want to say here is that these 12V power inverters are very popular for the vehicle use and emergency electricity needs. These 12V inverters can be the essential vehicle accessories because they are easy to configure. Simply, you can connect the battery cables to your vehicle batteries and enjoy the electricity conversion.
Pros
For numerous users, it works well.
A well-built unit
Does not heat
It works as advertised.
It delivers good output power as some users tested with 550W kitchen appliance.
Produces pure sine wave electricity
Great customer service as replacement related things considered seriously.
Cons
As per some users, quality should be improved.
It has a remote jack but no remote kits to use with it.
It is recommended to use heavy-gauge wire for the best performance.
Many users reported that it is noisy a bit.
As per some users, its lightweight profile is a question to the overall quality.
PowerBright 600W power inverter has pros and cons. In the list of pros, you can find that it is a well-built unit that produces clean electricity to run sensitive gadgets. Additionally, this product is backed with a great customer service, replacement policy and warranty, so you would have peace of mind. However, on the down side, some users suggested that the overall quality should be improved. Apart from this, the power inverter does not have a remote switch because it is an important feature in an inverter so PowerBright users expect this feature. And, it is a bit noisy too.
Conclusion – PowerBright 600W Inverter Review
At the end of the PowerBright 600W inverter review, I would say that it is one of the good inverters in terms of handling the load. Users of this inverter do not complain about the load and are happy with the performance as the power inverter is very good to run their appliances below the 600W capacity. More importantly, it is a pure sine wave power converter means you will be able to run all those sensitive devices like laptops, mobile phones, radio devices and all those devices that require précised electricity. Lastly, I would say that the price is very good; of course it can be the best budget power inverter.