For buying quality cables, 10L0L is a trusted brand name. It makes a wide range of parts and accessories that include automobile parts, club car parts, seat covers, chargers etc. In case, you need a cable for your battery & inverter, please check 10L0L 4AWG battery inverter cables set. The super quality cables set have numerous uses. The 25-inch cable is good to use with solar panels, recreational vehicles, two-wheelers and inverter batteries.
You can undoubtedly use this copper cable for the high wattage uses. This is a set of 25-inch positive and negative cables, which are resistant to corrosion. Additionally, the tube has gone through a rough process of heat shrinking to make it a corrosion proof cable. According to the manufacturer, the cable has up to 105°C temperature resistance capability.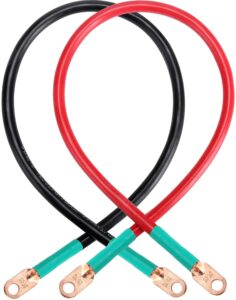 Refined Copper Cables & Terminals
I'm sure, customers will love the solid copper terminals. The crimps are made for numerous applications. Because, best quality copper is used to make the 10L0L inverter cables, so it will surely give a solidity assurance to survive in the toughest situations. With the heavy-duty cables, you have the flexibility for numerous applications.
For the versatility, the heavy-duty cables have durable ends. Such battery cables are perfect for seamless connections with inverter, solar, automobiles and numerous others.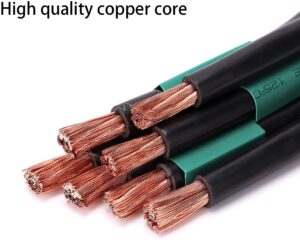 10L0L 4AWG Inverter Battery Cable for Stable Current
Of course, it passes the stability test because pure copper material is used. In fact, copper is considered as the best material for transferring electric current and current stability. Additionally, this is a 4AWG cable with heavy-duty copper lugs. The heavy cable has 25-inch length, which is good for numerous connections in different environments. Because of these qualities, the 10L0L inverter battery cables set can survive in any environments and delivers stable current.
According to customers at Amazon, 10L0L battery cable works fine. It has the appropriate thickness to meet their varied needs. Since, they are only extension cables, so they are very good for the battery inverter connectivity. Additionally, pure copper material has been used for the good amperage flows, and so it meets your varied connectivity needs.
Prime Specs
Gauge: 4 AWG
Length: 25 inches each
Voltage: 600V
Heat resistance: up to 105°C
Color: black & red
Polarity: positive and negative
Lug size: 5/16-inch
Important specifications are shown above. Please read the list of specifications, which will surely give answers to many questions. From the list of specifications, the 600 voltage and 4 AWG are very good for various applications. It also has a great heat-resistance capability of up to 105°C.
Pros
Pure copper terminals
Heavy-duty uses
Terminals are solidly crimped.
Heat shrink ends
Great for battery and inverter connections
Good amount of copper inside
Durable ending points
Good thickness
Seamless flaws of electricity
Good insulation
Cons
Packaging should be improved!
Based on the pros and cons, which are displayed above, I can say it is the best quality battery cable. The 10L0L inverter battery cables have made countless customers happy, so this product is recommendable here. You can definitely buy this heavy-duty cable to meet your most of battery connection requirements.
Further, it has high-grade copper wiring, which is very good for the amperage stability. It has appropriate thickness and amount of copper material, which are directly responsible to the overall performance. Finally, the 25-inch cables are good for the varied uses. You can undoubtedly establish a reliable connection with your inverter, battery, solar and other equipment.