Progeny 120W Portable Solar Panel comes with many extra features that make it a popular solar panel among people who need a mobile source of electricity generation. It has many capabilities that may not be found in an ordinary solar panel. It has 45W USB-C PD port, parallel cable, kickstand and foldable design. The Progeny solar panel is compatible with Jackery Explorer, Flashfish, BALDR, Goal Zero and Anker Power stations.
The Progeny solar panel is made of polycrystalline silicone material. It features USB Type-C plug and it comes with a cover included. The product dimensions are 16.65 x 15.55 x 2.17 inches.
As mentioned above, the Progeny 120W solar panel is compatible with most solar generators on the market. However, this solar panel is not compatible with Jackery 440. It features Anderson connector for Jackery Explorer 1000. It has 5.5 x 2.1mm DC for Progeny/Flashfish/Golabs solar power station. Apart from the 5.5 x 2.1mm DC connector, it features an 8-mm DC connector for Jackery Explorer, BALDR and Goal Zero.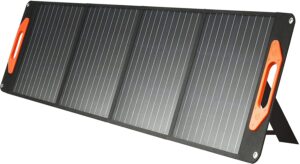 In case, you need to connect multiple Progeny solar panels, you will need a parallel cable to connect two same Progeny portable solar panels to produce more energy as per your requirement.
Like other efficient solar panels on the market, the PROGENY 120W solar panel comes with 23.5% high efficiency. You can see that the energy conversion efficiency is much higher than that of the ordinary solar panels available on the market. From the PROGENY solar panels, you will get much more energy than similar Poly-crystalline solar panels on the market. What I mean to say is that it produces energy much higher than the average solar panels sell on the market.
USB-c and QC3.0 Ports
The Progeny 120W solar panel features a USB-C port and a QC3.0 port. The USB-c port has 5V to 15V output capacity, while the QC3.0 port has 5V to 12V output capacity. Therefore, you have multiple output ports to charge your devices. You will be able to charge multiple devices such as tablets, smartphones, digital cameras at the same time.
Portable & Foldable
The Progeny 120W solar panel is a foldable unit that becomes a portable solar panel too. Additionally, it features a kickstand for the placement convenience. The foldable, portable solar panel is a lightweight unit because it only weighs just 7.27 lb. Therefore, it is very easy to carry when you go outside with this solar panel. The kickstand is very useful to adjust the angle and you will be able to get more sunlight than laying flat. The Progeny foldable solar panel is good for a portable solar generator system. Such products are very good for outdoor electricity requirements and unexpected power outages.
Main Features & Capabilities
Progeny brand
Polycrystalline silicone material
16.65 x 15.55 x 2.17 inches item dimensions
USB and USB-c connectors
Compatible with various power stations available on the market
23.5% high efficiency
120-watt output
Supports PD charging
Weighs only 7.27lb
Perfect for outdoor electricity requirements
18V power voltage
7.05A short circuit current
IPX4 water-resistant
The Progeny 120-watt solar panel comes included with 4-in-1 cable, parallel cable and a user manual.
Item model number NP120W
Main features and capabilities are mentioned in the above list. You can see, the solar panel features USB and USB-c port to charge multiple USB devices. This product is IPX4 water resistant. It generates 120W solar energy in a sunny day. The solar panel comes included with all the required accessories.
Pros
Very sturdy
Highly portable
Can be stored in a small suitcase with all the accessories
The solar panel is compatible with many power stations.
Simple to use
Cons
A customer commented that the panels were bulged and now I cannot close it completely.
Some customer said that the customer service is not exist.
You can see the pros and cons if you want to buy this solar panel. There are some cons, please read the cons very well. Some customers on Amazon said that the customer service does not exist so it is a big problem. In case, you experience an issue, you would not have a way to connect the customer service team.
Conclusion
In short, in the Progeny 120W solar panel, you will find many good things. One of them is the good output power. In a clear day, the solar panel is capable to deliver the full output power. However, the solar panel has received some negative reviews too. I do not have an idea about these negative comments so please research on it before you buy it.