The monocrystalline solar panel is from RICH Solar manufacturer. As name says, this manufacturer is involved in manufacturing solar panels. You can buy Rich Solar 200W solar panel that is very efficient and perfect for RV trailer, camper, marine and other off-grid applications.
In this solar panel, you can experience many good things that may not be found in an ordinary solar panel. It delivers excellent low light performance on cloudy days. Additionally, the solar panel is certified to survive in any weather conditions.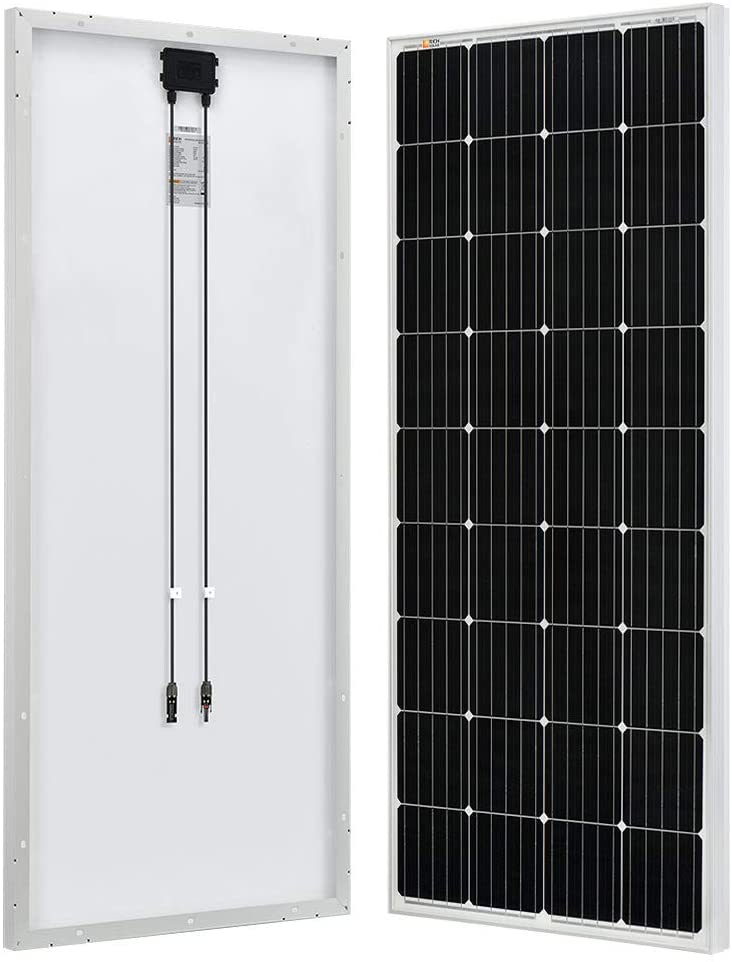 The Rich Solar 200W panel measures 58.7 x 26.8 x 1.4 inches. You will find 3 feet cable with connectors attached with this solar panel. The cable with connectors is good to charge a 12V battery because it is an easy to connection cable. It works in series or in parallel.
Highlights – 12V Moncrystalline Solar Panel
Easy to install
Perfect for various applications
Pre-drilled holes for Z brackets and other mounting options
This solar panel works with both on-grid and off-grid inverters.
200W maximum power output
20.4V maximum power voltage
24.3V open circuit voltage
10.2A short circuit current
1000V DC maximum system voltage
26.5 lbs weight
58.7 x 26.8 x 1.4 inches dimensions
25 years power output warranty
Please refer to the above mention list. It contains the highlights of the Rich Solar 200W panel. You can see that the solar panel is very easy to install because it has pre-drilled holes and comes with all the required accessories. It outputs 200-watt power and comes with solar cable for the battery connection.
PROS
The packaging is very good; delivered to you in a strong box.
Good build quality
Excellent mechanical construction without any defects
Has aluminum frame with multiple mounting holes
Good quality junction box and connector
CON
Some customers say that the MC4 connector is not the real one but looks like MC4 connectors.
RICH SOLAR 200 Watt solar panel comes with many pros over typical solar panels on the market. You receive it in a solid packet. You are assisted with a friendly customer service team if you got a problem. It has an excellent build quality.
Conclusion – RICH SOLAR 200W
At the end, I will say that if you are looking for a 200W solar panel with exceptional build quality then go for RICH SOLAR 200 Watt solar panel. It comes at a competitive price, has waterproof junction box, aluminum frame with many pre-drilled holes for mounting.