Jackery is one of the famous names that manufactures a wide array of solar panels and other related products. You can view Jackery 100w solar panel. It is compatible with various Jackery power stations like 240, 300, 500, 1000 and 1500 power stations.
It features USB ports to charge those USB-enabled devices. Please note that this Jackery 100W solar panel is not compatible with Explorer 440 / PowerPro.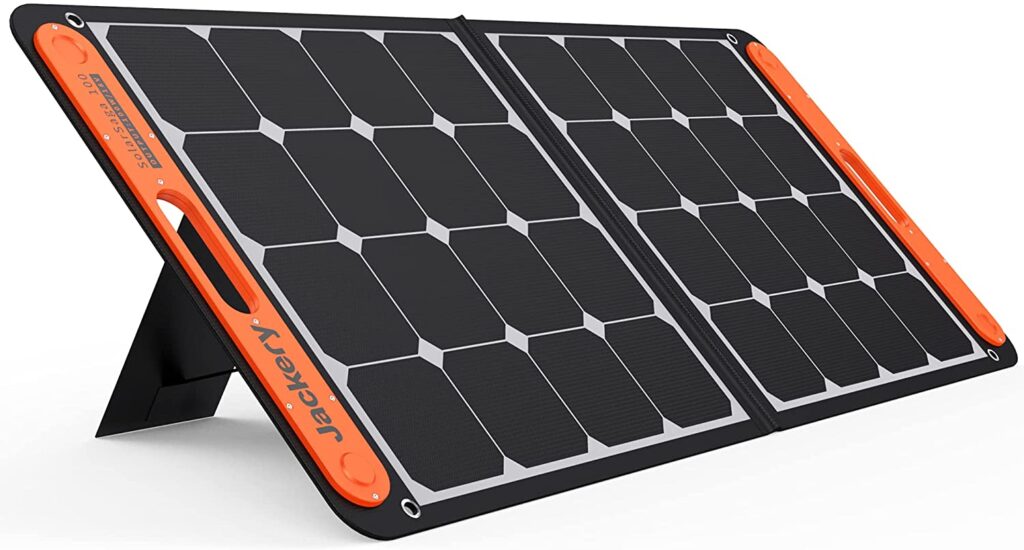 Kickstand for Easy Setup
Jackery SolarSaga 100w solar panel has two kickstands, which are very helpful for the easy placement on the surface. Therefore, you will not face difficulties for the setup. In just few minutes, your solar panel will start producing solar energy to charge your batteries and devices.
Additionally, it features a TPE-rubber handle for the convenient carrying. Therefore, you can easily carry it anywhere you go. I will say that the Jackery Solar Saga 100 is the best solar energy generation tool for the off-grid adventures.
Long Lasting and Waterproof 100W Solar Panel
The Jackery solar panel is covered with ETFE-lamination that makes it highly durable. Of course, the ETFE lamination will surely increase the overall life of this product.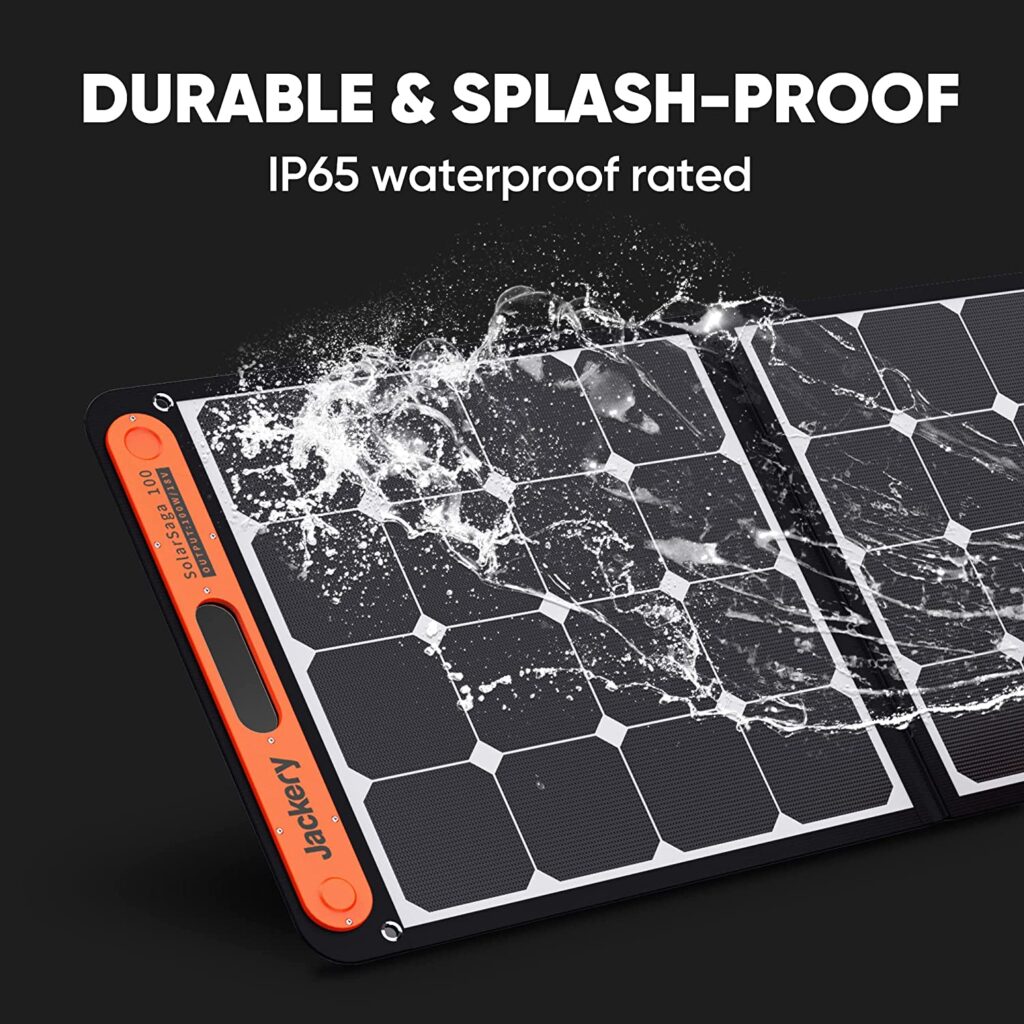 Additionally, Jackery 100w solar panel has IP65 water-resistant capability to protect from water splashing. Please note that it is only protective for water splashing so please do not place it under the rain or to soak in water because too much water may damage it.
High Energy Conversion Performance
It is made of several Monocrystalline silicon solar cells. It is based on multi-layered cell technology to produce energy from the sunlight. Therefore, it can perform better with higher conversion efficiency that can be up to 23% more than other solar panels in the same category.
In fact, the main goal is to buy an energy efficient solar panel that you can get from this Jackery 100W solar panel without any doubts. The solar energy converter is highly popular; you can see its ratings on Amazon to gauge the popularity of this product.
Highly Compatible and Multi-Purpose Jackery Solar Panel
As stated above, the Jackery 100W solar panel is compatible with many Jackery power stations such as Jackery Explorer 300, 500, 1000, 1500 and many others. Therefore, it can be a multi-purpose unit. It is perfect for off-grid camping and unexpected power outage.
The Solar Panel features 1 x USB-c port (5V, 3A), 1 x USB-A port (5V, 2.4A). Therefore, you can charge two small devices at the same time.
Highlights of Jackery SolarSaga
Jackery brand
100W output
USB and USB-c ports
Compatible with various models of Jackery Explorer power stations
Upgraded MPPT controller
Energy conversion efficiency up to 23%
IP65 water-resistance
FCC certification
ROHS certification
Highly protective against short circuits, over-current, surge power
Model number: SolarSaga 100
According to the highlights, the Jackery 100W solar panel looks like a good unit. It features USB ports to charge USB devices. The product is FCC and ROHS certified and it comes from the popular Jackery brand.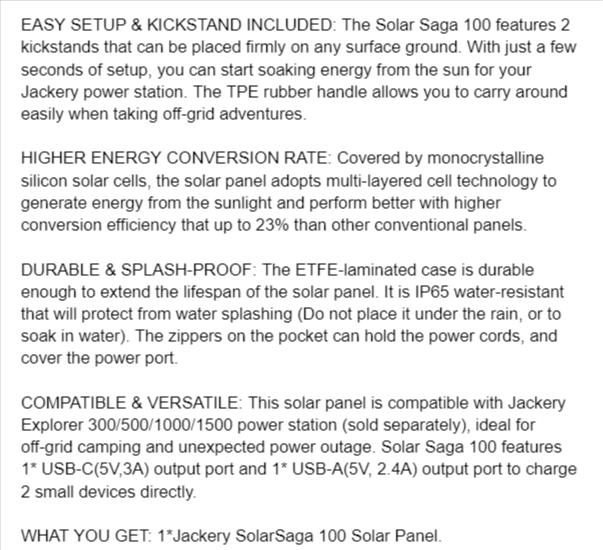 Pros
Sturdy and solid product
Can charge two devices simultaneously
A well-designed unit
Good charging performance
Compatible with many Jackery power stations
The packaging is very good.
3-year warranty and lifetime tech support
Cons
Heavier than most 100W solar panels on the market
It is less portable because of the design
The product is not fully water resistant.
If you are looking to buy a solid solar panel, this one is very good for such requirements. It comes with 3-year warranty and is compatible with many Explorer power stations. It delivers the good charging performance and it is a well-built unit. On the negative side, it is not fully water resistant as mentioned by some users. Also, it is not very portable as against advertised.
Conclusion – Jackery 100W Solar Panel Review
In short, the Jackery 100W solar panel delivers good performance. It is built solidly. Most of the buyers are happy with the purchase because it is highly efficient for the energy production. On the downside, it is a little heavy and less portable than similar solar panels on the market.