From Bluetti, most of the products are solar products such as solar panels, power stations and other related devices. If you want to buy a high efficiency solar panel, please check Bluetti SP120. The 120W solar panel is convenient and foldable that is perfect for installation on vans. Such powerful solar panels are perfect for outdoor electricity need.
The Bluetti foldable solar panel is compatible with many Bluetti solar generators such as AC200P, EB70, AC50S, EB150, EB240 and may be some others.
You are reading a review on Bluetti 120W solar panel. In case, you need to buy a solar panel with more than 120W output power, Bluetti has other models such as SP200 200W solar panel, SP350 350W solar panel. I see Bluetti is a sought-after brand name for the good quality and high performance solar panels. These solar panels are lightweight with good amperage capacity. The solar panel is made of Monocrystalline material, which is superior to other material for solar panels.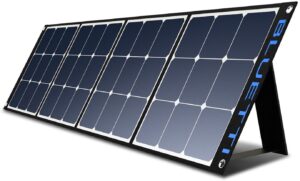 Small Size but High Performance
The portable solar panel becomes very small when it is folded and it delivers good energy production. It becomes 16.3 x 16.1 inches in size when folded. With this lightweight solar panel, you can enjoy utmost carrying convenience for the outdoor electricity needs.
You can absolutely receive energy conversion output that is better than resembling solar panels on market. The solar cells have 23.5% energy efficiency capacity because they are monocrystalline solar cells that perform better than polycrystalline solar cells.
Compatible with Many Devices
The foldable BLUETTI solar panel has MC4 connectors that work with many solar generators on the market. This connector is compatible with Bluetti solar generators such as AC200P, EB150, EB240, EB70 and EB55.
Please note that if you need to charge AC200P solar generator then you will need more than one 120W Bluetti solar panel.
Four Kickstands Included
The Bluetti SP120 solar panel comes with four kickstands. These kickstands are good to adjust the solar panel in your desired direction to catch the maximum sunlight. The solar panel has several holes for the mounting purposes. Therefore, you not only mount this solar panel but also hand it at your desired location.
Highly Durable
Any customer wants a durable product because it can last for a long time. Therefore, the Bluetti SP120 solar panel is made keeping durability in mind. To make it highly durable, advanced laminated mechanism has been used along with durable ETFE material. With the help of the advanced limination technology and the ETFE material, the Bluetti solar panel is reasonably strong that can surely last years after years. Further, the product is scratch-resistant, highly light transmitting and easy to clean as well.
The Bluetti solar panel is based on IP65 water-resistant technology that can greatly protect from water splashes. However, according to the manufacturer, it is not allowed to place under the rain.
Highlights
Monocrystalline solar cells
120W maximum power
19.8V maximum voltage
300V maximum system voltage
Up to 95% higher light transmittance
Approx. 10 feet MC4 cable
Foldable design
Lightweight: 9.48 lb
Folding dimensions: 16.3 x 16.1 inches
Adjustable kickstand
ETFE material
IP65 junction box
23% high efficiency
Compatible with many power stations on the market
Bluetti brand
Highlights of Bluetti 120-watt solar panel have been mentioned above. These highlights will help in understanding the product very well. In the above list, you can see that it is made of durable ETFE material, has iP65 junction box, up to 23% high efficiency and foldable design.
Pros
Good construction
Lightweight
Great for emergency power requirements
Portable design
Two-year warranty
In clear sunlight, it delivers charging performance better than the wall outlet.
Simple to use
Cons
Very expensive as it is only 120W panel.
It does not deliver the rated 120W power.
Weaker kickstands; they should be strong enough.
The pros and cons of BLUETTI 120W solar panel will help you understand the product very well. You can see that it comes with many pros and a few cons. On the downside, I can say that it is a little costlier than others and it fails to deliver the rated power.
Conclusion
At the end, I will say that this product is highly recommended to buy even it is a little pricy. In clear sunlight, the BLUETTI solar panel delivers good performance without any doubts. It comes with kickstands that are helpful for adjustment in the desired direction depending on the sunlight availability.