In case, you are looking to buy a high-wattage inverter in an affordable price, please read this Anbull 2000W power inverter review. The inverter comes with many positives. That is why it is being reviewed on InverterReview.com website. For the varied power usages, Anbull makes power inverters in many verities such as 1500W, 2000W and 3000W inverters.
In Anbull 2000W Power Inverter Review, you will learn about its capabilities, features and ease-of-use.
The 2000W Output
This inverter is capable to provide 2000W continuous power to run heavy appliances. It features 2 X 110V AC sockets, which can be used for secure connection with your appliances. Undoubtedly, the Anbull 2000W inverter does the great job of converting the battery 12V DC current to useable 110V AC current.
Impressively, it delivers up to 4000W peak power for few seconds. This 4000W peak power is very useful in the situations where a heavy appliance needs extra start-up power for few seconds. Then, it starts working on the continuous 2000W power.
For the connection convenience, the Ambull 2000W inverter features dual AC outlets and two battery cables. Using these features, you can comfortably connect your home appliances such as microwaves, fridges and kitchen appliances with this inverter.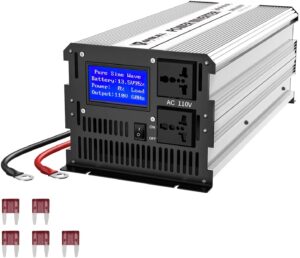 Protective against Electric Faults
The Ambull inverter provides full protection against short circuit, current fluctuation, overload etc. Additionally, the large LCD display also becomes protective because it provides readable information on the status of the inverter. The display shows status of battery current, output current and many other relevant information.
Cooling Fan & Sturdy Aluminum Housing
The inbuilt cooling fan in this power inverter runs automatically when the temperature crosses the allowed limit. Yes, the fan will start when the inverter temperature is more than 45° C. The automatic fan does its job of reducing temperature and conserving electricity as well.
On the other hand, the sturdy aluminum cabinet is very good at protecting the inverter from the outer influences such as drops, bumps, heavy strokes and many others. This way, the Anbull 2000W inverter will last for years to come.
Countless Usages of Anbull 2000W Inverter
The 2000W inverter is ideal for the home uses to provide continuous electricity to various appliances. According to the manufacturer, this Anbull inverter is perfect for both resistive and inductive appliances. Which means it can be used to provide seamless electricity to bunch of electronics including microwaves, refrigerators, air conditioners, coolers, electronic gadgets and many others.
According to a user on Amazon, she was able to run a huge 18 Cu. Ft. refrigerator, 1500W heater, a garage door opener and some fans simultaneously. She expected that this inverter would be very helpful in the power outage situation. She connected this Anbull inverter with a 225Ah battery bank using 0AWG cables. Further, she suggests that you should hire an experienced person for the installation. I wrote this statement because the main aim of Anbull 2000W Power Inverter Review is to let you know the actual performance of the product.
AC Output Specs
Output Current: 2000 watts
LCD display
4000W peak power
110V ± 5% AC output
60 Hz ± 1 output frequency
Pure sine wave output waveform
Universal output outlets
DC Input Specs
12V DC input
10.5V – 15V DC working voltage
10 ± 0.5V DC low voltage protection
Red & black terminal input plug
No-load current < 1A
92% to 97.2% efficiency
Alarm: fault, over temperature, overload, input high voltage
Precautions
Please ensure that the inverter is switched off then connect with the battery.
The Anbull 2000W power inverter works with 12V battery, so please ensure that you connect it with a 12V battery. Otherwise, the inverter will get damaged or it may not work properly.
Please don't connect devices that consume more than 2000W electricity.
Anbull 2000W Inverter Is Protective Against:
Over voltage
Low voltage
Overload
Surge current
Short circuit
Reverse current
Over current
Overheat
Users' Thoughts
The Anbull 2000W inverter is positively rated on Amazon and some other shopping websites. According to an Amazon customer, she received the delivery on time in a solid & secure box. The box contained only two cables and the inverter. However, the cables were too short; she had to buy other longer cables according to her requirements. Further, she said that the inverter came with a booklet containing some symbols of flashes coming from the inverter. Next, she connected the Anbull inverter with her gel battery. The inverter started giving good performance for charging her computer and heater.
On a positive note, another customer says that this is a huge inverter, which delivers the output according to the specifications. He says that this unit uses less standby watts than a 300W inverter he recently bought. Further, he says that he is not sure of its long lasting performance but he is able get 2000W output until his battery power consumed. He noticed that it delivered up to 3700W output power on the startup. Which means this is the item that delivers the output as per the specifications. Briefly, this inverter works according to the specifications.
Pros
High quality output (pure sine wave)
Protective from both inside and outside
It comes in a solid package.
Good for powering heavy home appliances
Dual fan to provide sufficient cooling
Protective against any electrical faults and overload
It delivers output as per the specifications.
It has less standby wattage.
Durable
Cons
The cables are very short.
Seeing pros and cons, I can say this is a good quality and good performance power inverter. It is also too protective to handle electricity fluctuation, overload and short circuit related problems. Additionally, the Anbull 2000W inverter has two cooling fans to provide sufficient cooling to the unit, thus it works as a protective element.
Conclusion
To conclude this Anbull 2000W inverter review, I will say this is a powerful unit because it has advanced features and good capabilities. The 2000W continuous and 4000W peak power are enough to run most of the heavy appliances at home. Moreover, the power inverter has earned good recognition on various selling platforms including Amazon. It has too many happy customers, who recommend buying this inverter.
Additionally, the price of Anbull 2000-watt inverter looks appropriate, neither too high nor too low! Personally, I recommend buying this inverter because I find too many positives about this unit. On the web, it is also highly rated and positively reviewed. Well, according to some customers on Amazon, the provided cables are too short, so please consider upgrading just the cables. Overall, this is a protective and qualitative power inverter, which is good for heavy appliances such as microwaves, fridges, power tools, air conditioners, coolers etc.