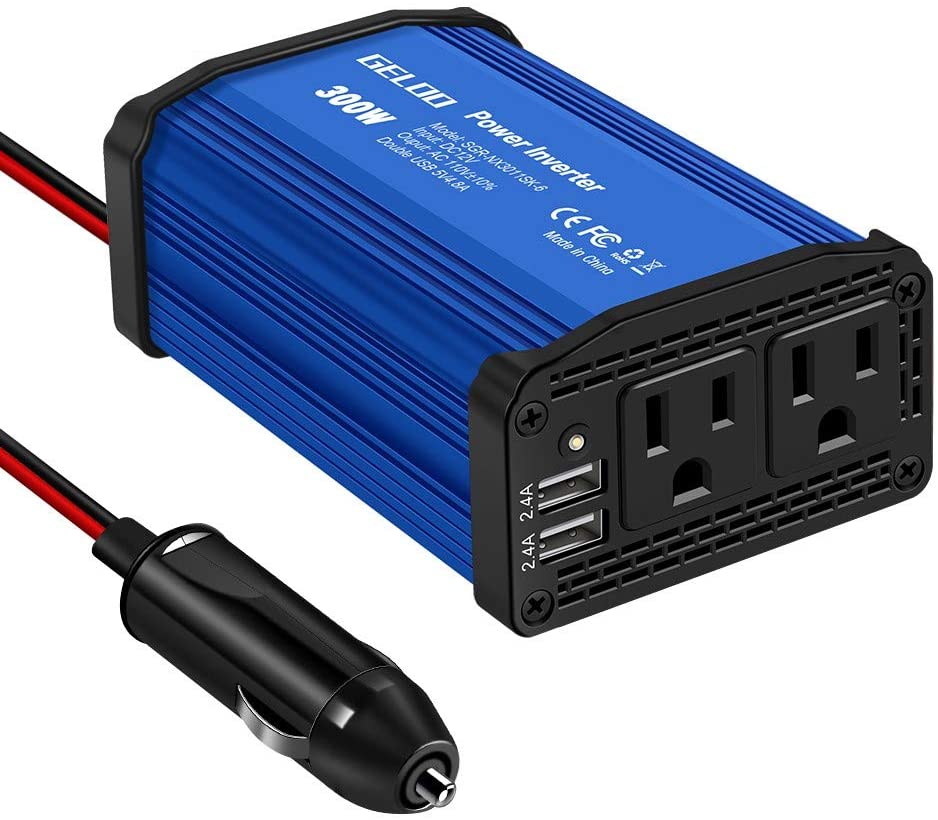 Geloo 300W inverter is highly popular on Amazon. At the time of writing this review, more than 3,000 Geloo inverters sold only on Amazon. Therefore, it seems a popular inverter.
As stated above, the 300-watt power inverter is a DC to AC inverter. Which means it converts the car battery power into AC power that you can use to charge your devices such as laptops, mobile phones and other smart gadgets.
Now it comes in an upgraded version that promises good performance. The vehicle inverter has 300 watts total output while the peak power is 600 watts.
PROS
It features USB ports.
Perfect for low-power applications
Good build quality
Quiet operation
Perfect for charging phones and laptops
Good price
Easy connection with a fast charging speed
A perfect power inverter for camping and outdoor power needs
Highly recommended
Good customer service and return policy
According to many users, it works as advertised.
CONS
Users suggest that there should be more space between the outlets.
GelooWork (the brand) seems a new brand.
The modified sine wave inverter features two 110V AC outlets and two USB ports. From the USB ports, you can expect a fast charging performance because they are 4.8A USB ports. These USB ports have the capability to detect devices automatically. With these advanced USB ports, you will be able to charge your iPhones, tablets, kindles, music players and other USB enabled devices.
Impressively, the Geloo power inverter is a highly protective inverter. It carries a safe charging design and inbuilt fuses that promise utmost protection to the inverter itself and the connected appliances as well. The 12V DC to 110V AC power inverter is protective against under/over voltage, short circuits, over-heating and overloads.
To keep the internal system always cool, the Geloo inverter has a cooling fan. This cooling fan is very helpful to get rid of overheating. Also, it has a long lasting aluminum case that is highly protective against any types of drops or bumps.
Additionally, there are too many benefits of having a portable power inverter. The portable inverter is very easy to use and store. In your vehicle, you can directly plug it into the cigarette lighter plug to charge your personal devices. A 33-inch cord is also provided for the cigarette lighter connection. Read more…