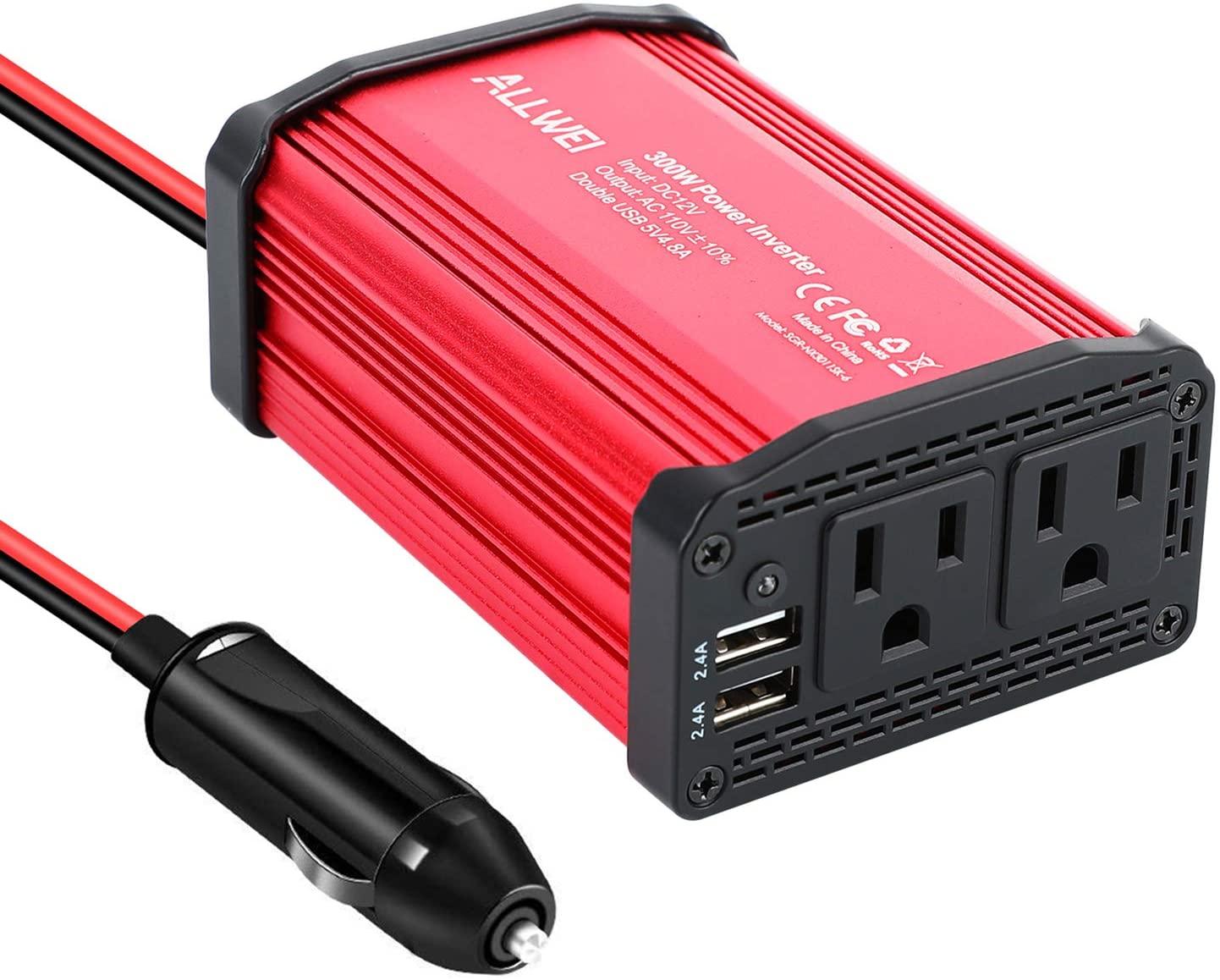 Allwei is a popular inverter brand. Most of the Allwei power inverters look like Bestek inverters. They are also available on Amazon at discounted and affordable prices.
If you trust this brand and want to buy one, please read about ALLWEI 300W car power inverter. The 12V power inverter converts DC power to 110V AC power. You can call it DC to AC converter as well. This 300 watts Allwei power inverter has become a bestseller item on Amazon so this is the main reason to recommend it to you.
The affordable Allwei brand inverter comes in red color that gives it a stunning look. The Allwei 300-watt inverter has dual 110V AC outlets and 4.8A USB ports. With these outlets and USB ports, you will be able to attach any appliances you want. Please make sure that the attached appliances do not receive more than its rated 300W power.
When it comes to overall capacity of this Allwei power inverter, it has 300W continuous and 600W peak power. Such powerful inverters are perfect for powering various lights, breast pumps, CPAP machines, gaming consoles, kindle devices, televisions, iPad and other electronic devices.
The Allwei 300W power inverter is good for charging USB devices at a fast speed because it has dual 4.8A USB ports. It also has dual AC outlets that can connect to those appliances that require AC 110V input power. Which means, the Allwei 300-watt power inverter is perfect for a wide range of devices such as MP3 players, cameras, iPhones and many others.
For the safety of the inverter and the connected devices, it features built-in fuse. The 300W power inverter also has a safe-charging design that is good to protect against over-heating, over-voltage, short-circuits and over-charging.
Most importantly, the power inverter is very easy to use. You just need to plug directly into the car cigarette lighter socket because it comes included with a 33-inch cigarette lighter plug. So, the car power inverter is very convenient to the person sitting on the backseat of the car.
Allwei says that the inverter has an upgraded cooling fan. The built-in cooling fan runs silently and it runs when needed. Which means the cooling fan does not run all the times. The pre-programmed cooling fan is very helpful to reduce heat and to get rid of shortages. On the other hand, the Allwei 300-watt power inverter has a strong case that does not get affected from heavy bumps or drops. Read more…