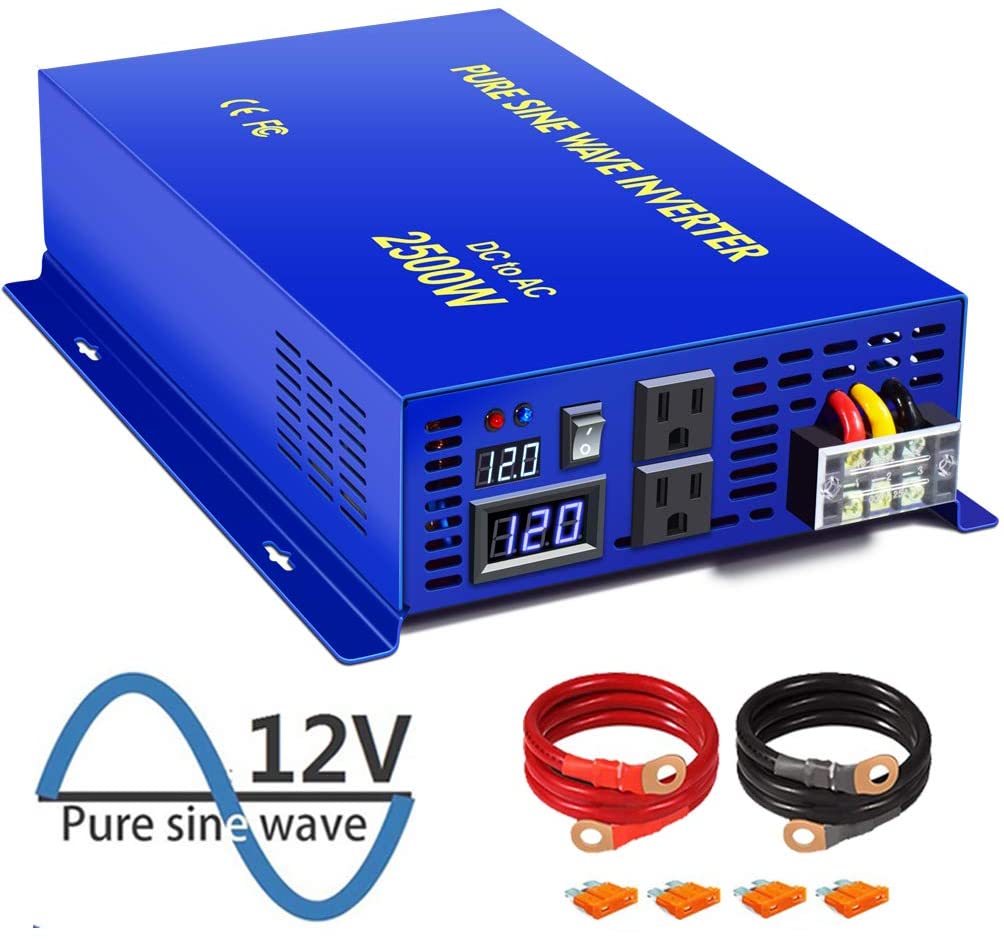 XYZ INVT is a famous inverter brand that has numerous power inverters. You can find XYZ INVT power inverters in different sizes such as 1000W, 1500W, 2000W, 2500W and 3000W.The good thing is that these XYZ power inverters are available in 12V and 24V.
This XYZ INVT is a 12V power inverter that delivers 2500W pure sine wave output. We all know that pure sine wave output is the cleanest power output that is welcomed by most devices. We will not have any problems running sensitive electronics such as laser printers, radio devices, microwaves, variable speed power tools and many others.
The XYZ 12V DC to 110V/120V AC power converter has 2500W continuous and 5000W peak power. You can connect this DC to AC power inverter with a battery using the DC battery cables while use the AC cables to supply electricity to your appliance. Such powerful and heavy-duty power converters are great for power backup, emergency power supply, DIY tools, home appliances, industrial appliances and many others.
The 12V XYZ INVT power inverter features dual AC outlets. Using these 110V/120V AC outlets, you will be able to supply AC current to multiple appliances at the same time. It features an LED display that is a good feature to know the inverter working status. With this XYZ INVT Inverter, all the connections such as Live, Earth, Neutral Line, Ground connections are available.
Where can you use this XYZ INVT 2500 watts power inverter? Well, it is widely applicable. People use it for camping, vehicles such as RV, semi-truck, cars, off-grid solar power system, powering home/office appliances and emergency power backup. With this solid XYZ INVT power inverter, it is very easy to converter DC power from your vehicle battery to AC power to run several devices. Of course, with this pure sine wave power inverter, you will be able to power any devices you want. You can power your laptops, cell phones, digital cameras, GPS, gaming machines, LED lights and many others.
XYZ INVT claims that this power inverter supports 9 kinds of protection. Thus, the 2500W power inverter is highly safe to use. It protects the connected appliances from short circuits, over-temperature, over-voltage, low-voltage, surge, and over-load and revers polarization. The XYZ inverter is capable to provide fuse protection to safeguard not only the connected devices, but also the battery and the inverter itself. When you purchase this XYZ INVT 12-volt power inverter, you also get associative components that facilitate easy operation and easy installation. You get the 2500-watt pure sine wave inverter by XYZ INVT, 2 battery cables, an owner manual, a customer card and many replaceable fuses.
Best Features & Specifications
Pure sine wave output
Less noise
Less power waste
Stable power supply
Thermal protection
Dual cooling fans
No power drops
All-round protection technology
1.5 FT battery cable
Spare fuses
User's manual
12V DC input
10V to 15V DC input range
0.5A to 1.5A no load current draw
90% efficiency
120V AC output
3% AC regulation
60Hz frequency
Available in many sizes such as 1000watt, 1500watt, 2000watt, 2500watt and 3000watt
Available in 12V, 24V, 36V and 48V
2500W continuous power and 5000W peak power
Converts 12V DC to 120V AC
Dual AC sockets
LED display
Perfect for RVs, trucks and other vehicles, solar system and household appliances
9 kinds of protection
Comes included with a user manual, battery cables and spare fuses
Pros
Pure sine wave output
Smooth voltage curve
Available in 12V, 24V, 36V and 48V
Solid and reliable power inverter
Perfect for RV, homes and emergency power backup
Cons
Tons of harmonic distortions