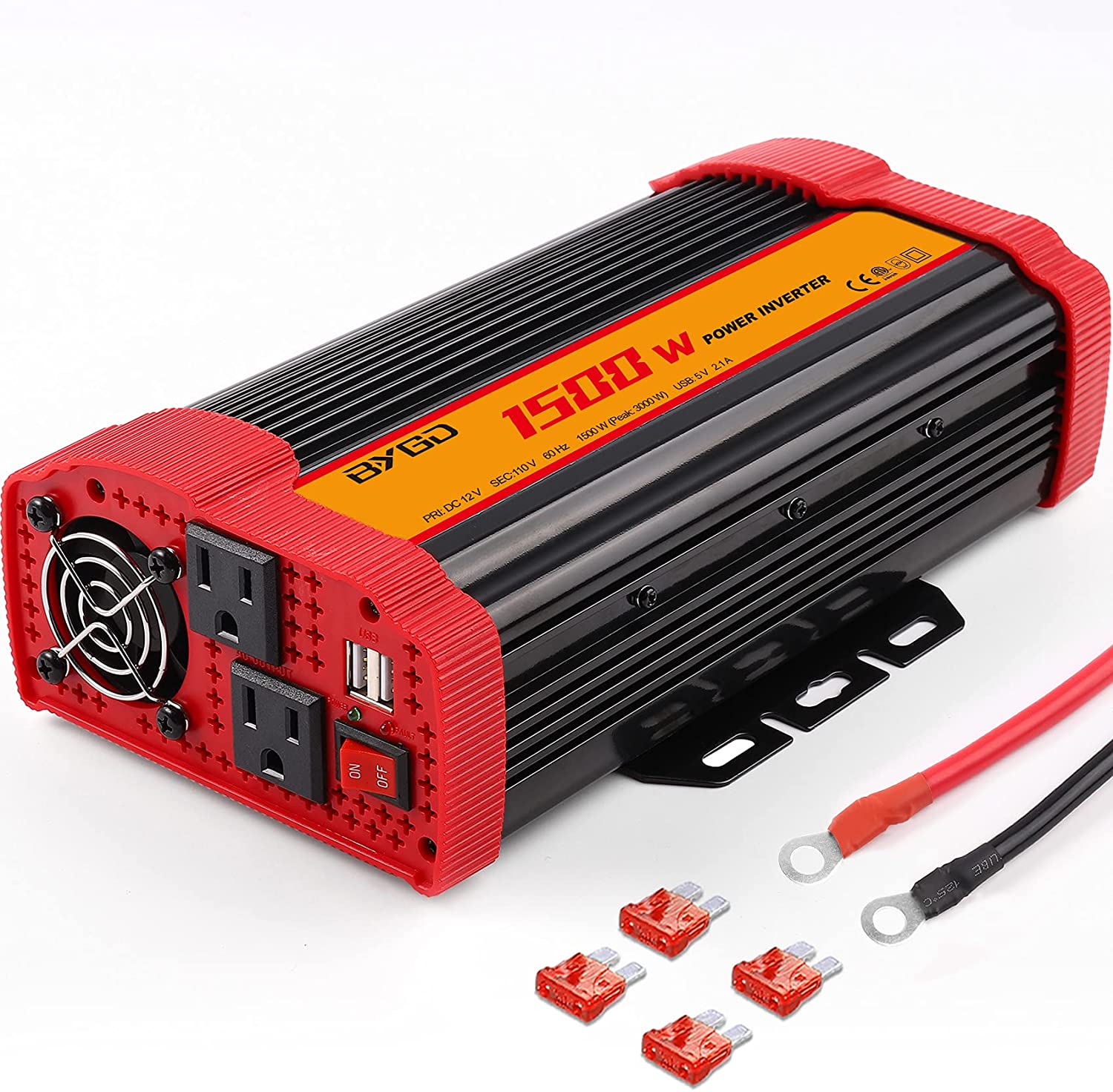 BYGD 1500 watts power inverter is a new inverter on Amazon. I am saying so because as of now no reviews have been written on this inverter. The brand new inverter looks good from many sides but I am not sure of the performance.
The 1500W power inverter you will be able to buy at a low price. It comes under the $100 price tag. This inverter can also be good for a solar system. It has two 110V AC sockets and two USB ports. You can use these sockets and USB ports to connect your devices. The good thing about this inverter is the ETL listing. Yes, this is an ETL listed product that means it is highly safe to use in homes, vehicles etc.
Undoubtedly, you can call it a portable and lightweight power inverter because it weighs just 4.4 pounds and measures 11 x 6.5 x 3 inches. The portable power inverter delivers 1500W continues and 3000W peak power.
The BYGD 1500W power inverter is easy to use and it is a good friend of travelers. You can use it for camping, vehicles, homes as well. Buying this inverter means charging all your preferred devices such as mobile phones, laptops, digital cameras and other electronics. Since it is a 1500W power inverter, you will be able to run some of the home and kitchen appliances. Please make sure that the connected appliances do not draw more than its rated 1500W power.
It has multi-protection capability. The power inverter has isolated transformer connected with both primary and secondary circuits. So, the isolated transformer greatly protect those devices that are connected with this BYGD power inverter. For the highest level of safety, the power inverter has four replaceable fuses each with 40A capability.
For the sufficient cooling to the system, it has a cooling fan that is a conditional cooling fan. This fan runs based on pre-programmed instructions. Well, the cooling fan plays an important role to keep this BYGD inverter safe all the times. It works to dissipate heat and runs when needed, usually on overload or over-temperature. In case, sometimes the fan does not run, please do not worry. It will run when needed, not all the times.
An 18-month warrant is included with the purchase of this BYGD 1500W power inverter. Also, you get friendly customer service free of cost. The 24-hour customer service is always ready to assist you. The car power adapter is a portable and lightweight unit that looks impressive. You will not get any issues for the placement and installation because it is easy to use, easy to install and easy to handle. Read more…