Pure sine wave inverters are in high demands so I selected the XWJNE pure sine wave power inverter. The 12V to 110V power converter delivers 1500W output and it comes with a remote control, an LED display, USB charging ports and many other useful features.
If you want to buy this unit now, please check with Amazon because it is listed at Amazon at the time of writing XWJNE Power Inverter Review. Well, there are many benefits of buying products from Amazon because Amazon is very popular, reliable and very helpful to their customers.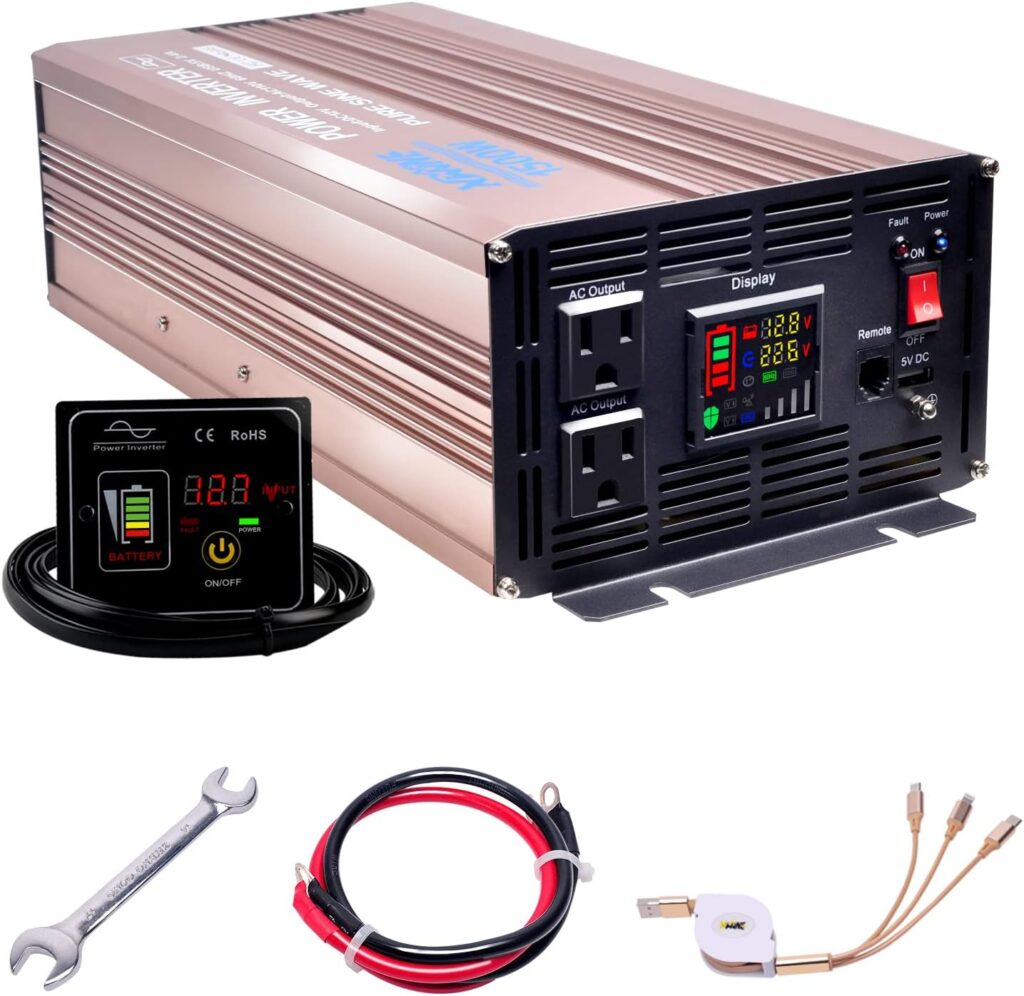 In case, you do not want to buy this 1500W XWJNE power inverter then you have options to buy the same unit in different sizes. I am saying this because the XWJNE power inverter comes in sizes such as 300W, 500W, 1000W and 2000W. You can choose a size based on your power usage requirement.
By the manufacturer, it is claimed that it has multi-protection capabilities. The multi-protection power inverter works with isolated voltage that makes it more protective than others do. As a result, the XWJNE 12V power inverter is capable to protect the connected devices from the common electrical faults like short circuits, over-voltage, over-load, reverse polarity and may be some others.
In its protection features, you can also count the LCD display as a protection element because it keeps you updated with information such as power consumption, safety status, input voltage draw etc.
A Protective Power Inverter with Remote Controller
To ensure that the battery is always charged, the XWJNE 1500W power inverter has low-voltage protection. This protection feature will not drain the connected battery because when the unit detects under-voltage status, it will stop working. The same mechanism is adopted for the overload conditions. When it detects an overload condition, it stops supplying AC power.
Please let me clarify here that in this power inverter, overload means more than 1500W power. In case, it senses overload or under-voltage conditions and the unit stopped working then you need to restart it manually.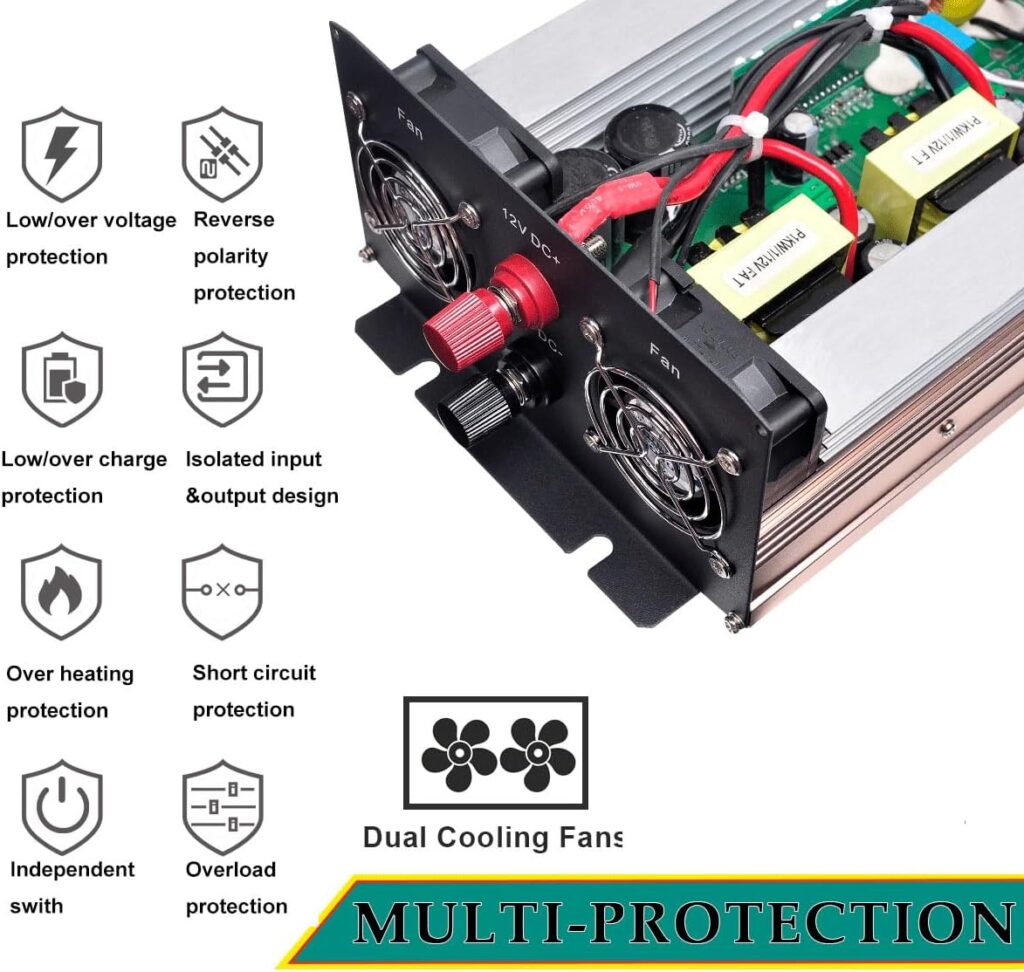 As I said earlier that the XWJNE power inverter is remotely controllable because it comes with a remote controller. The remote control has approx. 16 ft. long cable that facilitates remote access to the unit. Using this remote control, you will be able to turn the inverter ON or OFF remotely.
Built-in Thermal Fan
To maintain the internal system, it has built-in thermal fans that do their job very well because these cooling fans run conditionally upon requirements. The cooling fans run when they detect over-heat and over-load. Moreover, it has a venting system that is also very helpful for the air circulations.
Highlights – XWJNE Power Inverter Review
Pure sine wave output wave
90% efficiency
2.4A USB port
Dual AC outlets
1500W rated power and 3000W peak power
5AWG battery cables included
16.4 feet remote control
Dual cooling fans
The above mentioned features look good to me. I see it has multiple output ports such as USB and 110V AC outlets. And the 1500W output power is not bad for running some of the home appliances that require less than 1500-watt input power.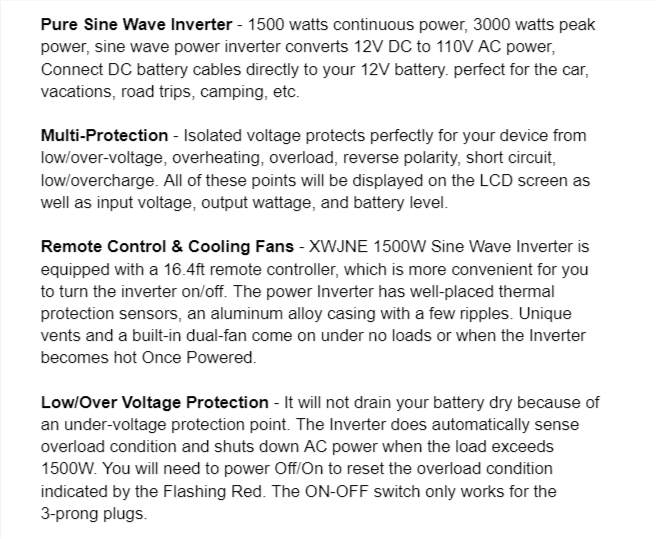 Pros
Pure sine wave output is liked by all.
For many buyers, it is a good deal.
It lasts for a long time.
Cons
As per XWJNE Power Inverter Review, it is a long lasting unit that delivers pure sine wave current to charge those precision electronics. However, I admit that it is a bit noisy and the XWJNE brand may be new to you.