The market is flooded with so many low-quality Chinese products, mainly electronic devices. In this situation, it is very difficult to filter a good product. Today, I am going to write a review on Tankpow 300W Car Power Inverter. Please be with me to know its pros and cons.
Well, the name Tankpow may be new to you or you did not hear before but the reality is that it is a power inverter brand. Of course, all new brands are not bad. Some of them are very good and they make the products, which are proven to be the best value for the money.
Anyway, I am here to give you information on the Tankpow 300w inverter, which is a low price product and it sells on the popular market place such as Amazon. The Tankpow inverter does the great job of converting the 12V DC to 110V AC to run various appliances under 300 watts.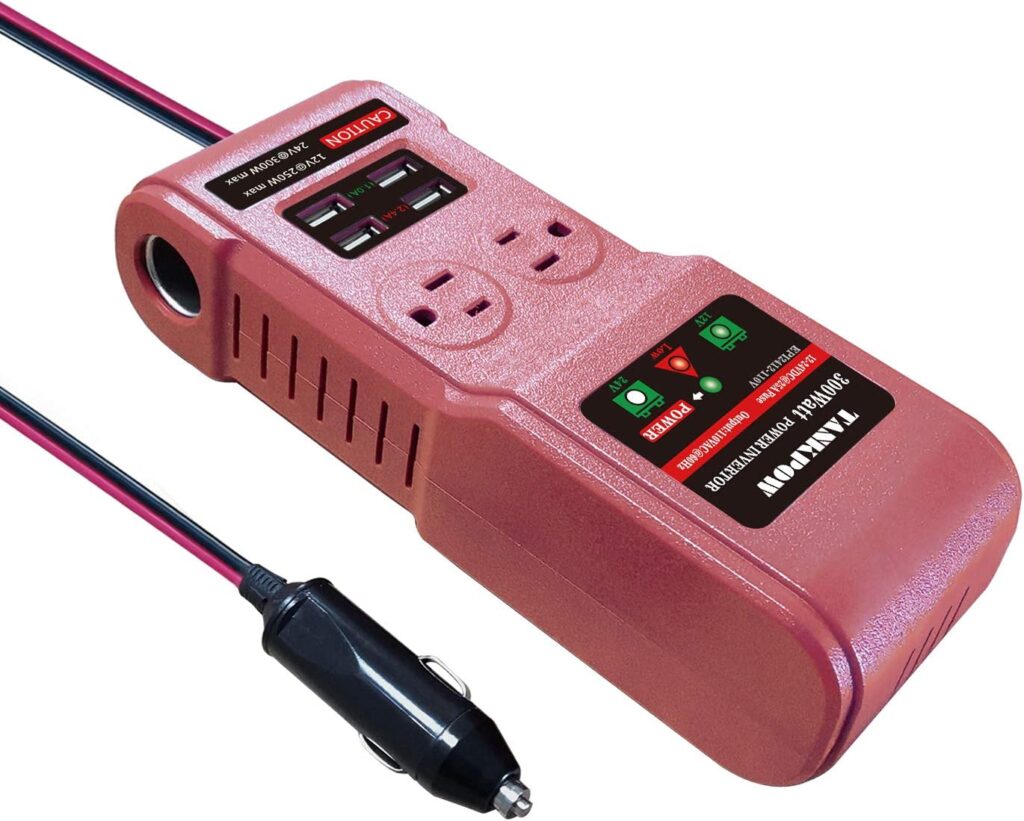 In red color, the power adaptor by Tankpow looks solid and it is internally very solid too because many users are happy with the performance and the ease of use. It is a portable unit that is great for the handy use as you can effortlessly charge your laptops, mobile phones and all those devices that require less than 300w electricity.
Widely Applicable 300-Watt Power Inverter, Multi-Protection Features
The main task of this Tankpow 300w unit is to convert 12V to 110V AC. Therefore, it is a good power converter to use in RV, boats, trucks, cars and other vehicles. You can also use it for other purposes like emergency electricity needs or the remote electricity demand.
The Tankpow 300w power inverter provides 300w useable output to charge your devices and it provides 400 watts of instantaneous power.
Impressively, the Tankpow is not only a single voltage unit, but also a double voltage unit because it is capable to converter either 12V or 24V to 110V AC. So, I assume it is really a good capability in this portable unit. It is made in a small size so you will enjoy the ease of handling and compactness of this unit. Of course, you can go with this Tankpow power inverter anywhere you want. As per the manufacturer, the Tankpow 12v / 24v power inverter is very suitable for vacation, travel, business, outdoor use, camping and vehicles.
Highly safe to use – the shell of this Tankpow product is made of high grade ABS materials. The ABS material is very helpful to prevent heat and shortages. Apart from the durable shell, the unit has a built-in fuse to prevent over-current, overload and other faults. The built-in fuse used in this unit is based on the consideration of the original car fuse, which is generally a 15A fuse. The Tankpow power inverter has protection capabilities to save from over-voltage, over-load, over-heat, short circuits and other electrical faults.
Intelligent cooling fan – the cooling system of this unit is thoughtfully designed so the 12V power inverter is capable to run silently. The overload related faults are highly prevented because the unit is designed accordingly. In fact, the manufacturer says that when the load is more than 150%, the unit will stop functioning. More importantly, high-grade components and micro-controller ensure the perfect functioning.
12-month warranty – the TANKPOW 12V power converter is protected with a 12-month warranty and after-sale service. So, there is no risk in purchasing this Tankpow inverter because consumer satisfaction is guaranteed as promised by the manufacturer. If you get a problem, please contact the manufacturer immediately for the support.
Key Features & Specifications – Tankpow Car Power Inverter
| Product name | Tankpow 300W power inverter |
| --- | --- |
| Output wattage | 300W |
| Input voltage | 12V / 24V |
| Output voltage | 110V |
| Brand | Tankpow |
| Built-in fuse | Yes |
| Protection features | Yes |
| Cooling fan | Yes |
| Warranty | One year limited warranty |
| Availability | View on Amazon |
Key features are mentioned in the above table. The Tankpow 300W car power inverter is positively reviewed and rated on many selling platforms because it is a solid unit with multiple output sockets to charge various devices simultaneously. It also has USB ports to charge those USB-enabled devices. Most importantly, it is a low price power inverter that sells on Amazon and other market places.
Dual Voltage TANKPOW 300W Power Inverter – 12V / 24V
Please know that it is not a single voltage unit, instead it is a dual voltage power inverter. Therefore, you can use this power inverter either with a 12V battery or 24V battery. The 12V uses are very suitable for cars, SUVs, small vans and others. The 24V uses can be suitable for large trucks, trailers and more. In short, you can use this unit with a 12V car battery or 24V truck battery.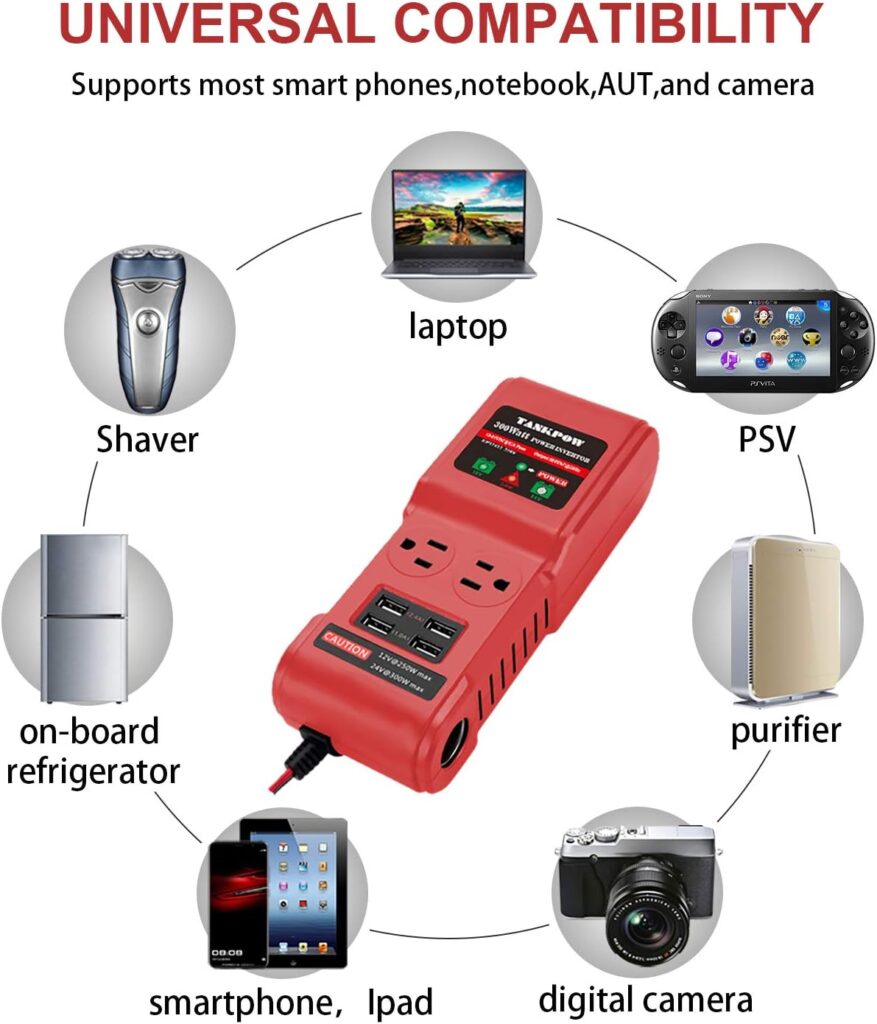 As per the manufacturer, the DC to AC power inverter is an intelligent unit to use with all those devices that require less than 300 watts power. This unit is very suitable for car DC 12V or truck 24V to AC 110V. More importantly, the Tankpow 300W power invert is highly safe to use because of the multi-protection features such as short circuit protection, overcharge protection, overheat protection, low-voltage protection, overload protection and other electrical faults.
Pros
It works as advertised.
Very easy to use
Cigarette lighter connection is very easy.
Multiple USB and AC 110V outlets
Great price
It is good to charge laptops, mobile phones and other small devices.
Compact and lightweight
The 12V cable is reasonably thick.
It feels very solid.
A well made product
Cons
Some users mentioned that it failed to give the rated 300W output.
This is a low wattage inverter so you may not be able to run large appliances.
As per the pros, the Tankpow 300watt power inverter looks very promising. It is a small size power converter that is good for both 12v and 24 batteries because it is a dual voltage unit. When it comes to the sturdiness, it is a solid inverter as commented by many users. Of course, it is a well made product. It comes with the battery cable that is thick and high grade cable. It is also very easy to use and has multiple sockets to connect multiple electronics simultaneously.
Conclusion – Tankpow 300Watt Power Inverter
In short, Tankpow 300w power inverter works well for the small device charging needs. It may be that the Tankpow is a new inverter brand but this Tankpow 300W power inverter is solid and performance oriented. Most of the users are happy with this power converter so it is highly recommended to buy. Additionally, it is a dual voltage power converter which means it can work with both 12v batteries and 24v batteries.