BMK 500-watt power inverter has a slim design and a beautiful look. The 500W power inverter is a lightweight unit that comes with various benefits. Well, most of the BMK power inverters have an attractive look. I am sure you will love it because it provides utmost convenience, safety and good performance.
In fact, it comes with numerous benefits that make it a buyable product. It delivers pure sine wave output, which is one of the best power qualities. Apart from delivering clean electricity to the connected devices, it has greater drive capability and better protection to the connected devices.
When it is in operation, it does not deliver too much noise. The noise coming from this unit is less audible so you will not get disturbed from noise.
Highlights of BMK 500W Inverter
BMK BLUEMICKEY brand name
500watt output capacity
12-volt input voltage
Battery clamps and cigarette lighter plug included
2 x AC 110V outlets, 2 x USB ports and 1 x type-c port
8.82 x 6.89 x 2.72 inches product dimensions
Weight: 2.81 lbs
Output voltage: 110V
Output waveform: Pure sine wave
Availability: View on Amazon
The key features as well as specifications are written in the Highlights section. The BMK 500W inverter looks impressive because it delivers 500W output power, which is very sufficient to charge a wide range of devices as well as small kitchen or home appliances.
AC & DC Output and Great Protection Features
The good thing about this BMK power inverter is the output sockets. It has both AC and DC output sockets. The power inverter has two USB ports. One of the USB ports type C PD 18W port.
The actual output capacity is 500W continuous and 1000W surge capacity. The BMK power inverter does the great job of converting battery DC electricity to 110V AC electricity. Of course, you need to connect the unit with a 12V battery then you will be able to get the 500W output. As said above, the BMK 500 watts power inverter is a 2-in-1 converter.
By the manufacturer, it is claimed that it has multi-protection capabilities. Well, such claims are also with this BMK power inverter. The maker says that it has multi-protection capabilities. As a result, the BMK 500W power inverter provides protection against overheating, over-voltage, overload, short circuits and many other electrical faults.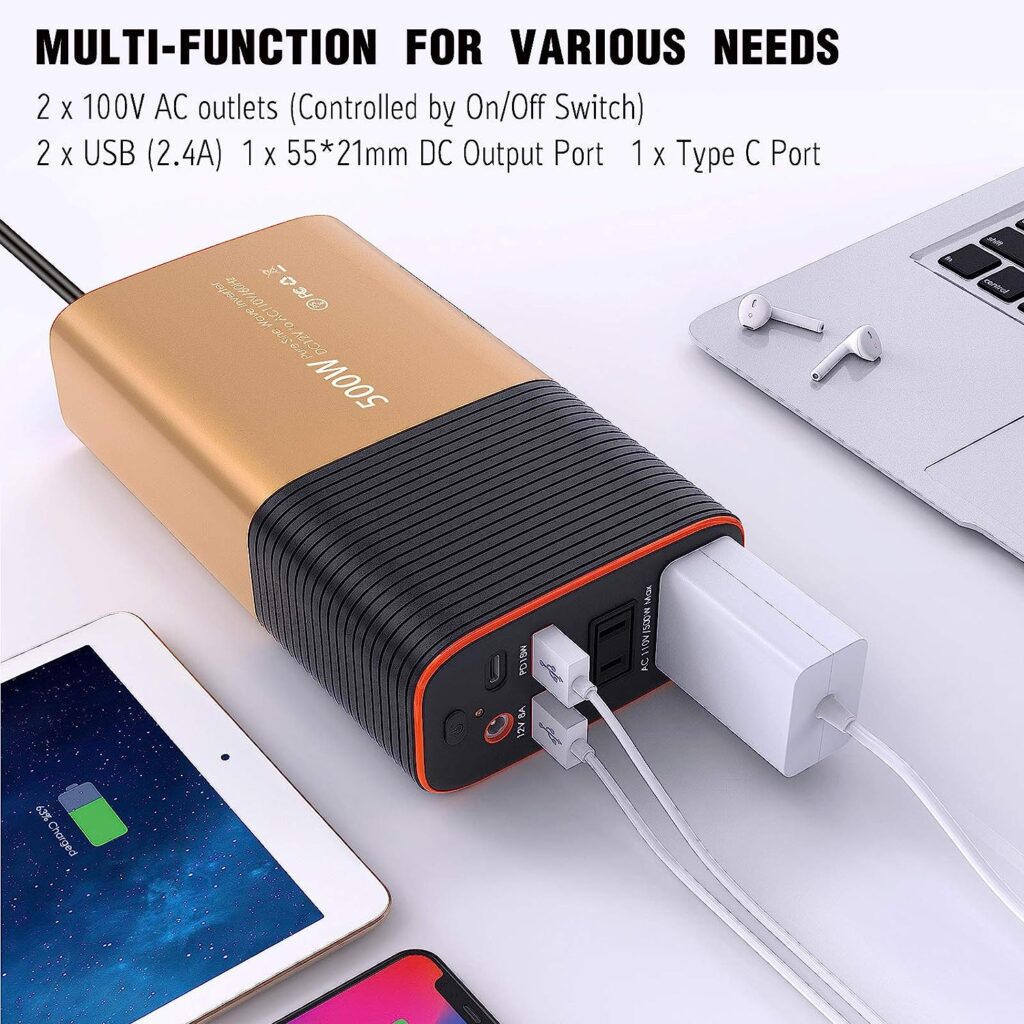 BMK 500W Inverter for Clean Electricity Generation
BMK 500-watt power inverter has THD less than three percent. THD means total harmonic distortion. So, less THD means better performance. You receive improved quality output capacity, which is good for most sensitive devices. On overload, the BMK electricity generator will automatically shuts down the AC supply. After that, you need to switch off the unit and start after reducing the load. Please know that the On/Off switch located on this power inverter only works for the three-prong plugs. The USB ports are not affected from pressing the On/Off switch.
What does the package include? The complete package includes a BMK 500W inverter, battery clips, a 12-volt cigarette lighter plug, a user manual, a 24-hour customer service support. Read more…
Pros
Nice design (clean & modern)
Works well
Good replacement policy
Good customer service
A well-constructed item
Both AC & DC output ports
Comes with both cigarette lighter plug & battery clamps
Solid cables
Pure sine wave output
It works as advertised.
Good price
Cons
Some users wished the cables were a little longer.
A little heavier than expected
BMK 500W Power Inverter Review says that it has many pros and a few cons too. The main pros are pure sine wave output, reasonable price, high quality battery cables, supports for both AC and DC outputs and more. Overall, it works as advertised. On the downside, the 500W inverter is a little heavier than expected and the cables are a little short.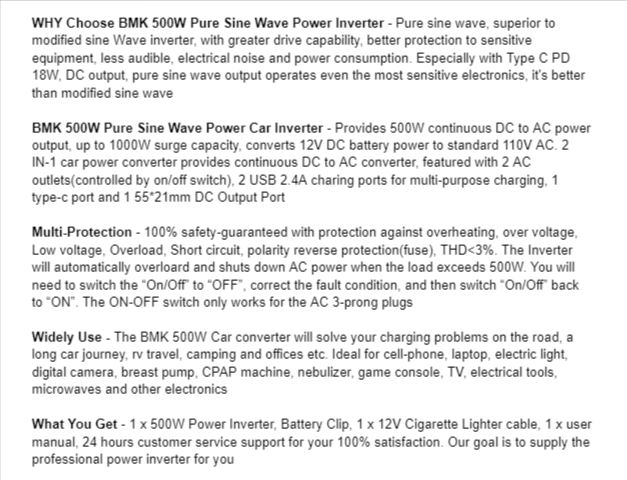 If you are looking for a power converter which is versatile enough, this BMK inverter is for you. It will solve your  device charging needs on the road, in car and travel. You can easily charge your laptops, phones and other devices.
Conclusion – BMK 500W Electricity Adapter
At the end of the BMK 500W power inverter review, I will say that it is one of the solid electricity converters. The 500W output capacity is very good to run medium-capacity appliances and personal electronics like laptops, phones, cameras and more. For the appliance and device connection, the BMK inverter features various outlets such as 2 x AC 110V outlets, 2 x USB ports and a type-c port. And, it delivers good performance and has the capability to generate good quality electricity to run sensitive electronics.