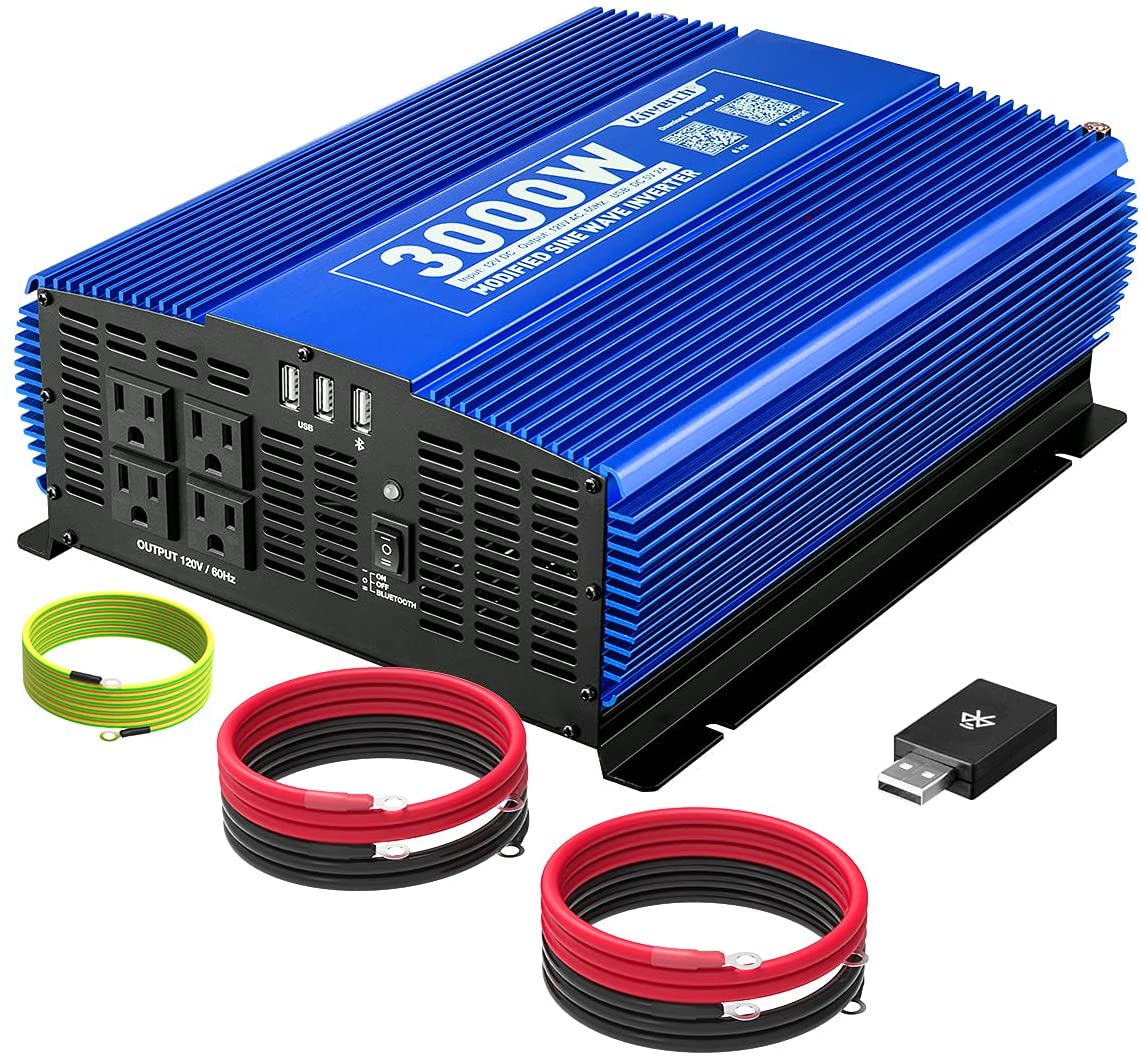 Kinverch as a brand name may not be as popular as Bestek, Potek inverter brands but it has some solid power inverters. In case, you want to buy a high-power inverter in a low price, please keep reading.
Kinverch DC 12V to AC 110V power inverter has 3000W AC output. However, if you need a different size inverter then you can choose one of the several sizes available. These sizes are 500W, 750V, 2000W, 3000W and 5000W. This review is about the 3000 watts inverter.
You can use this Kinverch 3000W inverter to power most electric devices, even high wattage appliances. This power inverter is good to power large as well as small devices. You will not have a problem for powering daily used gadgets and appliances in home. You can easily power fridges, microwaves, televisions, DIY power tools and many others. For the power supply, the Kinverch 3000W inverter features four AC 110V outlets and two USB ports.
I am sure you will like its Bluetooth capability. The manufacturer says that it is the first inverter that has this wireless capability. With the help of the Bluetooth app, you will be able to monitor input and output voltage on your phone. Well, you not only see the input and output power, but also see real time error report and other important information.
The Kinverch 12V inverter is perfect for home and vehicle uses. It is also a perfect inverter for the emergencies like hurricane, power failure, storm and any other emergency power requirements. You have to connect with a good condition 12V battery. The inverter will take the input power from the connected 12V battery then it will convert the 12v power into the AC 110v power. After this, you will be able to power most of your home, kitchen and office appliances. It has dual USB ports, which are great for charging small devices such as cell phones and other USB-enabled devices.
The Kinverch 12V inverter features a safe design that makes it more protective then others available on the market. For the protection, it features SMT circuit boards, which are known for reliability and efficiency. It has less RF emissions on the circuitry area to make it more protective than before. The 3000-watt inverter has 40A built-in fuses, cooling fans and audible alarm that work to protect against voltage problems, temperature problems and short circuits. Read more…