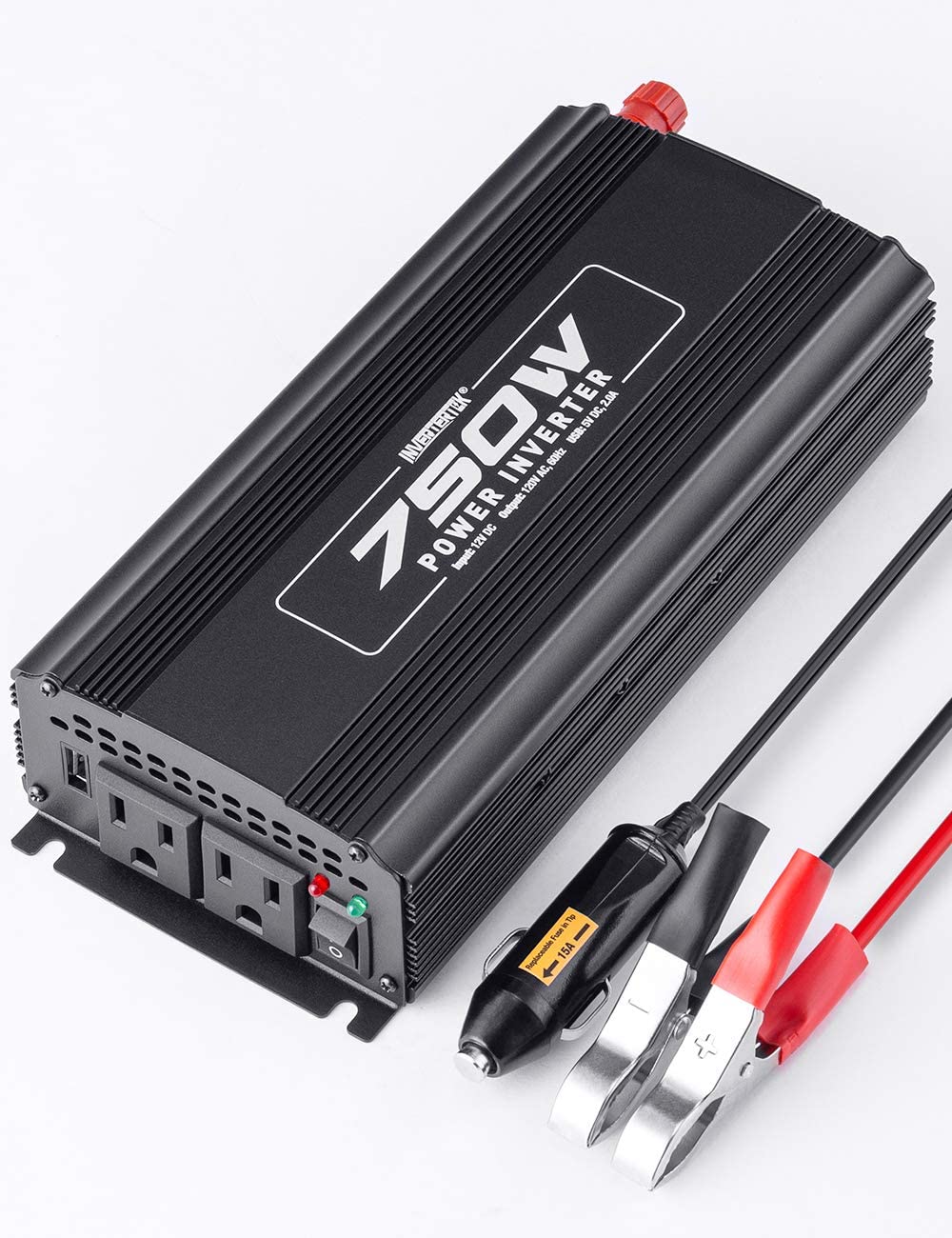 Invertertek is a new inverter brand. If you prefer to purchase an inverter from a new brand because some people do it for the affordability, you can check InverterTek 750W power inverter. The price looks too impressive. Since it is a low-price inverter, I wanted to recommend to you.
The 750W power inverter has 1500W peak power and it does the great job of converting DC power to AC power. Which means, the inverter is made for converting the 12V DC battery power into the useable AC 110V power. This inverter features several AC 110V sockets that you can use to power appliances in homes, offices, camping, RVs and others.
This InverterTek power inverter comes included with both battery clamps and cigarette lighter plugs. If you are using the cigarette lighter plug, you will not be able to draw more than 150W power. To get more than 150W power, you need to connect the inverter with the battery using the battery clips. Then you will be able to get the full rated power from this power inverter.
Well, the manufacturer claims that this 750W power inverter can handle most loads. So, it is perfect for powering cell phones, laptops, cameras, televisions, music players and other home/kitchen appliances. The inverter is also good for those people who mostly travel by vehicle because you can easily install it in your cars, RVs, trucks and other vehicles.
According to the manufacturer, the inverter has five safety protections. So, the inverter is highly safe to use because it is highly protective against short circuit, overheat, over-temperature, low/high voltage and overload.
Most inverters have aluminum housing; this InverterTek inverter has also an aluminum housing that makes it solid and protective from external bumps and other similar things. The inverter has a smart cooling fan that is condition to start upon certain loads and temperature level. When the fan is in operation, you will not hear any annoying sound because it runs silently.
All the required components come with the purchase. So, you get this 750W power inverter along with 35-inch car cigarette lighter plug, 23-inch battery clamps, two 40A spare fuses and an owner manual. Of course, free customer service is also included with the purchase of this InverterTek power inverter. Read more…