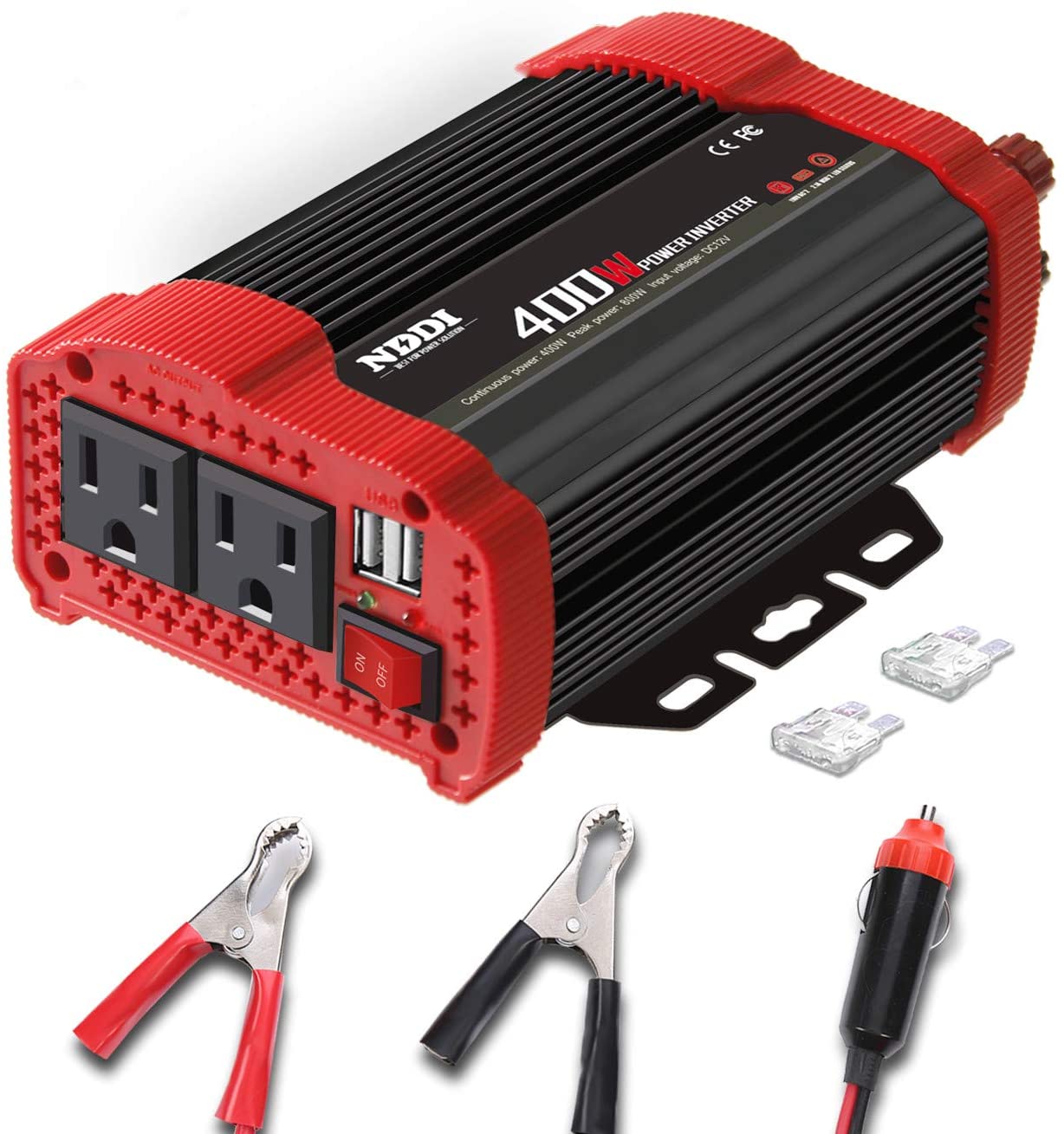 Those who are looking to buy a solid power inverter in a low price, NDDI 400W DC to AC converter can be the best piece for them. The 12V inverter has dual AC outlets and dual 3.1A USB ports. The NDDI power inverter comes included with a cigarette lighter plug, alligator clips and fuses.
The 400W power inverter looks solid in red & black color. It is indeed a solid inverter that is priced lower than its opponents are. It measures 5.91 x 3.15 x 2.36 inches. I can say that it has gotten a good size. I am sure you will not have any problems with the size because it is not too long nor too short. The NDD inverter weighs just 0.88 lb., so it is a lightweight unit also. Actually, the power inverter has a thoughtful design that is very suitable for most vehicles. I can say that is a winner in regards to usability and portability.
NDDI 12V power inverter can surely tackle most of the portable power needs. However, to get electricity from this power inverter, you need to connect it with a battery. You can connect with a car battery or other batteries because it comes included with both a cigarette lighter plug and alligator clips for the battery connections. Additionally, let me tell you that the cigarette lighter plug comes with a long cable that gives you access to the inverter from anywhere in the car. You can easily access the inverter power sitting on the back seat in your car.
The NDDI 110V power inverter is made of ABS plastic material that is heat-resistant also. So, with this power inverter, you will not experience issues such as heating and shortages. To keep your devices safe all the times, the NDDI power inverter has built-in fuse so you do not have to worry for the issues such as short circuits, over-voltage, over-heating and other similar issues as well.
Such powerful inverters are perfect for the road travelers, campers, emergencies, homes, offices and DIY use. If the power inverter is configured then you will be able to charge your laptops, phones and other appliances without a problem. Please make sure that you have to be within the limit because you will not be able to use more than 400W power from this power inverter.
Highlights
Smart cooling fan runs silently
Full protection against overload, over-current, short-circuits and other electrical issues
Built-in fuse
Black & red color
400W output
Modified sine wave output
0.88 Lb. weight
Dual AC outlets, dual USB ports
DC cigarette lighter socket
24-hour customer service support
Pros
It is easy to mount because it comes with everything for the installation.
Competitive price
A powerful unit
Compact and easy to use
Cons

Some users faced problems with the USB ports.