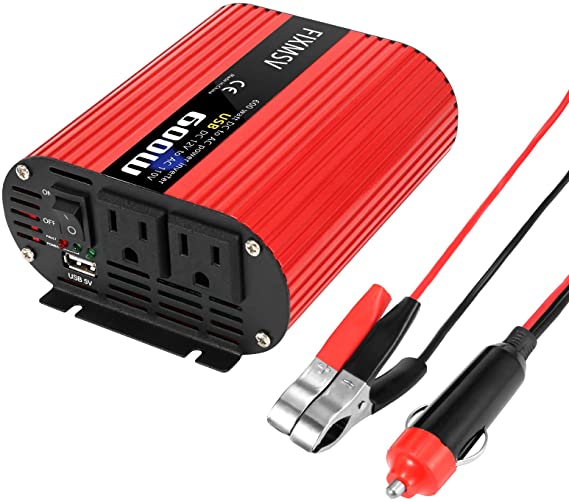 FIXMSV looks like a new inverter brand but it offers several benefits so it is good to purchase at a low price. In case, you are conscious to the budget then this inverter purchase will surely give some reliefs as well.
FIXMSV 600W power converter is a DC to AC power converter. It delivers 600 watts output that can be used to run several appliances in homes, vehicles, offices and somewhere else.
The FIXMSV 12V power inverter features two AC outlets. Using the AC outlet, you will be able to power your 110V appliances. The power inverter also has a USB port with 2.1A capacity. According to the product description, the USB port is good to charge devices at a fast speed. Well, using these connection outlets, you will be able to run devices such as digital cameras, gaming machines, DVD players, GPS, bulbs and other home and kitchen appliances.
FIXMSV 600W power inverter comes with a pair of alligator clips with their respective cables. Please use the alligator clips to establish a secure connection between the inverter and the battery. After the inverter and battery connection, you will be able to power your home and kitchen appliances. Of course, you can use the FIXMSV power inverters in vehicles to power your desired appliances. The 110V power inverter also comes with a char charger plug that has a 20-inch cable attached. You can use the car charger plug to connect this inverter with your car battery. Please make sure that you do not draw more than 150W power via the car cigarette lighter plug otherwise the inverter's fuse may blow or it may stop working.
The 12V to 110V power inverter protects the connected devices from several power faults because it has fuses that greatly protect from electrical faults. You do not have to worry from common electrical faults such as over-voltage, short circuits, over-heating and other similar things. In fact, the FIXMSV power inverter is based on a safe charging mechanism that protects from any electrical faults.
To deal with the over-heating issues, an internal fan is there that runs on certain conditions. The cooling fan has variable speeds that run on over inverter temperature and over load. So, the cooling fan is a good protection component. It not only saves the unit and the connected devices but also increases the overall inverter life.
Pros
Good for vehicles, travelers, campers and others
It has thick cabinet that makes it solid and silent power inverter.
The size of the FIXMSV inverter is very suitable as liked by many users on Amazon.
Cooling fan runs quietly.
For many users, it does not drain their battery.
Cons
MIXMSV is not a popular manufacturer.