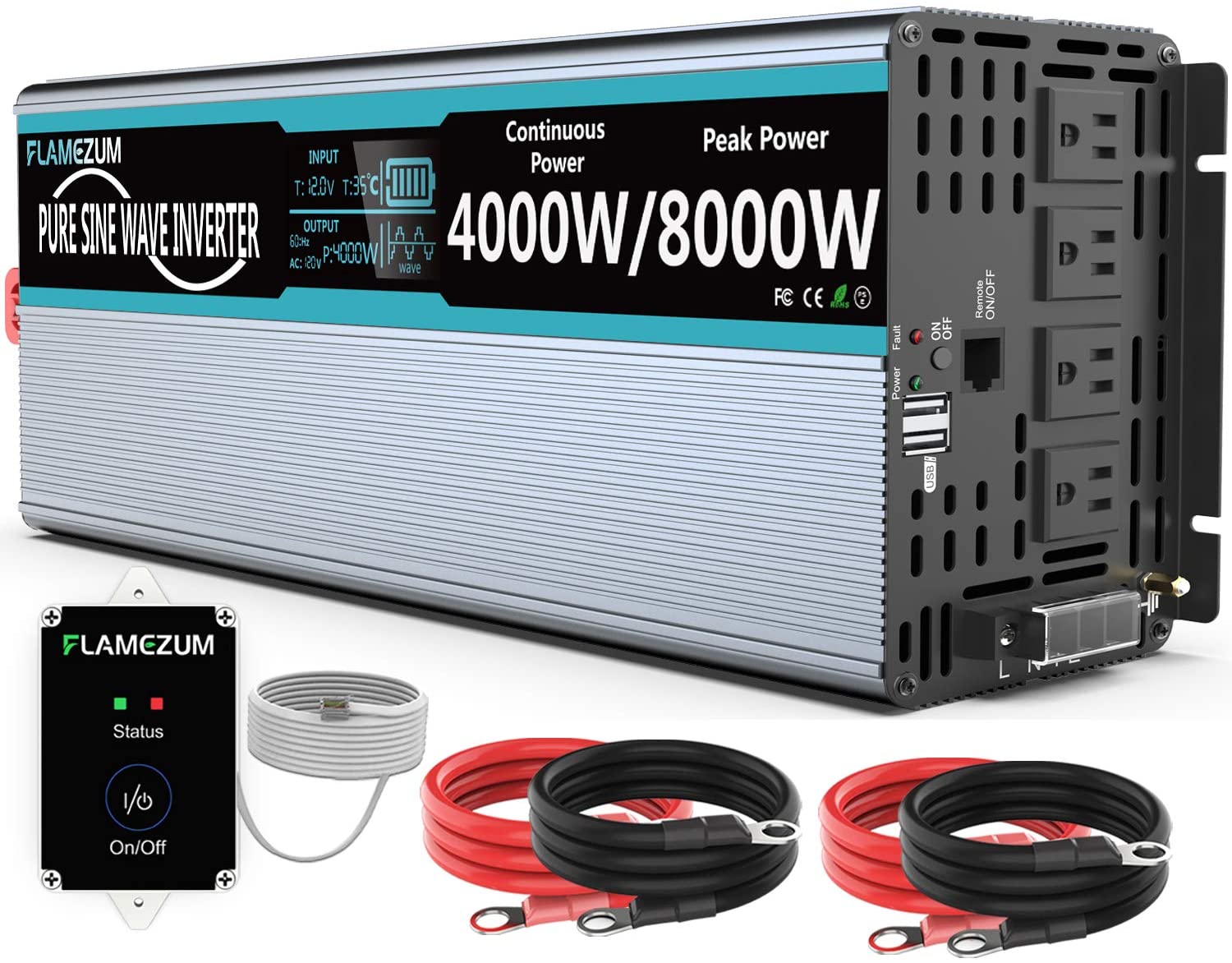 FlameZum may not be as popular as Bestek, AIMS inverter brands but it makes some of the best power inverters that sell on reasonable prices. You can check this 4000-watt power inverter from FlameZum that is a pure sine wave inverter. The 12V inverter is highly popular on Amazon and other selling platforms. The 4000W inverter has 200% peak power, which means it has 8000W peak power. Well, some appliances require extra startup power for few seconds so for those devices this peak power is enough for a smooth start.
The powerful and strong 12V inverter does the great job of converting the battery power into AC power. You can use the converted power to run your preferred appliance and devices. Well, 4000W power is huge to run most of the home and kitchen appliances. This FlameZum inverter features an LED display, four 110V AC outlets and one USB port. The USB port's specification is 2.4A. Well, for a fast charging, the 2.4A USB port is good. This inverter also comes with a remote control providing the utmost convenience to operate the inverter remotely. With such capabilities, the FlameZum 4000W inverter becomes the best inverter for vehicles, homes, solar system and industrial use as well.
The multi-purpose power inverter is perfect for indoor as well as outdoor applications. The good emergency tool is perfect for power failure emergencies, medical works and others. The heavy-duty power inverter is also good for the emergencies such as storm, hurricane and so on.
The FlameZum 4000W inverter is highly safe to use anywhere you want. It can greatly handle common electrical faults such as high voltage, low voltage, short circuit, reverse polarization and many others. The pure sine wave inverter has auto-restart function and GND protection that are needed in some critical conditions. For more protection, you can opt for the product liability coverage that is offered by AIG insurance company. So, you can see that inverter is highly safe to use, you do not have to worry of anything because an insurance company is also available to reduce the burden.
The FlameZum pure sine wave inverter is a long-lasting inverter because it has a durable aluminum case so it is highly protective from any sort of drops and bumps. Moreover, the inverter is based on a soft start technology that is responsible to start the inverter smoothly. It also has an isolated input/output design, which is an additional safety feature. Moreover, the cooling fan is there to provide sufficient cooling to the system in case of overheating problems. Read more…