According to the finding, Fit4Less is not as popular as BESTEK, Energizer and AIMS. However, it makes solid inverter with rich features. These Fit4Less inverters come at reasonable prices if you check them on Amazon.
To fulfill your varied needs, the manufacturer makes this inverter in multiple sizes. Which means the Fit4Less pure sine wave inverters are available in sizes such as 1000W, 1500W, 2000W and 2500W.
Extensively, this review focuses on Fit4Less 1500W pure sine wave inverter. This Fit4Less inverter has 1500-watt continuous power and 3000-watt surge power. The inverter features 2Amp USB port and dual 110V AC outlets. With the multiple outlets, you can connect your desired appliances and devices. On a safety note, the output outlets are ETL approved.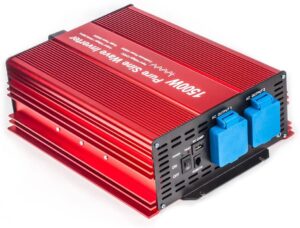 Circuit & cooling fan – according to Fit4Less, the inverter carries the latest design with an advanced circuit board. Impressively, the inverter features two cooling fans to cool the circuit card and other components. Reliably, the dual cooling fans are capable to maintain the require speed.
Attachments – the inverter comes with OFC battery cables, fixing wrench for input terminals and a remote control with 16 feet wire.
Precaution – to power heavy-load appliances, it requires more than the rated power to start. Thus, please ensure that the inverter is capable to provide sufficient power. In case, the inverter fails to provide sufficient power, you may have to buy a high-power inverter to handle heavy appliances.
Additionally, please make sure that the Fit4Less 1500W inverter is connected with sufficient DC power source. If required, you may have to connect with a high-power battery to run load-intensive appliances.
Specifications — Fit4Less 1500W Inverter
1500 watts continuous output
1700 watts maximum output power
3000 watts serge capacity
85% efficiency on full load
DC 12V input voltage
Less than 1Amp no-load current draw
110V to 120V output voltage
60 Hz frequency
DC 5V USB ports (2Amp capacity)
On/Off remote control
High-speed cooling fan (thermal controlled)
Protection from over-load, low/high voltage, over temperature and short circuits
Impressively, the Fit4Less inverter has the specifications that will surely deliver good performance. The 1500W output power is perfect for running most of the home appliances, entertainment devices and much more. In fact, I liked the 1500-watt capability because it falls in medium range, neither too low nor too high.
Wired remote control – excitingly, Fit4Less 1500W Pure Sine Wave Inverter comes with a wired remote control. Before you use this remote control, it is advised to switch off the inverter manually. In case, you find that the Fit4Less 1500W inverter is not starting with high load, please change the mode from remote control to manual.
One more thing, the remote wire takes approx. 1V DC power, which may cause the inverter to show low-voltage warning. It happens when the inverter is connected with a low-size battery and the load is too high. So, it is advised to connect the pure sine wave inverter with a high-power battery and please keep the car engine on to run high-power appliances.
FAQs – Fit4Less 1500 Watt Inverter
Q: what is the Amp rating of the 110V AC outlet?
A: the AC 110V outlet has 15A rating.
Q: can I mount the inverter in car's engine compartment?
A: it is not advised to mount the inverter in the engine compartment because the inverter may heat a little when it runs. According to the manufacturer, the inverter is not weather/heat resistant so it is not good to install in the engine compartment.
Q: what is the length of cable to connect with the battery?
A: for good performance, the inverter comes with 2 feet cables. In case, you require a cable longer than this, please purchase it from the nearby stores. However, please know that shorter is better for supplying the rated output power.
Q: can I connect this 1500W inverter with a cigarette lighter plug?
A: by the manufacturer, it is not recommended to connect via a cigarette lighter plug because it is a 1500W inverter. In case, you need to connect via the cigarette lighter plug, please make sure that the connected devices don't consume more than 150W power.
Customers' Reviews on Fit4Less Pure Sine Wave Inverter
One – this customer is not happy with the performance. For the experiment, this customer connected a 960-watt heater with the inverter. He was able to make a pot of coffee that pulled 900 watts power. Furthermore, he didn't like the fan that comes on/off frequently. To other customers, he suggests mounting this inverter in a soundproof place.
Two – happily, this customer shares his experience on the usage of this inverter. He tested the 1500W inverter by connecting his oscilloscope under many loads such as high, low, medium and light. The inverter delivered good performance with true clean power in all conditions. According to his experience, the inverter is well built undoubtedly. He says that the same quality inverter will cost 5X more.
Three – the user has expressed his happiness in his reviews. He says that he is able to operate several devises without any troubles. According to him, he runs a 3.2 cu. ft. mini fridge, a 6-watt microwave and laptops very comfortably. The inverter features an alarm to inform you if better went low. For the operation flexibility, the included remote control is very handy. The inverter comes included with thick wires for the installation. Further, he advised that please make sure that you mount the inverter next to the battery for good output.
Four – an Amazon customer is unhappy with the performance of the inverter. He said that it is worthless. He also doubted the pure sine wave capability. The inverter fails to run an 1135-watt appliance, so it will not deliver the 1500-watt power.
Five – this customer warns other not to buy it. According to him, the Fit4Less 1500W inverter doesn't handle a 900-watt load.
Six – according to this reviewer on Amazon, the remote control is perfect to use in his RV. He doesn't have to get up and turn it on and off. However, he says that the fan frequently comes On and Off.
Pros
Remote control
Reasonable price
Good protection
High-speed dual fans
Sockets are ETL approved
Comes in multiple sizes (wattage)
Perfect for RVs and home appliances
Thick battery cables
Pure sine wave output
Cons
It doesn't deliver full output
The fans come on/off frequently
Loud noise
On a final note, the pros and cons tell that this is an average performance inverter. Personally, I admit that some customers have questioned its capacity. However, there are countless happy users of the Fit4Less 1500W pure sine wave inverter. Considering all factors such as price, output power, accessories, ease-of-use and the protection capability, the inverter is recommended to buy. Well, I'm hopeful that in the next version, the manufacture improves the inverter. The inverter has also received complaints regard fan noise, less output power and frequent on/off fan.
Ending Thoughts on Fit4Less 1500W Pure Sine Wave Inverter
To conclude, the Fit4Less inverter is actually a fit for less. Yes, seeing the low price on this 1500W inverter, I recommend buying. The pure sine wave power inverter looks impressive from many sides.
First, it comes at a reasonable price. Second, it features a wired remote control, which can be used to operate the inverter remotely. In my view, the remote control makes the inverter very handy and flexible, which is also very good for the RV uses. Third, the inverter outputs pure sine wave power, which is good to run almost all devices and appliances based on the load.
However, I warn the customers that the inverter has received some complaints on Amazon related to the less output power, loud sound etc. Please research more on this before you commit to buy this 1500W inverter.