In case, you want to buy an inverter and you want both low-price & high-performance, please check FlameZum 1500W inverter. The pure sine wave inverter is highly capable to deliver performance and ease-of-use.
The FlameZum 1500W inverter has many positives such as true sine wave output, safety, multiple usages, wired remote control, LCD display and 18-month warranty.
FlameZum Inverter's Features
Widely Applicable – such powerful inverters are perfect for emergency power supply, RVs, boats, business trips and many others. For the varied uses, the 110V power inverter features dual USB ports, and 4 X 110V AC outlets. Using these connection sockets, you can comfortably connect multiple devices and home appliances. For fast charging, each USB port has 2.4A capability. With the 2.4A USB connection, you will be able to charge your devices at a fast speed, which is good for the emergencies such as storm, hurricane and power outage.
Protection – the FlameZum 1500W inverter comes in the latest design because it has dedicated input and output terminals. Also, the unit is based on soft-start technology. In case, the inverter detects any electrical faults, it will notify you with a red light indicator and alarm sound. The inverter is automatically deactivated from the battery on overload, over-current and over-heat.
Pure sine wave – from FlameZum 1500W inverter, you receive clean electricity, which is good for charging sensitive electronics and other devices. The 1500W pure sine wave power is good for charging medium-wattage appliances and day-to-day gadgets.
LCD display – to keep you informed, the LCD display shows relevant information on battery uses, output power consumptions, input voltage, temperature and waveform.
Package contains – FlameZum 1500W inverter, wired remote, battery cables, user manual and 18-month warranty card.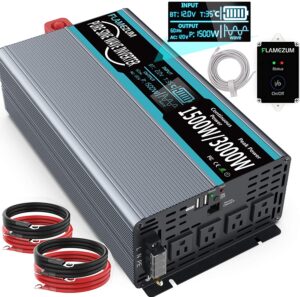 Specifications – FlameZum 1500W Pure Sine Wave Inverter
DC input: 12V (10.5 – 15.8 volt)
AC output: 120V (105 – 130 volt)
Waveform: pure sine wave
Continuous power: 1500W
Peak power: 3000W
Connection sockets: 4 x 110V AC sockets, dual USB ports (2.4A)
No-load power: 0.9A to 2.5A
Battery cable: a pair of black and red cables, 2.62 feet long
Cooling fan: starts automatically on 113° F temperature, 1/2 inverter load
Remote controller: 15 feet remote control cable and RJ10 plug
Warranty: 18 months
Display type: LCD
Model number: FLK-1500W-12V-120V
Brand: FlameZum
In short, I don't see any issues with the specifications. These specifications resemble popular brand inverter's specifications. Additionally, it comes with an 18-month warranty. If you get any problems, you have 18 months in your hand to claim.
FAQs – FlameZum 1500W Inverter
Q: does the inverter come with soldered or non-soldered fuses?
A: it comes with non-soldered fuses, and you get additional fuses too.
Q: what is the gauge of battery cables?
A: for six feet or less, it is recommended to use AWG 4 wire (positive and negative).
Q: what is the rated efficiency?
A: according to the product description, it has 95% efficiency; however, the manual says 92%.
Q: can the inverter run 300W device in a normal car?
A: it is not recommended to get more than 150W power from your car battery. Otherwise the fuse will blow.
Q: is it a pure sine wave inverter?
A: yes, it is a pure sine wave inverter.
Q: will the FlameZum inverter shut off automatically on high load?
A: yes, it comes with the overload protection capability.
To get answers to your general questions, please refer to the list of FAQs. It contains questions and answers related to capacity, accessories, protection features and many others. In case, you don't find an answer to your question, please check on Amazon as well. In fact, Amazon has a FAQ section for every product.
What Does Users Say about FlameZum 1500W Inverter?
One – an Amazon customer says that the inverter does the job it was purchased for. He uses this inverter to extend his solar system. According to him, the digital display is at the right place on the middle top of the inverter.
Two – he says that he returned the inverter because it was with some technical issues. He got a replacement. This time, the inverter worked fine but it had some display issues. Again, he contacted the customer service team and issue was resolved. Now, he is impressed with the good customer service.
Three – according to him, the inverter worked as expected but it beeps annoyingly. He says that the beeps come when solar charger kicks on and starts pushing over 14.8-volt.
Four – this customer bought the 1500W inverter for his shop-vac in his RV. The inverter worked excellently. Further, he complained that the fans are noisy.
Five – according to this Amazon customer, the inverter works well. He tested powering some low wattage appliances, he didn't experience any issues. He connected the inverter to a lithium-ion battery. Additionally, he says that the display is useful because it shows the battery voltage and output wattages. It seems like a steel at the price he bought. Now, he plans to use it for car camping.
Pros
Wired remote control
Simple setup
Useful LCD display
Low-price
Quick-response customer service
Perfect for emergency power backup
Good for several small home appliances
Solid battery wire
18-month warranty on the product
Pure sine wave output
Isolated input/output design
Widely used for indoor and outdoor applications
Full protection against overload and over-current
Cons
Noisy fans
Beeps constantly
Surprisingly, the FlameZum 1500W inverter has countless pros, which are directly converted into the high performance. On a safety note, the inverter is protected not only from several protective elements, but also with an 18-month warranty. However, according to some Amazon customers, the FlameZum inverter is a little noisy.
Conclusion
In short, FlameZum makes impressive power inverters, no doubts to it. Consequently, the FlameZum 1500W pure sine wave inverter comes with the features that are rare in such a low price. The unit has won harts of countless customers on Amazon, not only for the performance, but also for the ease-of-use and device compatibility. Of course, the inverter is highly recommended to buy based on enthusiasm of its customers on several shopping platforms.