Bapdas is an inverter brand. It makes a wide range of car inverters, which are affordable too. Among various Bapdas power inverters, Bapdas 150W car inverter is widely held. The Bapdas inverter converts the 12V DC to 110V AC, which can be used to power electronic devices.
The Bapdas inverter features one AC outlet and two USB ports, which can be used to power electronic devices such as laptops, phones, gaming consoles etc.
The multi-device charging inverter is designed in a compact and lightweight profile. It measures 3.2 x 2.5 x 1.5 inches. This is a lightweight inverter because it weighs just 8 oz. Since, it is a space saving and lightweight inverter, you can easily carry it anywhere you go.
The car inverter is very friendly to the travelers because it is very convenient to use. It can be plugged into a car battery and then you will be able to power on several devices.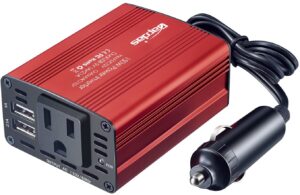 Like other standard power inverters, this is also a protective inverter because it has many protective elements. The Bapdas 150W inverter features an integrated cooling fan. Since, it comes with a powerful cooling fan, so the inverter doesn't have any heating issues. Further, the inverter has auto-shutdown capability when it detects any abnormal uses. Which means the connected appliances are completely safe without any doubts.
Bapdas 150W Inverter Specifications
110V AC output current
12V input current
USB output
150W total power
Low voltage: < 9.5V
Over voltage: >14.5V
Dimensions: 3.2 x 2.5 x 1.5 inches
8 oz. weight
According to the specifications of Bapdas 150W inverter, it looks a lightweight inverter, which is good for powering various devices that consume less than 150W power. The size and weight make it a portable unit without any doubts.
Prime Features
Tiny and low-weight inverter – this is undoubtedly a space sever because it measures just 3.2 x 2.5 x 1.5 inches and weighs just 8 oz. It has a high-quality aluminum body, which is good to withstand any bumps, strokes from the outsides, and makes it a super portable unit.
Highly protective – the Bapdas 150W power inverter provides protection from power fluctuations, short circuits, overload and other current related issues. It has an integrated fuse to take care of the current irregularity.
LED indicator – the inverter has two indicators such as green and red. The green indicator shows running status, while red indicator shows failure.
Noise-free cooling fan – the cooling fan runs faster, when the inverter gets warmer. Of course, you will not hear the annoying sound coming from the fan because it runs noiselessly.
Cigarette lighter – the cigarette lighter plug and cable is of 16-inch length, which reaches rear seat for charging various devices including laptops, mobiles, gaming consoles etc.
Package contents – the packaging box contains Bapdas 150W inverter and a user manual.
AC outlet & dual USB – you can use the AC outlet to supply 110V power to your appliances. It has dual USB (2.1A & 1A) for charging various electronic devices.
Color – the Bapdas 150W inverter looks beautiful in the red color.
User Experience
Based on reviews posted on Amazon, there are countless happy customers of this Bapdas 150W car inverter. These users expressed their happiness on Amazon. According to an Amazon customer, the Bapdas 150W inverter is perfect addition to his camping tools. He was existed after receiving this car inverter because he used to inflate his airbed using a traditional method. Now, he starts the car, connect this inverter with the car battery, and inflate the airbed with the help of this 150W inverter. He highly recommends buying the inverter that comes from a trusted Bapdas manufacturer.
A customer on Amazon says that his is a cute inverter because it has such a small size. He wished, it should have come with a key chain attachment, which would make it more portable. He used to plug this Bapdas inverter into his car's DC port. After this, he supplied the inverter current to various electronic gadgets including a gaming laptop and mobile phones. Further, he says that because it has multiple connection ways such as the dual USB ports and an AC outlet, he can comfortably charge multiple devices. Additionally, he says that this thin-size inverter charges his gaming laptops, which means it is good to charge various daily used electronic devices.
One customer mentioned that he used this laptop in his truck for charging phones and other electronic devices. The quick-charging capability of this inverter is appreciable. Further, he mentioned that he recently ordered the second inverter for other uses. Positively, he says that this is a great buy at the current price and it is highly recommended to buy.
Pros
Highly recommended by numerous customers on Amazon
Super thin size inverter
Multiple connection methods including dual USB and AC outlet
The housing is made of solid metals.
It runs quietly.
Good quality inverter to power multiple electronic devices
Perfect for camping
It can be used to blow up an air mattress too.
Solidly built
Cons
One needs to unplug when the vehicle is not running to save the battery.
Without any doubts, the pros and cons say that this is a super quality inverter, which is very useful for camping to charge various gadgets. The portable Bapdas 150W inverter is designed solidly. Thus, it will get rid of any bumps, outer strokes etc. Amazingly, the price is super low, which outperforms its competitors. Additionally, it comes with connection flexibilities, which are good for connecting USB based devices and AC outlet based appliances.