To power heavy appliances, BCI 3000 Watt Pure Sine Wave Inverter can be the best choice. It boasts many useful features and competences that make it a perfect power inverter for heavy appliances. It has dual display, dual cooling fan and 6-stage protection circuit.
According to the manufacturer, BCI 3000W inverter gives 3000-watt continuous and 6000-watt peak power surety. The 3000W useable electricity is enough to run several home appliances simultaneously. Of course, you receive consistent performance without facing any problems. Unlike other inverter manufacturers, the BCI manufacturer doesn't claim anything false, all are in front of you.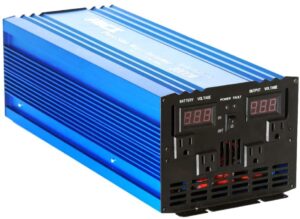 Dual Cooling Fan & Dual Display
Not to compromise dependability, BCI 3000W inverter features dual 2.5-inch automatic cooling fan. Thus, the intelligent cooling system is good for conserving energy and providing reliability. The temperature regulation is monitored in real time so that the fan speed will be adjusted according to the output power. This way, it delivers the best performance at the maximum safety.
Dual display – the BCI 3000W pure sine wave inverter has two displays for both AC and DC current. Which means, it provides information on both input and output voltage. Additionally, BCI claims that you can get reliable display for AC/DC voltage in all circumstances.
Six Step Automatic Safety Capability
The BCI 3000W inverter is completely protected from all issues that commonly occur in an inverter. Consequently, the BCI inverter is highly protected from low voltage, high voltage, short circuit, reverse polarity, over temperature and overload. Since, this is a highly protected inverter, so you will not get any issues from powering home appliances, office appliances and other electronic devices. Additionally, it outputs pure sine wave current, which is perfect for running complex electronics.
Various Uses of BCI 3000W Inverter
Undoubtedly, BCI 3000W inverter has numerous uses. You can use it for solar system, holidays, RV and many other indoor and outdoor activities.
Solar system – BCI 3000W power inverter is good for maintaining the quality of your solar system because it is a pure sine wave inverter. It undoubtedly survives in the toughest environments.
Camping – the BCI inverter can be the best assistant for camping, holidays, outing and road traveling. Instead of using a low-performance inverter, use this high-performance inverter that ensures reliability without any doubts. This is the perfect inverter to power multiple electronics simultaneously. However, you also have to depend on the battery you connect with it. It is advised to use a powerful battery with such powerful inverter.
RV – the DC 12V to AC 110V inverter is very suitable for recreational vehicles also. In fact, such inverters are perfect for motor home because it impressively converts DC 12V to AC 110V current. Additionally, it not only converts the battery current, but also converts the solar cell current into the household AC useable current.
Specifications
3000W continuous / 6000W peak inverter
60Hz output frequency & 110V AC output current
12V DC input voltage
10V ~ 15V DC voltage range
Low voltage alarm from 10V DC
Over voltage alarm from 15V DC
90% efficiency
Red & black cables with separated plugs as input terminals
4 output sockets (US household sockets)
-22°F to 158°F storage temp range
13 LBs weight
Dimensions: 18.25-inch length by 7.0-inch width by 5.5-inch height
The relevant specifications are in the above-mentioned list. Please read the list of specifications, which will answer your questions related to specifications of BCI 3000 watts power inverter. Shortly, it takes 12V DC and delivers 110V AC household current. It has 3000W continuous power, which is rated power to run heavy appliances. The inverter has 4 output sockets of 120V, which can be used to connect multiple devices simultaneously.
FAQs
Q: Do I need an external fuse to connect with a car battery?
A: No, you can directly connect with the battery. No external fuse is required because it is internally fused.
Q: If there is no electric consumption for days, does the inverter stop supplying electricity to the outlets?
A: No, electricity will be supplied to the outlets regardless the power consumption.
Q: Can I return BCI 3000W inverter if required?
A: No, there is no way to do it.
Q: How can I replace the fuses?
A: You can replace it by opening the external cover, which is tighten with four screws. However, you usually don't need to replace the fuses.
Q: If the distance between battery and inverter is 8 feet, what size cable do I need?
A: As per the manufacturer, minimum 4/0 gauge cable is needed. You will not require any uses because BCI 3000-watt power inverter uses 6-stage smart protection circuit.
Q: Can I vertically install this inverter on a wall?
A: Yes, you can mount it on a wall, in any direction.
Q: How many Amps do one socket handle?
A: According to the manufacturer, one socket handles up to 2000W. However, it doesn't make a difference to the inverter's performance as long as the total output is not exhausted.
The frequently asked questions have been answered above. Please scan the list of FAQs which will surely answer most of your questions related to BCI power inverter. The FAQs section covers aspects related to safety, applications, installments, accessories etc.
What Are the Users' Thoughts on BCI 3000W Pure Sine Wave Inverter?
According to a customer on Amazon, this is the great inverter for the price with good customer service. Further, he says that he tried three inverters from different manufacturers but none of them was according to the specifications. They say that they were pure sine wave inverters but they were actually not. This BCI inverter is really a pure sine wave inverter. He says that the sine wave output from this inverter is far better than the waveform coming from his home grid power.
He says that BCI 3000-watt power inverter did well on 2500W load. It is also very good for electronic sensitive devices. He says that he tried running his microwave with other inverters but they have annoying sound problem. Such problems are not with this 120V power inverter. It runs quietly. As per his experience, the inverter is giving good performance and it is good for the money.
Ideal for Both Indoor and Outdoor Usages
According another customer on Amazon, he easily installed the BCI 3000W inverter in his semi-truck. However, he already made the preparation of the installment before he received this inverter. He says that it was a little bigger than what he expected but no big issue. Further, he complained that the directions were not easy to read because they were in very small fonts. However, it is very easy to hook up pos to pos.
He says that he is using AWG 4 wire (four feet long) to the battery. He just hooked up, turned on and the inverter started working perfectly. It supplied 113.6 V AC current to power to his devices. He purchased this BCI pure sine wave inverter because he usually runs very sensitive ham radio equipment.
One customer at Amazon purchased this inverter to prepare for outages due to Hurricane Florence. He says that he never lost power. According to him, he was able to run many appliances such as full size refrigerator, chest freezer, plasma TV, hair blow dryer, floor fan etc.
Pros
It delivers pure sine wave current for sensitive devices.
Good for running heavy appliances such as refrigerators, microwaves, hair blow dryers etc.
A good product for the money invested
It runs silently.
6-stage protection
Good for RVs, Solar system, semi-trucks and power outage
Cons
It is a little larger than normal.
According to a user on Amazon, it stopped working after 5-7 uses.
Return procedure is a little complicated.
The pure sine wave inverter has too many pros and a few cons. As per the pros of BCI 3000W inverter, this is undoubtedly a good inverter to use in your RV, semi-truck and other vehicles. You can use it for power outage, home application, vehicles etc. A good product may also have some cons. So, please accept the cons mentioned above. Or some cons may be user-specific cons as well because these cons are taken from Users' reviews on Amazon.
Conclusion
Basing the "pros & cons" and users' reviews, this is a good quality inverter that runs silently. It is an ideal inverter for powering several devices simultaneously. The BCI 3000W power inverter has earned good reputation on Amazon because it has too many happy customers. In fact, the inverter delivers the performance according to its specifications. One can undoubtedly buy this inverter if they need to run electronic sensitive devices, heavy load appliances. It delivers 3000W continuous power and 6000W peak pure sine wave current. The price of this BCI 3000W inverter is neither too high nor too low. I can say it comes at an appropriate price if you buy it from Amazon.