As per the manufacturer, Bestek is one of the leading inverter brands in America. Personally, I like the countless varieties and affordable prices it offers. Yes, whether you want to buy a small Bestek inverter or a large Bestek inverter, it has all from 100W inverters to 5000W inverters, and even more.
Of course, affordability is ensured, if you buy one of the Bestek inverters. I think none other than Bestek offers such low prices on the market.
BESTEK 150W Power Inverter – Thinner Design, 4.2A Dual USB Car Adapter, ETL Listed
In case, you are looking to buy a low wattage inverter, Bestek 150W power inverter can be the best choice, which can be a good inverter to charge small electronics. Since, this inverter features multiple connection outlets, so it can be the best inverter to power laptops, tablets, phones and other small devices in your home.
According to Bestek, it comes with Patented Isolation Voltage Protection, which means it has low-pressure and high-pressure isolation. With this unique attribute, it provides the utmost safety to the attached electronics such as laptops, phones, DVD players etc.
The Bestek 150W power inverter looks impressive from all aspects; it offers multiple connection sockets, has multi-protection capabilities, portability and ETL certification.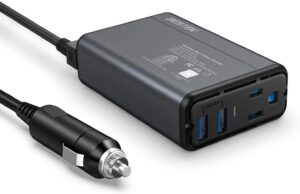 Connection Methods
Bestek 110V inverter has dual USB ports and an 110V AC outlet. One USB port is of 2.4A and another one is of 4.2A capability. Further, according to Bestek, both USB ports have smart IC, which smartly detect devices for the best charging performance.
You can use the AC 110V outlet to connect large-size devices and use the USB ports to connect small-size devices.
Fast Charging – keeping fast charging in mind, the Bestek 150W power inverter features 32-inch cigarette lighter. It will surely assist in high-speed charging from a car battery. According to the product description, the durable cigarette lighter can provide up to 5000 times insertion and extraction. In addition, it can be plugged into almost any vehicles.
Portable but Protective
It is really win-win when all aspects of a product are desirable. The Bestek 150W inverter is not only affordable, but also protective and portable.
Robustness – According to the manufacturer, the Bestek power inverter is built upon an advanced safety mechanism. Therefore, the 12V to 110V inverter is entirely protected from any electrical glitch, voltage abnormality, excess load and other faults!
Aluminum Body – the product creator claims that the slim-sized inverter comes in aluminum alloy housing. The outside design resembles an iPhone design, which not only gives a smart look, but also makes it super portable. Thus, it is not only protective from inside, but also defensive from outside. Which means the Bestek inverter is safe from any external reparations.
Features at Glance
The BESTEK 150 Watts Inverter is certainly ironic in structures. It is made with premium quality components that not only give the utmost convenience, but also offers reliability, affordability and durability. The prime features are:
Double USB connections
Isolation voltage protection
Extremely solid
Enduring cigarette lighter & cable (32 inches)
Quick charging capability
A bunch of protective constituents
ETL certification (Electrical Testing Laboratories)
Portable, lightweight, slim design
Modified wave power output
Aluminum alloy cabinet (to withstand any bumps)
Those features that are directly related to performance, quality of the BESTEK inverter have been shown above. From the features' list, one can easily understand the product and can take further action. Based on my views, one can hardly find such powerful inverter, which is not only qualitative, performance oriented but also affordable and defensive.
Pros
Handy in emergencies, distant travels
Pretty efficient
Compact and lightweight
Dependable and durable
Highly recommended by numerous Amazon customers
It can charge both AC 110V devices and USB powered devices
Good for most vehicles
It works perfectly with solar generator too.
No heating issues
Undoubtedly affordable
ETL certified
Nice finish and rich quality
It outperforms its competitors in price, size, protection and performance.
Based on the pros and cons of Bestek 150W inverter, it looks awesome to me. I assure one can hardly find any negatives in this USB inverter. The beauty is it is an ETL listed product, so one doesn't have to worry of any electrical faults or other similar things. Moreover, the 110V power inverter is remarkably voted for the good attributes including portability, lightweight profile, performance, various usages and affordable price.
Bestek 150W Power Inverter Review – 12V to 110V Car Charger, Voltage Converter, Dual USB
Previously, you read Bestek 150W inverter review. This inverter also comes with 150-watt output capability. Both come from the same Bestek brand but there are some differences in characteristics. However, there is not much difference in the price as well.
Bestek 150W inverter does the great job of current conversion. It aptly converts the DC 12V into AC 110V useable current. The 150W inverter features dual USB ports and single AC outlet, which can be used to connect multiple devices simultaneously. These 3.1A USB ports are very good at detecting connected devices. Thus, you can confidently charge your day-to-day gadgets including printers, cameras, smartphones, notebooks etc.
The previous inverter features 2.1A and 4.1A USB ports, while this one features 3.1A USB ports. Thus, this is one difference. There are also some differences in design and features, which will be discussed below.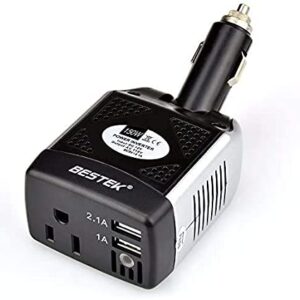 Super Convenient
According to the product creator, i.e., Bestek, the 150W power inverter is very easy to use. It allows connection with 12V cigarette lighter, which can further be adjusted with its pivoting head.
Furthermore, the cigarette lighter plug is 90° rotatable, which gives more flexibility. Additionally, it has a long-lasting plug, which can be used for more than 5000 times insertions and extractions.
Auto-protective with Integrated Cooling Fan
Yes, the Bestek 150W inverter is self-protected with the built-in cooling fan. You don't have to worry of anything. The fan starts automatically based on the load settings. Impressively, the 12V DC to 110V AC inverter will auto shutdown whenever it detects unusual load, current and electronic faults. This way, the Bestek inverter is well protected from all common electronic faults such as voltage problems, overloads, short circuits etc.
Unique Capabilities
90° rotatable cigarette plug
Quick charging performance
Various protection features
Lightweight and super-compact
Dual 3.1A USB
150W high quality current output
Based on Bestek 150W Power Inverter Review, the inverter has all the capabilities that make it a powerful inverter. Since, it is a 150W inverter, so it can't be used for heavy load. It is good for charging small gadgets such as laptops, smartphones, iPods, gaming consoles, cameras, music devices etc. It features 3.1A dual USB plugs, which are good for the flexible connection with those USB based devices.
Pros
Highly recommended by customers on Amazon
Good power backup tool
The finest built quality
As per a reviewer at Amazon, he didn't get any issues after years of continuous use.
A good car inverter
Versatile
Low-price
Flexible cigarette lighter plug
Well, other than the noisy fan, there is no issue in this BESTEK 150W inverter according to the research. Since, the unit is highly recommended on Amazon, I would also recommend buying it seeing its reputation and a low price. I hope that the fan noise issue may be fixed in the next edition because many customers are unhappy with this issue.
BESTEK 150W Power Inverter Review – 3.1A Dual USB Ports, Power Converter (MRI1511U)
Bestek 150W power inverter is recommendable here because the unit has earned tremendous ratings on various selling platforms. Before believing me, please check it on Amazon, the BESTEK inverter is highly rated and reviewed by countless customers on Amazon.
The little inverter does the big job of converting direct current into alternative current (DC to AC). Amazingly, it becomes the best inverter for cars because it comes in a small-size design. It has 150W of output current and the built quality is superb. Additionally, according to Bestek, it is a leading power inverter brand in America.
The fast-charging inverter delivers 150-watt continuous and 360-watt peak output. With this output, one can charge their devices like mobile phones, cameras, music devices, laptops and many others.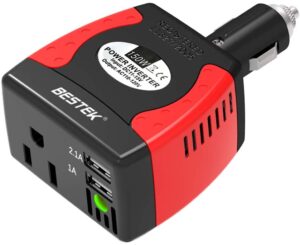 Connection – Bestek 150 watts power inverter allows connections to your devices via USB ports and 110V AC outlet. It features dual USB ports and an AC 110V outlet for powering various gadgets at home, offices and anywhere else.
The Compactness
Without a single doubt, the 110V inverter is ultra-compact and lightweight. Since, it doesn't come with extra wires, so you don't have to go through any assembly complications. With this attribute, the Bestek 150W inverter becomes more convenient, easy-to-use and portable. You just need to plug it in any 12V cigarette lighter socket from where it will start converting DC to AC current.
The Outstanding Attributes
As per Bestek 150W power inverter review, it has the features that make it a useful & flexible unit. Some highlights are:
Dual USB (0-2.4A) & Single AC 110V outlets
Useable current: 150W (300 watts peak power)
An intelligent cooling fan
25A fuse
Flexible cigarette butt
Protective LED switch
CE FCC certification
1.5-year warranty
Friendly customer service
Because of features and capabilities, the 110V Bestek inverter comes with, it can be the best buy on the current price. It seems impossible to buy such powerful inverter in this price range from other popular manufacturers.
On a win-win aspect, the BESTEK inverter has all. It is not only defending, but also sturdy, durable, easy-to-use and inexpensive. Further, the inverter is protected with an 18-month warranty and a friendly customer service.
Pros
Good for most vehicles
It can charge laptops and other small devices.
Good for emergency power backup
Dependable
Protective
Internal fuse to protect from excess current and electric faults
Convenient design
Affordable price
A high-grade product
Cons
The inbuilt fan is noisy.
The fat design is not suitable for some cars.
The pros and cons of a product tell a lot. If one doesn't have the time to read the whole page, by just scanning the list of pros and cons, they can understand the product briefly. One can see, the Bestek 150-watt inverter has countless pros and few cons. Based on the pros and cons, this is a good-looking product from all the aspects such as price, convenience, ease of use, dependability, quality and protection. Among all these aspects, personally I liked the price, which is very competitive on the market.
Conclusion
In short, all the three inverters reviewed above are undoubtedly buyable. The Bestek 150 watts inverters are fabulous. They have made thousands of customers happy because the Bestek inverters are not only rich in quality, but also good in performance and usability.
Commonly, all the 150W inverters offer multiple connection methods such as USB ports and 110-volt AC outlets. You can use these connection methods to run your desired devices. Of course, you would be taking power from a 12V car battery or other 12V batteries. The Bestek 150W power inverter is just for converting 12-volt DC into 110-volt AC.
On a precaution note, the Bestek inverters' cooling fans are a bit noisy, so you have to accept this drawback. Other than the noisy fan, you will not get any other issues coming from these inverters.