People buy a portable inverter because it is easy to carry, easy to move from one place to other and it is perfect for charging some of the necessary devices such as laptops, mobile phones etc. Therefore, for charging small devices, Aeliussine 100W power inverter can be the best piece as I feel. You can easily configure it with your car battery and start powering your important devices. We know how important is to keep our important devices charged all the times. For some reasons, if the devices are not charged then we miss important tasks, calls, works and others.
As mentioned above, the low-price Aeliussine 100W power converter can be the best inverter. Amazingly, the 12V inverter is supported with a 12-month warranty and lifetime tech support. I see that Aeliussine offers lifetime tech support on not only this 100W power inverter, but also on all inverters that are made by Aeliussine brand.
The affordable power converter comes with 12-month warranty so it seems to me a win-win deal because you pay a low price that is even lower than $30.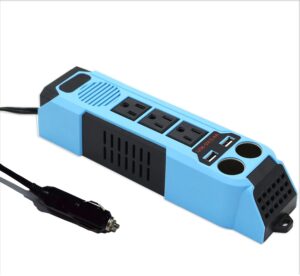 Safety Features – Aeliussine 100W Power Inverter
Additionally, Aeliussine claims that the 100W power inverter comes with all-round protection. Therefore, without a doubt on its protection capabilities, you can buy this power inverter because it will keep your appliances safe from any dangerous electrical faults such as over-current, short circuits etc. I am able to see that the Aeliussine inverter is designed very well with air passage cabinet and a cooling fan. So, during the operation, it will remove the heat from the internal system to protect it from any electrical dangers.
Numerous Applications of the 12V Aeliussine Car Charger
The little 100-watt inverter can charge numerous appliances. According to the Aeliussine manufacturer, people use the 12V inverter to charge mobile phones, PlayStation, iPad, laptop and other devices under 100W. You can do this using your car battery. For the connection, you need to use the cigarette lighter plug that is attached with the Aeliussine power inverter. In the idle mode, it does not draw much current, just 0.1-amp so you can say that it is a good power inverter for saving energy and your battery will not drain very soon.
A Compact 100W Power Inverter by Aeliussine
The 100W power inverter features a long cable that is good for the accessibility from any seat in the car. So, people who are sitting in the back seat can easily use the inverter power to charge their devices. This Aeliussine power inverter features 39-inch cable that is good for the flexibility. As mentioned in the heading, the compact-size power inverter measures 9.4 x 2 x 2.56 inches so taking the benefit of its small size, you can easily store it in a drawer after it finished charging your devices. The compact inverter weighs just 0.8 lb.
The Little Car Power Inverter by Aeliussine
The Aeliussine 100W inverter transports three 110V AC sockets and fast charging two USB ports. Each USB port has 2.4-Amp capacity so the 12V inverter offers numerous connection ways. Apart from these output sockets, the car inverter has two cigarette lighter sockets (DC sockets). Of course, you need to use the car cigarette lighter plug for the connection between the inverter and battery. From this 12V Aeliussine converter, you get 100W rated power and 200W peak power. Therefore, the power inverter is perfect for charging a wide range of devices that require less than 100 watts input power. Such small inverters are perfect for cars for the long-distance travel because you have a tool that converter the DC power to AC power to charge your devices.
List of Specifications – Aeliussine 100-Watt Car Power Inverter
Modified sine wave output waveform
110-volt to 120-volt AC output voltage capacity
12V rated input voltage
14.5-volt to 15-volt over voltage protection
Vented body and cooling fan
More than 85% conversion productivity
Less than 0.1Amp current draw at the standby mode
60 Hz output frequency
20°C to 60°C working temperature
20°C to 80°C storage temperature
To me, the specifications look good. With the help of the rich specification, the Aeliussine power inverter will surely deliver good performance. I am able to see that it offers more than 85% efficiency that is good. Only one thing should be improved is the output waveform. It should have a pure sine wave waveform for the good quality current.
Pros
Easy to install
Portable and lightweight
Affordable price
Aeliussine is a trusted name for power inverters in many sizes
More than 85% efficiency
For many people, it worked as advertised
Cons
The 100W power is very less
Aeliussine 100W inverter is a new product on Amazon that does not have too many ratings.
It is a modified sine wave inverter so you may not be able to run some of the sensitive electronics.
Conclusion – Aeliussine 12V Power Inverter
In short, Aeliussine 100W power inverter is good for those who are looking to buy a small-size inverter to charge their laptops, cellphones and other small devices. From the 100W power inverter, you cannot expect much because it has just 100W output.
According to the specifications, features and reviews on Amazon, the power inverter looks very impressive to me. You can buy it for the sake of affordability. The power inverter by Aeliussine is good to charge some of the small devices. If you want to buy a power inverter for your car, it can be the best product for you.