If you wish to purchase this VoltWorks power inverter then knowing about its features and capabilities will help you take your buying decision.
The pure sine wave power inverter is very reliable. Users say that they are able to get full 1000W power from the 12V VoltWorks inverter. More importantly, it has less THD (total harmonic distortion). If THD is found in a less amount then it means that the device delivers clean power same as utility power or close to the utility power.
Apart from delivering the full rated power, the multi-functional power inverter has several output sockets so you will not encounter an issue connecting your appliances to this inverter. It gives you three AC sockets and two USB sockets. Each USB port is capable to charge a device at a fast speed because it delivers 2.4Amp current.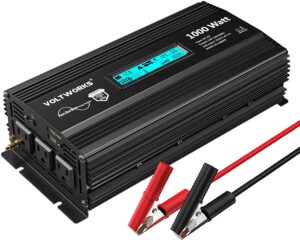 To know how the power inverter is working, it features a display panel that shows live status about the power inverter. It shows safety protection status, battery capacity status and inverter load status. So, you will be able to see relevant information on a clear display. In case, you find that anything is wrong, you can take your action.
To maintain appropriate temperature in the inverter, it features a clever cooling fan. The cooling fan is responsible to remove heat from the system so that it can work properly. It runs conditionally, usually when the inverter temperature goes beyond 104°F or the inverter power is drawn more than 400-watt.
Safety Considerations
For the best performance, one needs to connect the VoltWorks 1000W inverter with a 12V battery only, 100Ah or up.
If your car is not running, please do not run the inverter; switch it off.
From the cigarette lighter plug, please do not try to draw more than 150W electricity, otherwise you may experience serious problems because the car fuse is only for supplying up to 150W power via the cigarette lighter plug.
In case, you find any issues in the inverter, try to get help from the manufacturer because the VoltWorks tech support is available 24 x 7.
The VoltWork power inverter is protected with a long period warranty up to 36 months so please take the benefit of the warranty.
Pure Sine Wave Capability
One should not ignore the pure sine wave capability in an inverter because it is a highly demanded feature. People like to purchase a pure sine wave inverter because it comes with several benefits. From a pure sine wave inverter, you get greater drive capability, better protection to the connected equipment. You will not encounter an issue for charging the sensitive electronics. More importantly, a pure sine wave power inverter is less audible so you will not get any annoying issues. In short, a pure sine wave power converter is efficient, pollution-free and consumes less power.
Specifications
True sine wave 1000W output power
Less than 3% THD to run sensitive equipment
4 x replaceable 30A fuses (the fuses are UL approved)
Three 110V outlets
Two USB ports, each with 2.4A capacity
12V DC input voltage
Up to 90% efficiency
Smart cooling fan runs conditionally
1000-watt to 1200-watt overload protection
Over-temperature protection above 149°F
16V over-voltage shutdown
Short-circuit protection
Specifications of an electronic product are very important because they decide overall performance of the device. From the list of specification, I see that the DC to AC inverter looks exciting. I liked the connection sockets because using these connection sockets; you will be able to connect up to 5 devices at the same time.
Included Components
VoltWorks 1000W Power Converter
Two pieces of battery cables (12-mm, 2 feet long, red and black color)
User manual
36 months warranty
AIG insurance
Wide Applications
The VoltWorks 12V power inverter is widely used. Thus, you can use the car inverter to solve mobile power needs because it is a portable inverter. You can use its 1000W reliable pure sine wave power to run several home appliances.
The portable inverter can also be very good to solve emergency power needs because you need power for the emergencies such as hurricane, snowstorm in some areas, and power failure from the home utility line. It delivers 1000W power so you can use the power according to your requirement. However, you need a powerful 12V battery to fulfill your power demand.
The application scope of this inverter increases tremendously because it is a pure sine wave inverter. You will be able to run those appliances that cannot be powered by a modified sine wave inverter. So, you will not face an issue powering sensitive equipment such as microwave, variable speed power tools, laser printers, radio equipment and more.
The Protection Capability – VoltWorks 1000W
As mentioned in the specification list, the VoltWork inverter protects those devices that are receiving input power from this inverter. It protects from short circuits because it has 30A several fuses to deal with such electrical issues. I see that short circuit is a common electrical fault and it may happen frequently.
So, the fuse based protection is a convenient method to overcome such problems. In the worst situation, you may have to replace the fuses and you do not have to worry of the circuit board level problems. To care the circuit board, transformer and other important internal parts, the inverter has a cooling fan.
The cooling fan is programmatically configured to run when the temperature goes beyond the normal level or the inverter load is beyond its capacity. Most importantly, the VoltWork 1000W inverter gets protection from its aluminum housing. Any inverter guarded with an aluminum housing is durable because the external influence will not affect the unit.
VoltWorks Inverter – True/Pure Sine Waveform
A true sine wave inverter is used anywhere because it delivers pure electricity to the connected equipment. An equipment is getting clean power run smoothly. It gives less noise and the power consumption is reduced dramatically.
By the manufacture, it is written in the product description that their 1000W inverter is capable to deliver full rated power, which is 1000W. The 1000W power is a type of pure sine waveform that is a sought after attribute. Some of the important benefits of a pure sine wave power are increased drive capability, high safety to the connected appliances, ignorable noise from both the inverter and the connected devices and the electricity consumption is decreased tremendously. When the connected devices run, you will notice low interference because the devices will run smoothly at its pre-defined speed without the annoying sound.
FAQs
Q: What is the acceptable temperature of the VoltWorks 1000W inverter?
A: The pure sine wave inverter uses aluminum housing so it does not face any temperature issues. It features a cooling fan that is very helpful to keep the temperature at a required level. The fan will start automatically on the detection of more than 149°F temperature. So, the acceptable temperature is below 65°C or 149°F. As soon as the temperature level crosses, the inverter will notify you with buzzer beep and the LCD panel will show the temperature so that you will be aware of this.
Q: Is there any problem if I connect the inverter with a solar panel?
A: From VoltWorks, it is not recommended to connect the inverter to the solar directly. If it is connected directly, the inverter may be damaged. In worst cases, the power inverter will stop working. For the inverter and solar connection, you need to follow a solar system installation process. The installation process is like solar panel to charge controller to a 12-volt battery to the VoltWorks power inverter. After that, you can take the output power coming from the inverter to charge your devices.
Q: What is the main difference between VoltWorks 1000W and VoltWorks 1100W power inverter? I see much difference in the price.
A: The main difference is the quality of the power. The VoltWorks 1000W inverter is a pure sine wave inverter. It sends the AC current that is considered the best quality electricity. You can use the best form of the electricity to power sensitive machines and electronics.
User Manual
Q: How can I get the user manual of the VoltWorks 12-volt inverter?
A: To get the user manual, please search the official website, which is VoltWorks.cc. In case, you are unable to download the user manual from the official website, please reach the customer service team via an email. The E-mail address is usvoltworks@gmail.com.
Q: After low voltage shutdown, do I need to start the inverter manually or it starts automatically?
A: The 12V VoltWorks inverter will start automatically after the battery voltage is more than 12.5 volt. So, this power inverter does not require a manual restart. However, I see that most power inverters from other brands lack this capability. They need a manual start after the low-voltage shutdown.
Q: What is the capability of the fuses of this power inverter?
A: VoltWorks 1000W power inverter works on 30A fuses. Inside the inverter, you can find four internal fuses. In case, you need to replace one of the fuses, please use a 30Amp fuse. In case, you find difficulties to replace the fuses, the VoltWorks customer service team is always available to help.
Pros
Well-built construction
Good features
Prompt VoltWorks customer service
Works flawlessly without issues
Perfect to power all devices under 1000W
Portable size
Backlit display is clearly visible
Pure sine wave is another plus point
Cons
A customer complained that the USB port is a little slow to charge devices.
Conclusion
In short, the VoltWors 1000W power inverter is a performance hub. It is one of the best pure sine wave inverters. The 110V power converter is praised by numerous users on Amazon.
Since the inverter draws exciting ratings and reviews from its operators, so I will recommend to those future buyers.
The pure sine wave inverter has numerous output ways such as 3 x 110V AC outputs and 2 x 2.4A USB ports. Which means you can comfortably charge devices that require either an USB connector or 110V AC connection.
You should not be anxious of the safety of the linked appliances as well as the VoltWorks inverter including the connected battery. To fight with the annoying and common electrical fault, the VoltWorks 1000W power inverter has 4 x fuses inside. Each fuse is of 30A capability. Therefore, one should not be nervous about short circuits, over-current and heating issues. For the heating issues, the inverter has a cooling fan that starts working automatically time to time because it is programmed to work on certain parameters.
At end, I will say that the 110V power converter that converts DC 12V to AC 110V is a reliable unit. It has been respected by its numerous users. The portable inverter is very useful for cars, homes and emergency needs.