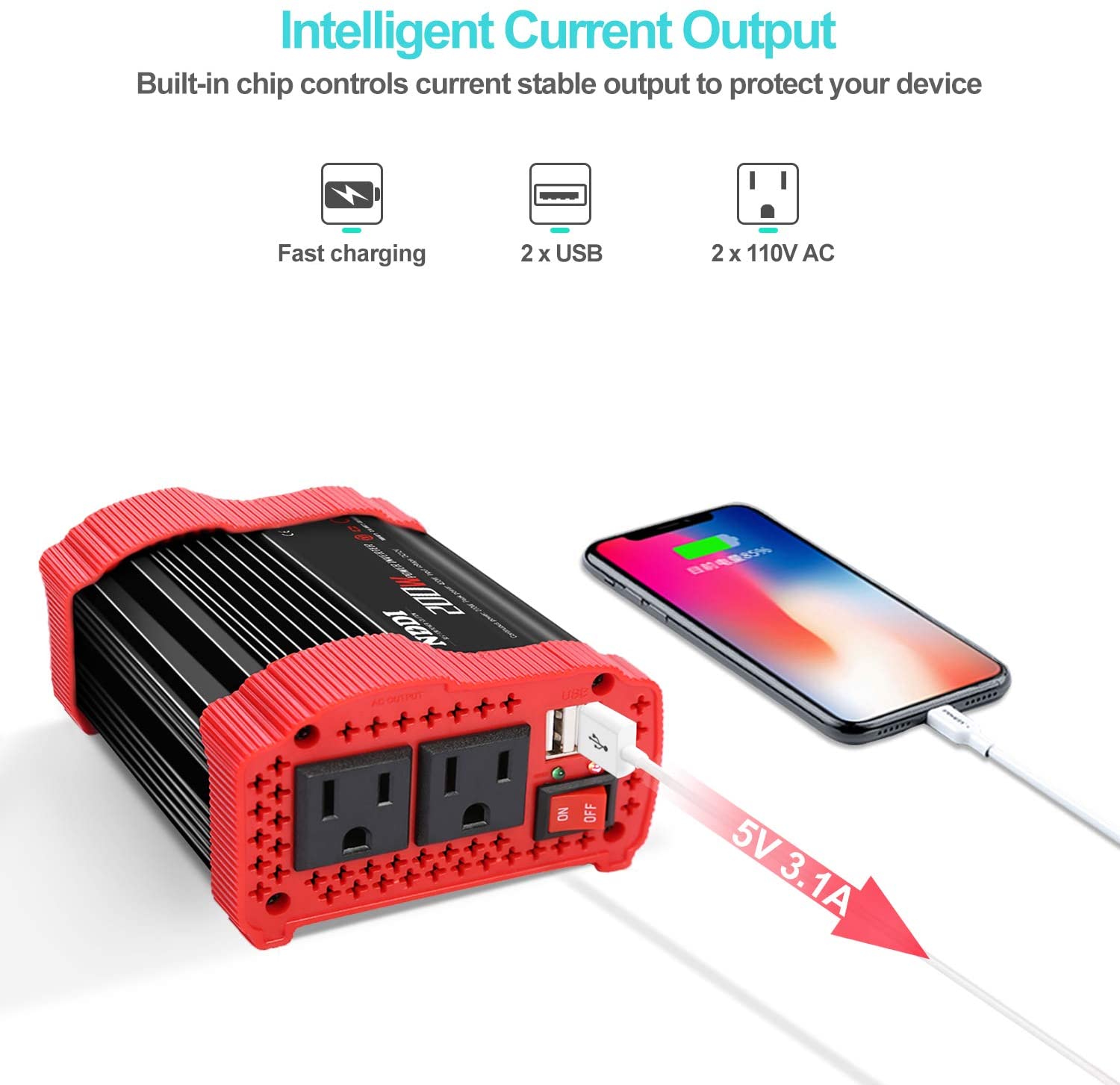 NDDI, as an inverter brand, it is not very popular but some of their inverters are very popular. In case, you tend to try products from new brand for better performance and quality, you must explore features and capabilities of NDDI 200W vehicle power inverter. The NDDI power converter is compatible with a 12V battery and it converts 12V DC to 110V AC power.
On InverterReview.com, previously I reviewed NDDI 1500W power inverter; now please check this 200W NDDI power inverter. It has best features, prices and the performance.
The NDDI 12V power converter delivers 200W regular power and 400W serge power. It has dual AC and USB ports. You can use these connection points to charge your appliances, devices in your vehicles such as cars, trucks, boats. This 200W inverter is also good for homes, offices and emergency power storage but please make sure you do not draw more than its rated 200-watt output. If you are looking to buy a portable power inverter, NDDI 110V inverter can be the best power converter for you because it is not only portable, but also lightweight. The 200W NDDI inverter features two USB 3.1A charging ports. Of course, the 3.1A USB port can detect devices automatically and start charging rapidly.
For the battery connection, the NDDI 200 watts power inverter allows two methods such as via cigarette lighter plug and battery alligator clips. The battery cables are approx. 2FT long so the cable length is neither too long nor too short. For the inverter and battery cables, shorter is better. Both the alligator clamps and the cigarette lighter plugs are approx. 2 feet long so they provide the ease of connection. A cigarette lighter plug has a limitation to supply power up to 150W only so for more than 150W power requirement, you have to use the provided battery alligator clamps.
In NDDI power converter, multiple protection elements are there so you, your devices, your inverter and the battery are very safe. The 110V power inverter is highly safe to use because it is based on fuse and cooling fan protection. Consequently, the NDDI car power inverter fights common inverter issues like overvoltage, overheat, overload, short circuits and others. In power inverters, heat buildup is a major issue so the cooling fan does the great job of removing heat from the system. This way, the life of the inverter increases and it saves from miss-happenings.
As mentioned earlier, the NDDI 200-watt power inverter is a portable and lightweight unit so it becomes the best friend of travelers because it is easy to carry. The dimensions of this 110V inverter are 6.2 x 5.1 x 2.6 inches. Such portable power converters are perfect for a long distance journey, emergencies and several outdoor activities. Personally, I love a portable inverter.
Important features
200 watts output power
12V DC to 110V AC power converter
3.1A dual USB ports
Dual 110V AC sockets
Available in two different sizes like 200W and 600W
For battery connection, alligator clips and cigarette lighter plugs are available.
Two built-in fuses and a smart cooling fan for the protection
Lightweight and portable
Professional customer service
Pros
Thick aluminum case makes it durable.
A well-built inverter
The price is good.
Highly protective
Cons
The cooling fan is a little noisy
Instructions are not very clear.