PowerBright is a big name. It makes a wide range of power inverters. Currently, PowerBright has power inverters in sizes such as 1100W, 1500W, 2000W and 3000W. You can choose a size that is suitable to your needs.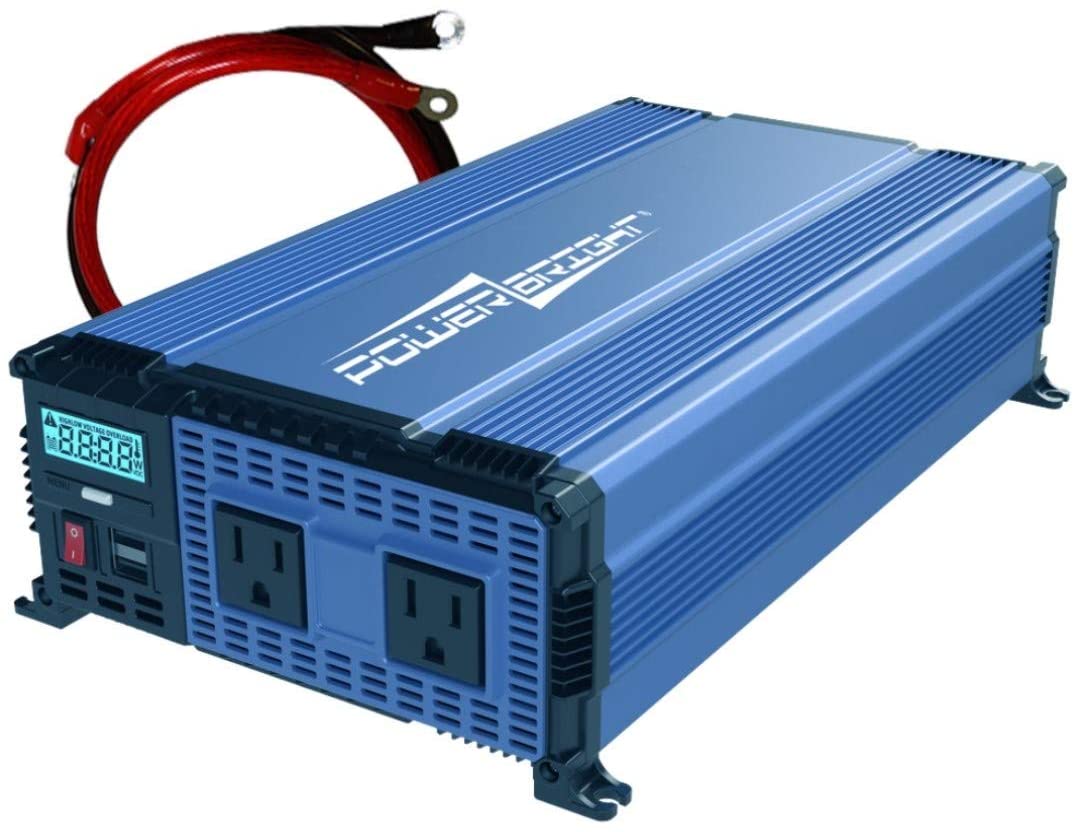 View on Amazon
I will suggest buying the PowerBright 1100W power inverter because it is an ETL approved product. It is very protective against common faults such as over-voltage, under-voltage, high-temperature, short circuits and many others.
More importantly, the power inverter is designed very well that delivers the desired performance. Before you start using it converted AC power, you need to connect it with a 12V battery. After that, you will be able to power your desired equipment. With the 1100W power, you will be able to run your televisions, several kitchen appliances, DIY tools and other portable devices.
Such high-power inverters are ideal to solve emergency power needs. That means, you can undoubtedly use it for the emergencies such as hurricane, power failure and many others.
PowerBright Modified Sine Wave Inverter with USB and 110V AC Outlets
For the reliable connections, PowerBright 1100W power converter has dual USB ports and dual 110V outlets that are compatible with North America standard household connection needs. Each USB port has 2.4A capability that means it will deliver an average charging performance. Moreover, the power inverter comes included with 3-feet battery cables. Well, 3 feet battery cables are not too long but they can work for the purpose. In fact, battery cables are better if they are shorter as they supply reliable power.
Please know that this is a modified sine wave inverter. If it were a pure sine wave inverter then it would be better. However, a modified sine wave inverter is also fine for most of the appliances and devices. The 1100W power inverter has 2200W peak power and it can be used with a 12V battery.
More importantly, a 2-year warranty is also attached with this power inverter so you do not have to worry of anything up to two long years. Also, it is a tested and validated product so I am sure you will not have any difficulties in regards to the operation.
Highlights of PowerBright 1100W Power Inverter
1100W continuous power
2200W peak power
10.5V to 16V DC input power
110V ~ 120V AC output voltage
LCD display
Protective against overload, short-circuit and over-heat
Protection information is displayed on the LCD display
It comes included with 3 FT 4-gauge battery cables
You can see the PowerBright 1100W power inverter has good features including 1100-watt output capacity, LCD display and many protection features.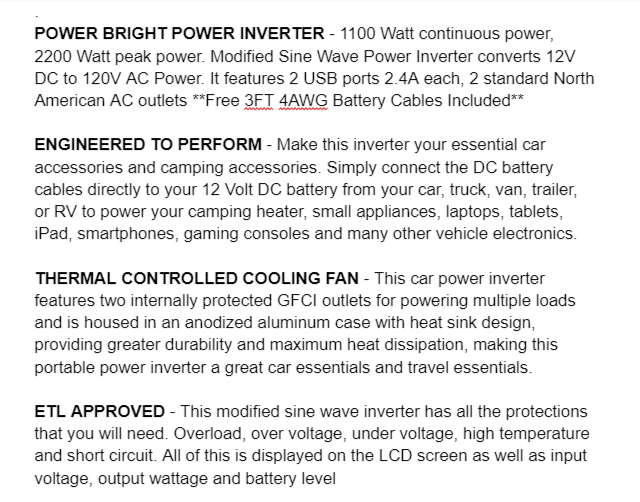 Pros
Excellent technical support
A well-built inverter
Quiet operation
Many people say good price and good product.
Cons
Some people faced problems to replace the fuse.
Based on the pros, cons and the PowerBright inverter review, it is a well-built unit that delivers a quiet operation. This product is backed by a good tech support team too.