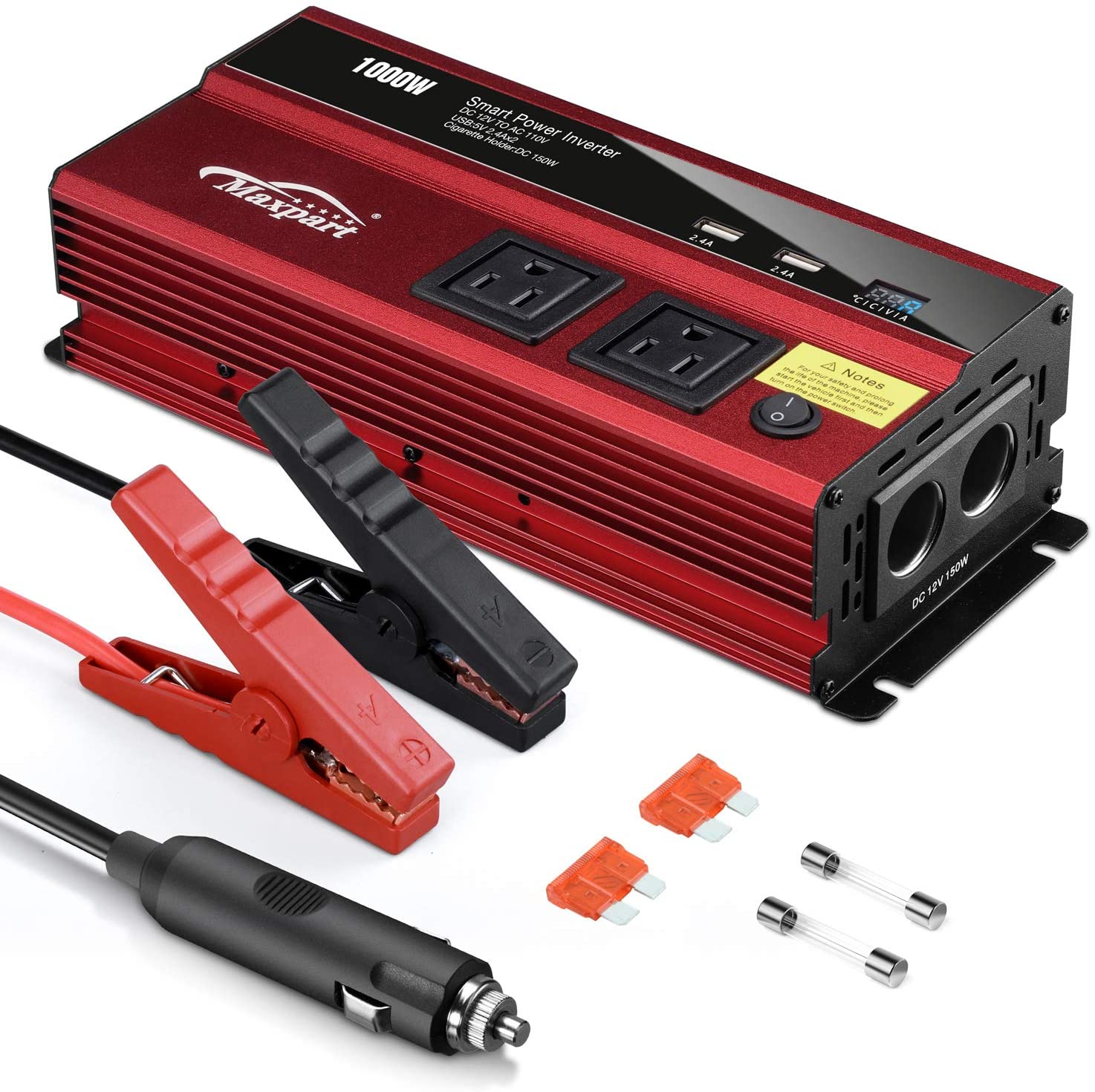 From outside, this Maxpart 1000-watt inverter looks solid and portable. This inverter converts 12V DC power into 110V AC power. You can use it in your vehicles because it is the best inverter to be used in RVs, cars, trucks and other vehicles. The RV inverter delivers modified sine wave output. However, pure sine wave output is preferred by most of the people.
Depending on your power requirements, you can choose a size because it comes in multiple sizes such as 150W, 300W, 400W and 1000W. Of course, for larger size, you need to pay higher.
The powerful power inverter offers 2 x 110V AC sockets, 2 x 2.4A USB and 2 x cigarette lighter plugs. So, it offers the utmost flexibility for connecting multiple devices at the same time. You can see the 2.4A USB ports, use these ports to charge mobile phones, iPad and other USB enabled devices. The 1000W power output and multiple connection sockets make it an ideal inverter for various applications. It has even dual cigarette lighter plugs.
For the high-level of protection, the Maxpart power inverter has built-in cooling fan, several fuses and it comes included with extra fuses that you may need some times. The built-in fuses and the cooling fan are responsible to provide the required safety to the inverter and the connected appliances.
PROS
It works as advertised.
Good price
It works with a solar panel as well.
Very easy to setup
The compact size was liked by numerous users.
The 12V and USB outlets are very convenient for direct DC applications.
AC output works as expected.
Many customers are happy with the product.
Many users have recommended to buy it.
CONS
Thin and short battery cables
The low voltage alarm does not work very well.
It is available in just one color.
Such full-feature power inverters are perfect for both outdoor uses and home uses. For the input power, you can connect it with the supplied cigarette lighter plug in a vehicle or connect with a 12V battery in homes. Please know that if you connect it via the cigarette lighter plug, you will be supplied below 150W power. In case, you need more than 150W power, you need to connect it with the battery using alligator clips. The alligator clips come included with the inverter.
The Maxpart 1000-watt power inverter comes included with everything you need. It comes included with the alligator clips, cigarette lighter plug, several fuses and 24-month hassle-free warranty. Also, a dedicated team of friendly customer service is always available to answer your technical questions. Read more…