BYGD is a trusted brand name for high quality and low price power inverters. Therefore, I decided to write a review on BYGD 200W Car Power Inverter because this particular inverter is very popular on the web, so I thought you should be aware of the same.
Of course, it is a small size power inverter, which is easy to handle, easy to pack, easy to store and easy to go with it anywhere you want. It has almost all the connection sockets to meet your connectivity requirements. The BYGD power inverter has dual AC outlets, four USB ports and a type-c port. It also has a cigarette lighter plug, which can be used to connect with your car battery.
I already said that it is one of the good and popular small size power inverters. I am amazed by seeing the reviews and rating counts on Amazon. The product has received more than 1000 ratings; most of them are 5-star ratings are from the happy consumers.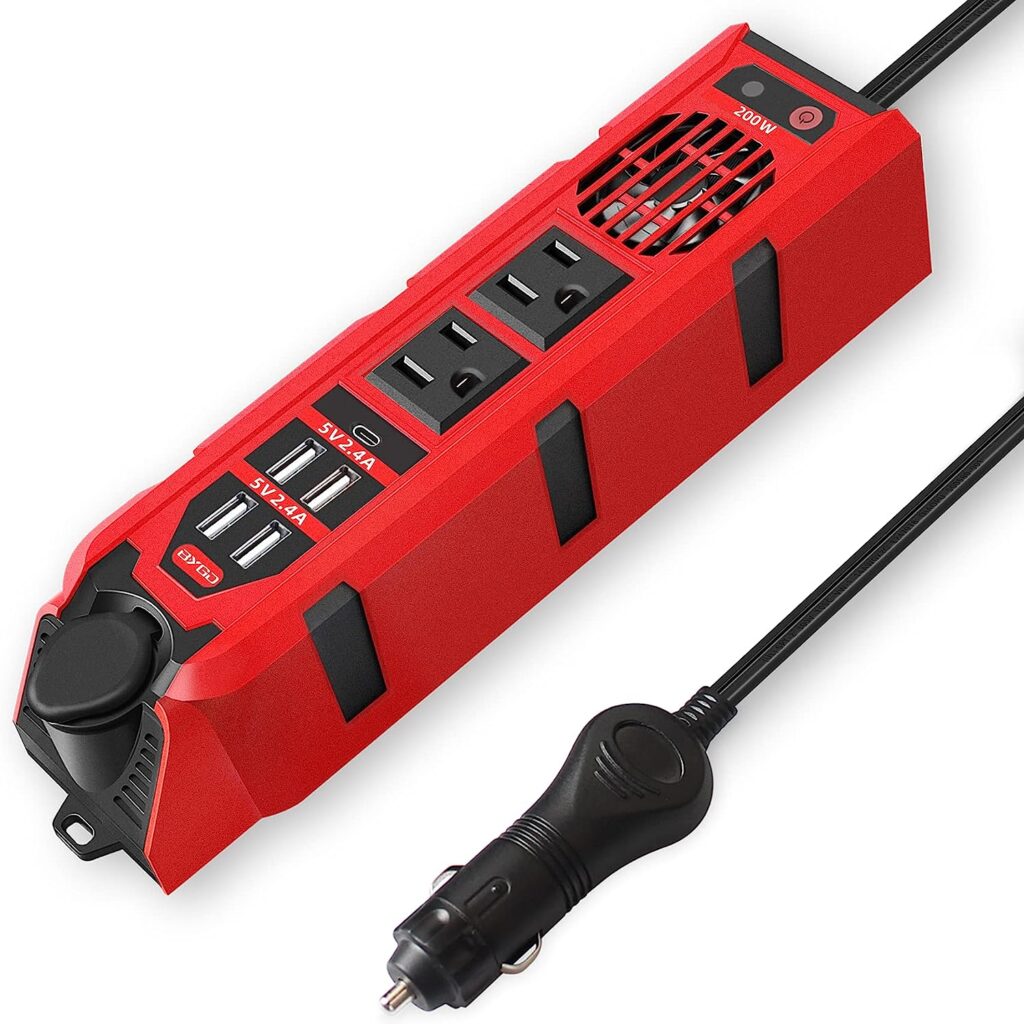 For the sake of varieties, BYGD has listed several other inverters on the same product page. I am able to see BYGD power inverters such as 150W, 200W, 300W and 1500W BYGD power inverters. All these power inverters are from the trusted BYGD brand. Of course, you can go with a suitable inverter as per your requirement. Well, this review is about the 200W BYGD inverter.
Prime Features & Specifications – BYGD 200-Watt Inverter
| Product name | BYGD 200W Power Inverter |
| --- | --- |
| Brand name | BYGD |
| Output wattage | 200W |
| Peak power | 400W |
| Input voltage | 12V DC |
| Output voltage | 120V AC |
| USB ports | 4 x USB ports (2.4A capacity) |
| AC 110V outlet | Yes (2 x 110V AC sockets) |
| Type C port | 1 x Type-c port |
| Cigarette lighter plug | Yes (up to 10000 insertions capacity) |
| Soft start switch | Yes |
| Best uses for | Laptops, iPhone, iPad, game console, camera, shaver and more |
| Efficiency | 100% |
| Item dimensions | 9.7 x 2.6 x 2 inches |
| Item weight | 1.01 lbs |
| Color | Red |
| Body material | ABS fire-resistant material |
| Warranty | 18 months |
| Protection features | Highly protective against short circuit, overheat, over-voltage, overload and over-charge |
| Cooling fan | Yes (Built-in low-noise cooling fan with an automatic control capability) |
| Price | Check on Amazon |
In the spec list, almost all the key specifications and features are included. From the feature and spec view, the BYGD 12V to 110V power inverter looks very impressive. You can see, it has total 6 outlets to connect a wide range of gadgets. Most importantly, the USB ports are with a fast-charging speed capability.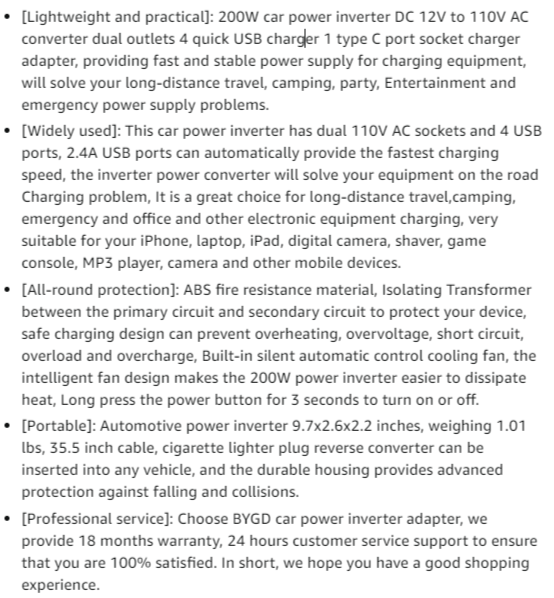 A Versatile and Lightweight Power Inverter from BYGD – 200W Output Power
People use this 200W small power inverter for fast charging and stable power supply. It has four USB ports that you can use to charge various devices as per your needs. It also has a type-c port that you can use as per your requirement. Such lightweight and powerful inverters are perfect for long-distance travel, camping, entertainment, party, emergency power needs and more.
All-round protection – the body of this power inverter is made of ABS fire-resistance material. To make it very safe, an isolating transformer has been used. The transformer is between the primary circuit and secondary circuit to protect the connected devices.
The BYGD 200W power inverter has other safety features to prevent short circuit, over-voltage, over-heating, overload and overcharging. It has a silent cooling fan that is very helpful to reduce the heat build-up.
Portable design – the BYGD 200W power inverter is made in a portable design as it measures 9.7 x 2.6 x 2.2 inches and weighs just 1.01 lbs. The unit has a cigarette lighter plug with an appropriate cable to insert into any vehicle, so I can say that it has a great portable design because you don't have to do much for the configuration externally. The inverter body is naturally a long lasting body that provides advanced protection against falling and other miss-happenings.
18-month warranty – the BYGD 200W power inverter is protected with an 18-month warranty and 24-hour customer service. If you get a problem, your problem will be solved instantly by the active customer service team offered by BYGD.
Pros
Fast charging speed
For countless users, it worked perfectly.
All the power outlets work perfectly.
Compact size
Good for road trips and outdoor uses
Low price
Quality product
One of the best selling products
The connected devices are highly protected.
Cons
The power button is a bit difficult to use.
The fan is noisy a little.
Seeing the pros and cons, I can say that it is a superb power inverter that delivers 200W output power. It charges devices at a fast speed. Most of its users are happy because it is a small-size and portable power inverter that is good for charging many small devices. More importantly, it is a low price and high quality product so users get the best value for the money.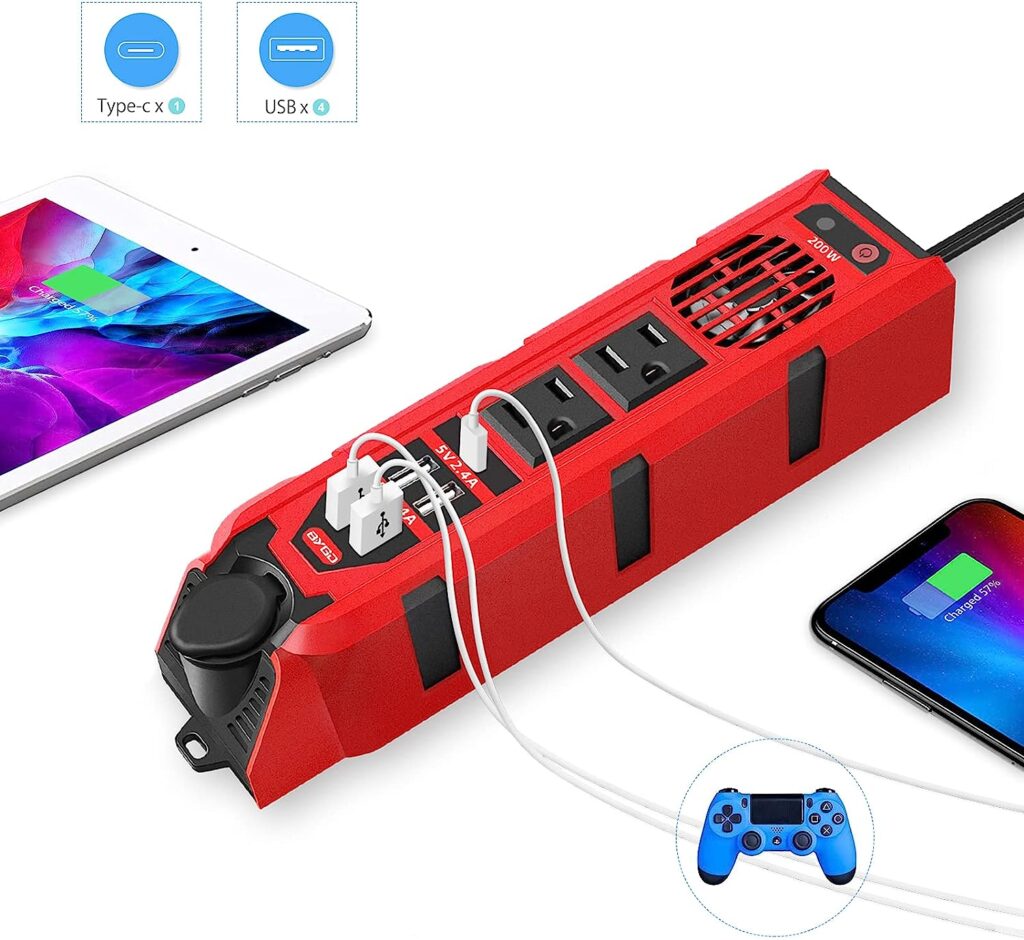 Conclusion – GYGD Small Inverter Review
At the end of BYGD 200W Power Inverter Review, I will say that it is one of the fantastic portable inverters. It has created many happy users as I am able to see their reviews on various market places. As mentioned earlier, it is a super budget inverter that delivers steady and safe current to your devices. And, considering the compactness, it is the best friend of travelers, campers and those who are looking for a way to charge their devices when they are not at home.