Tripp Lite makes power inverter in various designs. One of the popular Tripp Lite inverters has a cup holder design. The inverter is very popular because it fits nicely in a car's cup holder. Therefore, the cup holder design of this inverter is perfect to use in a car.
The Tripp Lite 200W power inverter comes included with a cigarette lighter plug that facilitates easy connection with a car battery. You use the 200W car inverter in not only cars, but also in any vehicles that allow a cigarette lighter connection.
After the inverter to battery connections, you can use the output power from the inverter. To use the AC output, the power inverter features two USB charging ports and two AC outlets. The USB port is of 2.1A power. You can use the USB port to charge USB enabled devices. On the other hand, use the AC outlets to power those devices that require 110V AC inputs. Therefore, you will be able to charge almost any device that requires under 200W power. In fact, the cup holder inverter with 200-watt power is very popular for charging laptops, tablets, cell phones, cameras and other small equipment.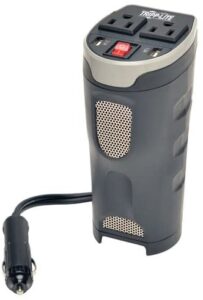 Tripp Lite 200W Inverter Powers Up to Four Devices Simultaneously
The unit has four output ports such as 2 x AC outlets and 2 x USB outlets so it is perfect for charging up to four devices at the same time. For the secure connection, the AC outlets are NEMA 5-15R AC outlets. Actually, NEMA 5-15R outlets are ideal for supplying reliable power to the connected devices. As mentioned, the power converter features two x USB ports with 2.1A capacity to charge USB-based devices at a good speed.
The 12V power inverter is a good way to convert car battery power to 120V AC power. As soon as it is configured with a 12V battery, the power inverter will start supplying 200-watt rated power to the connected devices. Please know that it has 400W peak power that is 200% of the rated power.
Simple to Understand Interface and Easy to Setup
The users of Tripp Lite PV200CUSB will not face any kind of difficulties for the installation and operation. You can find a DC input jack (3 feet long) attached with the inverter. The input jack needs to be connected with the 12V cigarette lighter socket that is found in almost all vehicles. After you connected the DC jack successfully, you need to press the On/Off button. Now your inverter is in the operational state. To examine whether it is converting DC power to AC power or not, you can connect some devices for charging. So, please connect one of your favorite device, say laptop and see it is being charged or not.
In case, the power inverter gets less than 10V input power, it will automatically turn off. The automatic turn off capability is very helpful to maintain battery voltage. Please note that the automatic turn off will also trigger if the unit gets too hot.
Tripp Lite Cup Holder Inverter Designed Thoughtfully
The cup holder inverter is designed intelligently. It is designed to keep it highly secured from any electrical faults. Therefore, the Tripp Lite power inverter comes with an integrated cooling fan. The high-grade cooling fan is responsible to maintain the interior temperature of the inverter.
Moreover, the exterior is made of high-grade plastic material. Therefore, Tripp Lite PV200CUSB is capable to prevent external influences that may happen during a long road travel, business trips and others. In short, the power inverter is solidly built to withstand any external touches and similar things. Therefore, the Tripp Lite power inverter is perfect for business trips, family vacations, vehicles and other outdoor uses. Most importantly, the power inverter does not require any sort of maintenance, just set and forget.
Product Details – Tripp Lite PV200CUSB
200W rated power / 400W continuous power
Cup holder design – fits neatly in vehicle's cup holder
Perfect for charging devices up to 200W on the road trips, vacations etc.
Two USB ports (2.1A & 1.0A) and two 120-volt outlets (NEMA 5-15R AC)
A DC jack with 3ft cable for the cigarette lighter socket in a car
Integrated cooling fan to maintain appropriate temperature inside
Low-voltage shutdown capability
Converts DC power to AC power
Rugged construction
One-year warranty
ROHS design
Tripp Lite brand
PV200CUSB model number
Affordable price
Long-lasting body
Free technical support based in Chicago
Lightweight: 1.1 pounds
Product dimensions: 5" L by 3.2" W by 7.3" H
The list of features can help the future buyers make their buying decision. All the features are listed comprehensively. Therefore, if you have a question related to its size, weight, warranty and features, please use the list of features as a guide.
FAQs on Tripp Lite 200W Power Converter
If the inverter is off and the car engine is off, will it draw power from the car battery?
No! It should not draw the power from the battery in this situation. Same thing is also mentioned by a user on Amazon. He says that he left the inverter connected with the battery for months in his car without a problem.
I want to know about Tripp Lite PV100USB inverter. Can anyone confirm if it is a good power inverter?
Yes, the Tripp Lite PV100USB is a good power inverter as confirmed by many users on Amazon. He used it for more than one year without any issues. However, he said that the inverter has a little fan noise.
Can I charge a 60W laptop using the Tripp Lite 200W power inverter?
Yes, of course! You will be able to charge any devices up to 200W power requirement.
Will I be able to blow up two air mattress (queen size) using the Tripp Lite 200W inverter?
You have to decide the wattage of your mattress first. If these mattresses need less than 200W power, you will be able to power them. To determine the wattage required to power the air mattress, please look at the mattress box. I am sure the wattage may be mentioned there.
The FAQs are based on the Tripp Lite 200 watts power inverter. If you have a question, try scanning the list of FAQs mentioned above. Some of the common questions have been answered here.
Pros
Tripp Lite is a trusted name for quality inverters.
Reasonable price
Reliable performance
The USB ports deliver good charging speed.
Inverter fan runs silently.
Users liked the cup holder design.
Stable placement in a car due to the cup holder design
Cons
For a good performance, one needs to use a 16 AWG cable.
It can only handle up to 150W load via the cigarette lighter plug.
The key pros and cons have been mentioned above. These pros and cons can help decide whether the product is useful according to the needs or not.
Since Tripp Lite brand has a good image on the market, so I will recommend buying the Tripp Lite 200W power inverter. From the list of pros, I can see that it is a solid DC to AC converter that delivers reliable power. Many users have appreciated the cup holder design of this inverter because it fits perfectly. For a stable installation, the cup holder design is very good. Personally, I liked it.
Apart from the cup holder design, people praised the four output ports it comes with. They say that the USB port delivers fast charging being just 2.1A USB port. The two AC outlets are NEMA 5-15R outlets for a reliable performance. Read more…