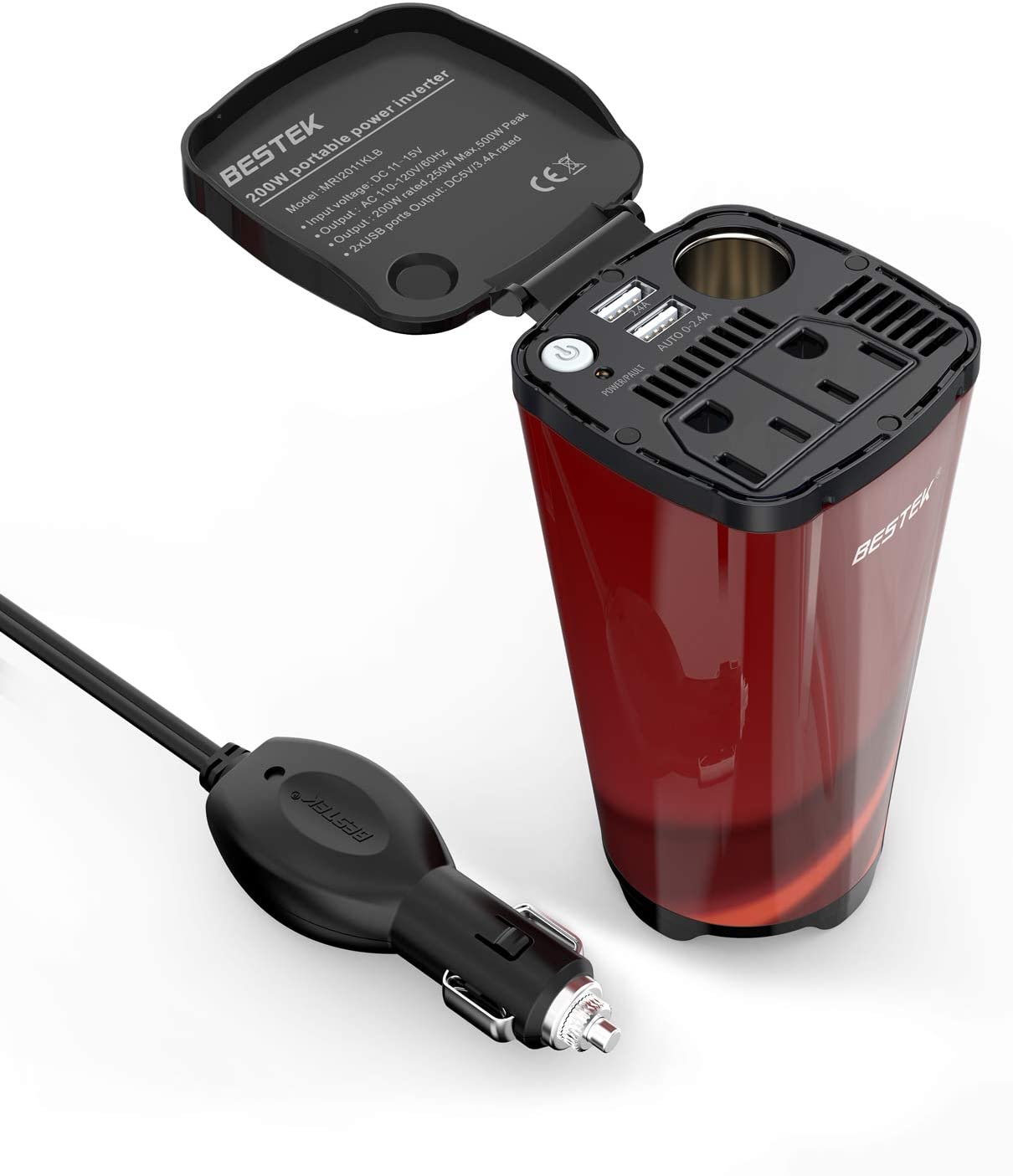 If you prefer to buy a uniquely designed power inverter, you can check BESTEK 200W car power inverter. Personally, I love its look. The Bestek 200W power inverter delivers 200W continuous and 400W peak power. It features two AC outlets, two USB ports and a 12V cigarette lighter plug. From the USB ports, you get fast device detection and charging performance because they are 4.5A USB ports. In case, you need to connect 110V devices, please use the 110V AC sockets.
BESTEK says that it has a 5-in-1 design that combines AC sockets, USB ports and the cigarette lighter plug. Which means you can use this 200w power inverter to charge up to 5 devices simultaneously. The 200-watt power inverter has a two feet power cord that is good for the flexible use. In your car, you can access the power inverter from anywhere because it has a long power cord. The cigarette lighter plug fits tightly into the car DC sockets. Since it fits nicely, you will not have connection fluctuation issues, you will receive reliable power to charge your preferred devices.
The BESTEK 200W power inverter has dual USB charging ports, which are good for connecting many devices such as kindles, iPads, iPhones, music players, digital cameras and other entertainment equipment.
From this Bestek 12V power inverter, you can expect full protection because it has an auto-shutdown capability that saves the connected appliances from any serious damages. It features 25A built-in fuse for the protection from under-voltage, over-voltage, over-load, over-current, over-temperature and short circuits. Please know that this Bestek 12V power inverter is inly for 12V car. In case, you need to use with a 24V battery, this power inverter is not for you.
The Bestek 110V power converter is also protected with an 18-month warranty so you do not have to worry of anything because you have 18-months in your hand to claim your warranty. The Bestek power inverter 200W comes included with a user manual. Please refer to the user manual to understand operation and features of this power inverter.
Features & specifications
DC 12V to AC 110V power converter
Two USB ports
Two AC sockets
200W continuous and 400W peak power
Built-in smart cooling fan and 25A fuses
Silent operations
Cigarette lighter plug
5-in-1 design
24-inch cigarette lighter cord
4.5A USB ports
18-month warranty
User manual
Pros
Perfect for laptops, phones and other small devices
A handy inverter for charging small devices
Competitive price
Compact design
Cigarette lighter plug included
Built-in cooling fan to get rid of over-heating
Cons
Customers have experienced problems with the USB ports
18-month warranty is not true as reported by many customers