In FLAMEZUM Inverter Review, you will learn about the 1000w power inverter. Well, FlameZum power inverters are also very good but you cannot compare them with BESTEK and other popular brands. In case, you want to buy an affordable 1000W power inverter, FlameZum 1000W power inverter can be the best choice because it is a pure sine wave inverter. From a pure sine wave inverter, you get clean output that is acceptable by all devices. In fact, pure sine wave is perfect for sensitive electronics.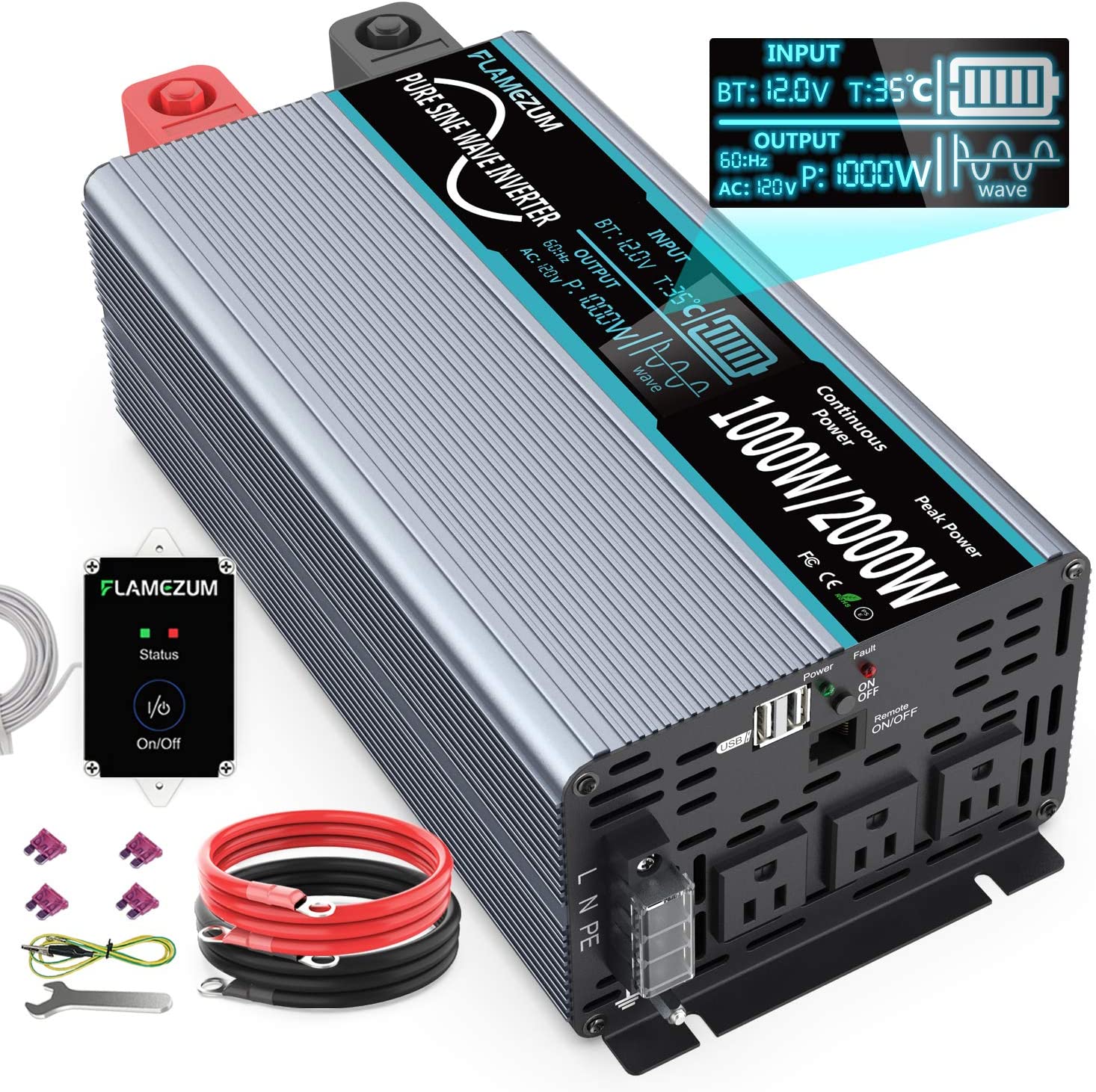 FlameZum 12V power inverter features three AC 110V outlets and two 2.4A USB ports. With these output sockets, you will be able to run multiple appliances, just make sure they do not draw more than 1000W power. The
110V power inverter
delivers 1000W continuous and 2000W peak power. With this power inverter, you can run any appliance that requires less than 1000W power.
The FlameZum 110V power inverter has too many uses because it has three AC outlets and two USB ports. Therefore, the 12V to 110V power converter is perfect for indoor and outdoor applications. You can use it in vehicles such as RVs, semi- trucks, trucks, cars, boats. The solid power adapter is perfect for emergency power backup, remote power requirements and many others. Please know that you have to connect this 12V inverter with a 12V battery then you will be able to charge your devices and power your home and kitchen appliances. It delivers pure sine wave output, so it is perfect for many power tools that require steady and clean electricity just like the household utility line.
Super safe: the 1000 watts power inverter is fully protective because it has multiple safety features to protect not only the connected appliances, but also the battery and the power inverter itself. The protective inverter has separate input and output functions and it has a soft start feature. Moreover, it has a sound-based alert capability that warns you in case anything wrong has to happen. As a result, the FlameZum power converter protects from overload, overcurrent, overheat, short circuits and other electrical faults. The 12V inverter feature an LCD display that can also be counted as a safety feature because it provides information on power consumption, battery uses and protection related things.
What does the package contain? The package contains a Flamezum 1000W power inverter, a wired remote control, two battery cables, a user manual, an 18-month warranty and customer service team.
Highlights of 1000W Power Inverter
Pure sine wave output (less than or equal to 3% THD)
90% efficiency
1000W capacity, 2000W peak power
Three AC 110V sockets
Two 2.4A USB charging ports
15 feet remote control
A temperature control fan
A pair of battery cables
Full load alarm
Electrical fault protection
Separate connection socket for heavy appliances
The above mentioned highlights an important part of FlameZum Inverter Review. I see it has good features such as remote control, 110V AC sockets, USB ports, alarms and a pair of battery cables.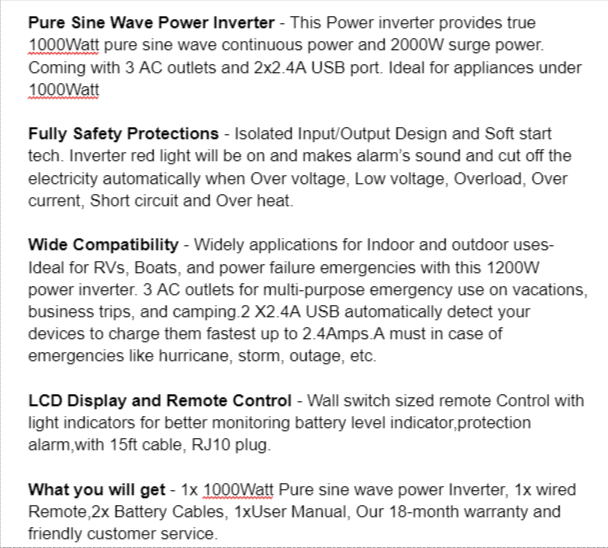 Pros
Perfect for vehicles, solar systems, emergency power backup, homes and others
Pure sine waveform
Good efficiency
Competitive price
Remote connection
Cons
Digital display should be clearer than what it is.
Small battery cables
Conclusion of FlameZum 1000W Power Inverter
To summarize, I will say it is an average-performance power inverter that has a mid-price and has all the features that are found in a common power inverter.  The good thing is that it delivers clean electricity output as it is a pure sine wave unit. It has remote control and many connection features so the installation and operation would be easy.