Sometimes a low price product works better than a high price product. Yes, it is true. The Ansee 200w car power inverter review will be helpful to get a high quality inverter in a low price. It delivers a good charging performance and it comes in a thin design for the travel use.
The Ansee 200w inverter has numerous connection sockets including two AC outlets and four USB charging ports. One of the USB ports is a quick-charge 3.0 port to charge USB devices very quickly. It also has a cigarette lighter socket which facilitates an easy connection with the car battery.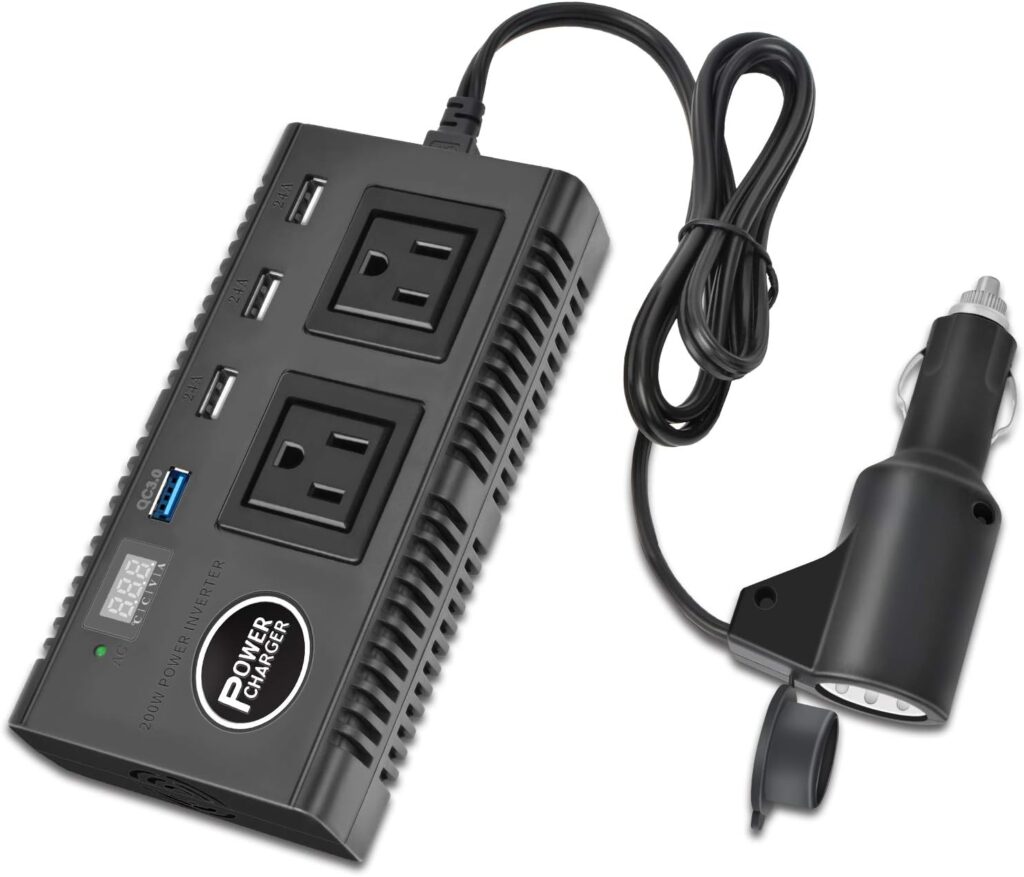 Please note that it is a small capacity car power inverter as it can output just 200W power. Therefore, it is only good for charging small devices like laptops, mobile phones and other small gadgets requiring less than 200W electricity.
Highly Protective Small Size Car Power Inverter with Built-in Fuse & LED Screen
The Ansee 200-watt power converter has eight protection systems to protect the inverter and connected devices from over-voltage, low-voltage, over-load, low-load, excessive temperature, over-charging and short circuit. You can see almost all the electrical and other faults are protected under the protection systems of this power inverter. Consequently, it is a highly safe power converter that ensures the utmost safety to the connected devices.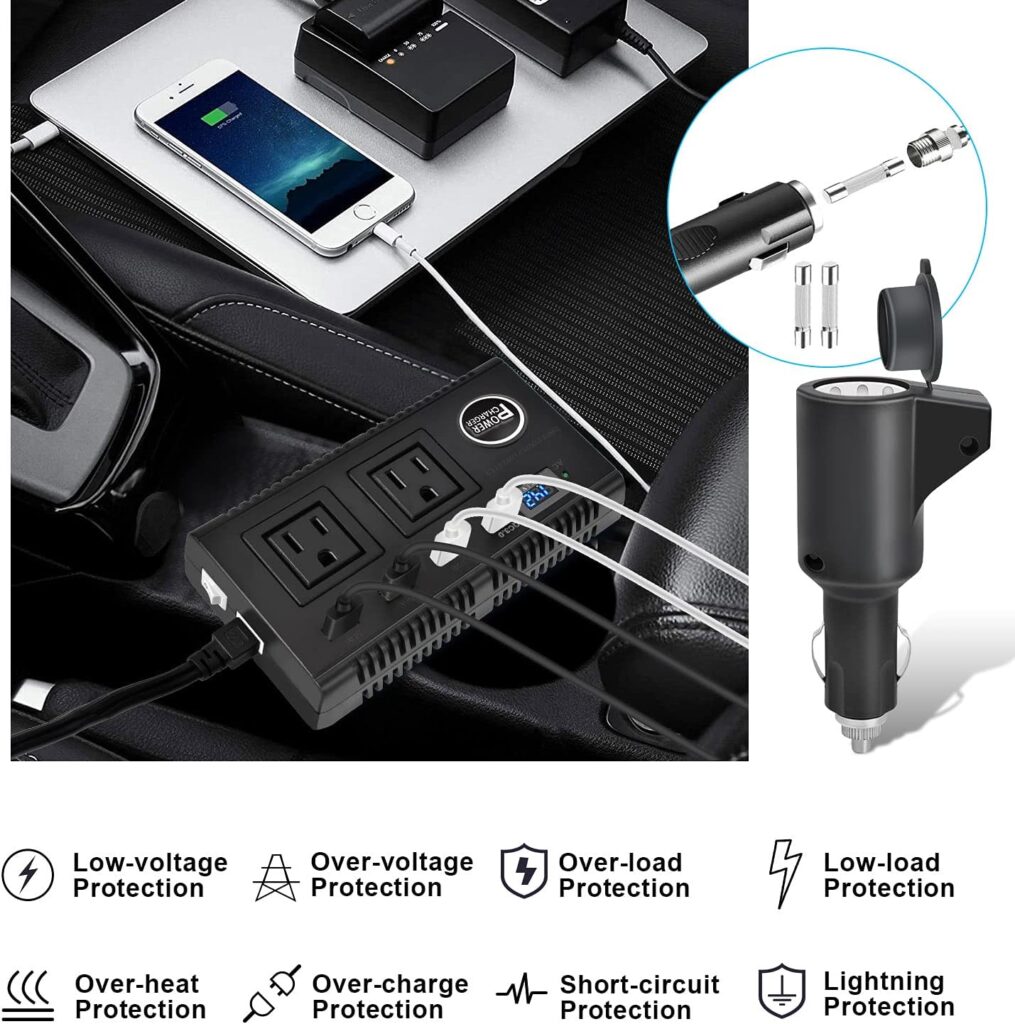 Built-in fuse – You already know that a built-in fuse is also a safety feature in device. So, this Ansee inverter has a built-in fuse to protect the inverter as well as connected devices from a serious damage. Not only this, the unit comes with two replaceable fuses that may use to replace the built-in fuse. As mentioned above, the fuse protection is mainly to protect from short-circuit overloads.
LED display – an LED display in an inverter is an informative feature because it shows the current status related to the battery voltage, output voltage, charging speed and more. Therefore, you can take action based on the LED display. It is a great monitoring tool to know the real time information about the inverter, battery and charging status.
Device compatibility – as per the manufacturer, the Ansee 12V converter is highly suitable with a wide range of devices including breast pump, cell phones, laptops, gaming machines, CPAP machines, tablets, string lights and more.
Key Features & Specs of Ansee 200W Inverter
| Product name | Ansee 200W Power Inverter |
| --- | --- |
| Output wattage | 200W |
| Input voltage | 12V |
| Output voltage | 110V |
| USB ports | 4 USB charging ports |
| AC outlets | 2 x AC 110V outlets |
| Cigarette lighter plug | Yes |
| LED display | Yes |
| Power source | DC |
| Output current | AC |
| Item dimensions | 1.5 x 5 x 6.5 inches |
| Total power outlets | 6 (2 x 110V AC outlets, 4 x USB ports) |
| Built-in fuse | Yes |
| Protection features | Low voltage, over voltage, overload, low-load, overheat, short circuit |
| Efficiency | 80% |
| Package contents | 200W power converter, power cable with cigarette lighter, user manual and fuses |
| Output waveform | Modified sine wave |
| Over-heat protection | 65°C |
| Weight | 360g |
| Availability | View on Amazon |
Please refer to the spec table to read specifications and features of Ansee 12V Power Inverter. It is a lightweight power converter that weighs just 360g and has a wide range of protection capabilities. The total output wattage is 200W, which is very good to charge various small gadgets on the go. In fact, it can be the best portable unit for using in a car. It converts the 12V DC power into 110V AC useable electricity to charge various devices.
Budget Car Power Inverter with a Little Noise
Undoubtedly, it is a budget inverter. People are happy with the purchase because by paying just $$ they are able to charge many small devices simultaneously. One thing to note here is that it is not as quiet as a laptop. Yes, you may hear a little noise when it is on a high load. However, most users didn't complain about noise comes from this small size inverter as it is ignorable. You also have to see how low price you have paid to acquire this power inverter.
Many users are happy because they are able to operate a 55-inch TV, power Christmas lights and many other small devices. Of course, it can be a wonderful low price unit that gets the job done.
Undoubtedly, it can be the perfect mate for the frequent road travelers because it has several USB ports and an On/Off switch, which is very handy and an energy saving feature. So, during the travel hours, you can easily charge your laptops and other personal devices effortlessly using your car battery power.
Pros
Great for charging laptops, phones and other small devices
It has 4 USB ports to charge several devices simultaneously.
Everything functions as advertised.
Nice small size unit
Super low price
A great car power inverter
Great quality
The On/Off switch is very handy.
The fan runs steadily.
Users love it because it gets the job done.
Great for travelers
Cons
A little noisy
Low wattage, just 200w
The Ansee 200w power inverter is loved by its users because it is a small size car power inverter. It is very handy to use undoubtedly. More importantly, it sells at a super low price if you buy it from Amazon. Many users mentioned in their reviews that it works as advertised and it is a good power converter to get the job done.
Conclusion – Ansee 12V Power Inverter
In the conclusion part, I will say that it is one of the superb small size power inverters. It has various connection features including 4 USB ports to connect various devices simultaneously. Not only this, it is a super affordable product that is in a small size and in a lightweight profile. It has a handy on/off switch, which is very useful and energy saver too because when you need to charge your devices, just use the on/off switch and when the charging completes, you can switch off the power inverter.