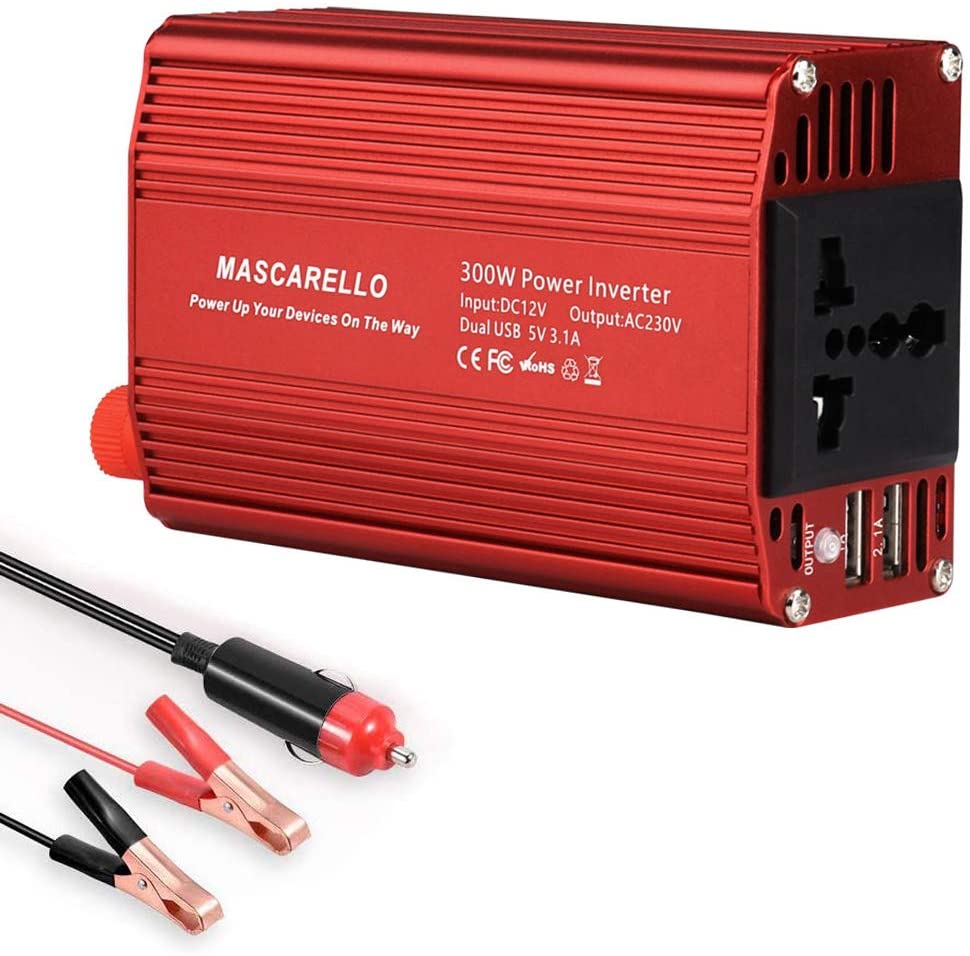 COMLZD is a new inverter brand. If you prefer to buy a new brand power inverter for a low price, you can check COMLZD 300W power inverter. Well, all brands are good; new and old. The problem is people do not trust a new brand. In addition, a new brand product lacks reviews and recommendations because it arrived shortly on the market. Therefore, I will say buying a new brand product may be risky a little but there are countless product brands on the market; they want to establish themselves by offering discounted price, high quality product.
Well, coming to this COMLZD 300W power inverter, it looks impressive, solid and a dependable power inverter. According to the manufacturer, the 300W power inverter serves multiple purposes because it has rich features for varied applications.
The 300W COMLZD power inverter does the great job of converting DC 12V to AC 110V power. It has 300W continuous and 600W peak power. Such 300W power inverters are perfect for charging small devices such as CPAP machines, laptops, cell phones, breast pump, televisions, nebulizer, gaming machines and various entertainment devices.
From this COMLZD power inverter, you can expect good protection because it comes with multi-protection capabilities. The 12V power inverter has built-in fuses to protect the connected devices. It also has a safe charging design that is highly protective against common electrical issues such as over-voltage, over-load, under-voltage, short circuits, over-temperature and many others.
The COMLZD 300W power inverter has two USB ports and two AC outlets. You can expect a fast charging performance from these USB ports and the AC outlets. Using these various connection sockets, you will be able to connect any devices you want. You can connect digital cameras, MP3 players, laptops, tablets and various other amusing devices.
To keep the internal system sufficiently cool, the COMLZD power inverter 300W has built-in quiet cooling fan. The inverter has aluminum exterior and a safe charging design. With all these features, the inverter is safer than others are because the heat dissipation is done very well. On the other hand, the strong aluminum cabinet is there to protect the inverter from drops and bumps.
Additionally, who does not want an ultra-compact power inverter? This COMLZD power inverter is about iPhone size, which is good for the easy storage in your vehicle or homes. The power inverter comes included with a cigarette lighter plug that is well compatible with a car DC socket. Since the cigarette lighter plug is long enough so it is perfect for the person sitting at the back seat in the car.
Highlights
300W output power
600W peak power
Perfect for various small devices, cars, and homes and emergency power backup
Multi-protection features
Built-in cooling fan
Cigarette lighter plug 31 inches
Converts 12V DC to 110V household AC power
Dual USB ports and dual AC outlets
Fast charging design
Aluminum case
Silent cooling fan
Ultra-compact size
Comes included with alligator battery clips
Pros
Good quality and good price
Perfect for various vehicles
Good size, easy to transport, easy to handle
Highly safe to use; best protection features
A great emergency power backup tool
Cons
Comes from a new brand that is less trusted
A little new product smell remains for few days