Femedo is not a popular brand but it makes some powerful inverters. For a low budget, Femedo 330W power inverter can be the best choice. The inverter features 4.2A dual USB ports and 2 AC outlets. These connection sockets are very easy to connect multiple devices. Thus, Femedo car inverter is very useful to charge many devices such as laptops, mobile phones, televisions, DVD players and various other electronic gadgets.
The car inverter is good to charge your most of electronic gadgets. It delivers 300W continuous power and 600W peak power.
Advanced cooling design – the power inverter has an inbuilt cooling fan that runs silently. The state-of-the-art cooling fan aptly does its job to provide cooling to the entire system. Thus, any chance of electrical fault is prevented.
Protection – the Femedo 300W power inverter reduces minimizes over-load problems; short-circuit faults and voltage irregularity. This inverter is powered by an advanced technology that makes it much protective.
Packaging box – the package consists of a 300W car inverter, an owner book, an 18-month warranty card and quick-response customer service assurance.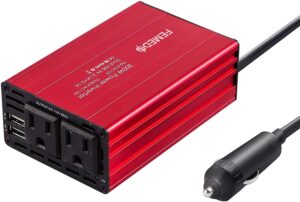 Uses of Femedo 300W Car Inverter
This is a compact and long-lasting inverter. Thus, it is perfect for business trips, road travel, holidays and camping. This inverter is primarily made for vehicles. However, you can use it as a household charging tool as well.
The portable inverter has many uses. You can charge electronic devices such as mobile phones, iPods, laptops, festival lights and other household electronic items. For the charging convenience, the 300-watt inverter features 2 x USB ports (4.2A) and 2 x AC outlets for a seamless connection with electronic devices.
Specifications
300W current
DC 12V input power
AC 110V output power
Modified sine wave
Red color
According to the specification list, the Femedo 300W car inverter is a great power helper because it delivers 300W continuous power, which is enough to charge a wide range of household and other electronic devices. Such medium-level of inverters are in demand today because it can be used inside and outside the home.
User's Thoughts
According to an Amazon user, this works as a great car inverter. This is very convenient in disastrous circumstances. Since, it is a portable and lightweight unit, so it can be used anywhere, anytime in any situations.
As per a user, he used in camping, on mountains to charge his devices. It is a must-have power backup tool for persons going for outing.
An Amazon customer said in her review that she purchased this item for her boyfriend's fishing trips, and it worked according to the expectations. Of course, there are too many uses of this Femedo power inverter. Primarily, when you travel and you require a power backup.
The Convenience
Since, Femedo 300W power inverter is a travel friendly unit, you must purchase it for your assistance in the journey. The car inverter features two standard plugs and two USB ports. Using these connection methods, you can charge your preferred devices like mobile phones, iPad, laptops, and even connect with your speakers. Most importantly, this is a great tool for the emergencies when every second becomes very risky.
Pros
Portable and lightweight
USB and normal sockets
Low price
Traveler companion
Noiseless operation
Charge multiple devices simultaneously
18 months warranty
Friendly customer service
Cons
Not good for load intensive appliances
Femedo seems a new brand name
Well, Femedo car inverter gives you countless advantages along with few disadvantages too. It is true that this is a good power inverter, but it is only good for devices up to 300W power consumption. Those devices that require more than 300W power, this power inverter is not helpful for such large appliances. According to many users' reviews, this is a great and convenient power inverter, which is very helpful for camping, road trips, business trips etc.
Verdict
In short, this is a compact-size car power inverter that comes at a low price. The Femedo 300W car inverter is very convenient for travelers because they can charge multiple devices simultaneously. It has multiple connection sockets such as USB ports and AC outlets to connect various devices such as laptops, smartphones, speakers and other low wattage devices. Surprisingly, the price is very low, and it comes with an 18-month warranty and quick-response customer service.