A 300W car inverter has many uses because it can charge numerous electronic devices. It is also a traveler friendly inverter, which means it is a good helper during camping and road trips for charging electronic devices. In case, you are looking to purchase a portable car inverter in a low price, kindly consider buying SpeedWatt 300W Car Inverter.
SpeedWatt inverter gets the input power from two sources such as car batteries or cigarette lighters. It takes DC 12V input power from the battery and transforms into 110V AC current. Further, the AC current is used to charge various electronic gadgets.
Amazingly, this is a compact car inverter, which is lightweight too because it weighs only 1.3 lbs. That means, you can comfortably carry it during the travel time. Additionally, it has many uses in offices and homes because it can charge mobile phones, laptops and various other household and office equipment.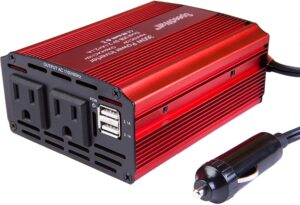 For the durability, SpeedWatt 300W car inverter has high-class aluminum housing, which is very protective externally. To safeguard the inner circuitry system, the car power inverter has many protection features. Firstly, it features an integrated fuse to deal with over-voltage and voltage-fluctuation, while the quiet cooling fan does its job to provide sufficient cooling to the inverter.
In case, you are a car traveler or an office owner, you must purchase this low-price car inverter. The inverter uses an advanced technology that makes it an industry-leading inverter. Without any doubts, the SpeedWatt inverter will be very helpful to meet your power needs.
Features & Specifications
40A fuse
Noiseless fan for cooling
140° max working temperature
1.4 lb weight
DC 12V input power
110V AC output power
300W operation power
480W peak power
Solid packaging
Based on features and specifications, the car power inverter looks performative, portable and lightweight. The beauty is it is a low price but high performance inverter. It lets you charge your electronic devices using multiple connection sources such as USB ports, AC outlets. To provide appropriate cooling to the system, the inverter features a built-in fan, which runs noiselessly.
SpeedWatt Inverter – An Essential Car Inverter
According to a customer at Amazon, this is a perfect 300W car inverter for road travelers and day-to-day uses. Now he not only works from home, but also works from anywhere during the Covid-19 time. Previously, he had a 150W power inverter, which was too noisy, now he purchased this SpeedWatt car inverter, which runs quietly and delivers the best performance. According to him, this is a good power inverter to charge various electronic devices including laptops, selfie stick, GoPro, iPhones, Pad and mobile phones.
With this SpeedWatt 300W inverter, he is able to charge multiple devices simultaneously. He is able to charge four devices simultaneously: two USB devices and two laptops.
Pros
Multi-purpose inverter
Dual input power sources
Space-saving design
Firm aluminum cabinet
Lightweight
 Compact-size
Easy to use
Suitable for road trips and camping
Competitive price
Well, you can see the list of pros and cons. It has only pros and just one con. Of course, it is a capable charging machine, which can charge multiple gadgets at the same time. From the outside, the SpeedWatt car inverter looks beautiful and the outer body is strong enough to handle most of the external things.
Conclusion
To conclude, SpeedWatt 300W Car Inverter is the best price inverter that delivers the best performance. In camping, you will be able to charge your laptops, mobile phones and numerous electronic gadgets without any problems. Of course, this is an easy-to-use inverter because it carries a compact size, space-saving design and multiple connection ports.