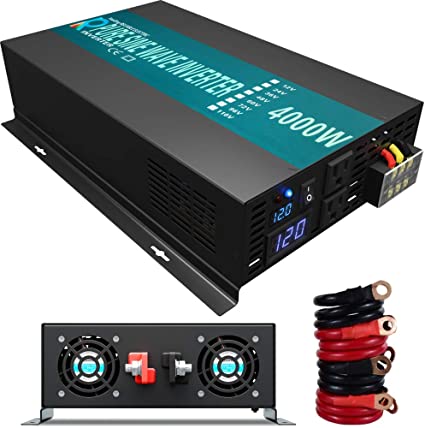 A pure sine wave power inverter is in high demand today because it is considered to deliver smooth and clean power to the connected equipment. If you wish to buy a pure sine wave inverter then you can check WZRELB 4000W power inverter. The pure sine wave inverter has many applications; you can even connect it with your solar system.
WZRELB 4000W power inverter comes included with all the accessories that you need for the installations. The 110V power inverter comes with four cables with their respective terminals and a user guide. In fact, the user guide is very helpful to understand the installation and operation of this solar power inverter.
The main task of an in inverter is converting DC power to AC power. This 12V WZRELB power inverter does the good job of the current conversion. It converts DC power from the battery to 120V AC power. The WZRELB 120V inverter features US-type outlets. You can use these power outlets to operate your home appliances. Also, you can use this 4000-watt power inverter in homes, offices, industries, emergency power supply and various other outdoor applications.
When it comes to its actual capacity, the power inverter delivers 4000-watt continuous and 8000-watt surge power. The 4000w output is enough power for an off-grid power system. Such inverters are also very good for the emergency power requirements.
The WZRELB 4000-watt power inverter is always ready for the rated load. Even your appliances use its total output, i.e., 4000-watt power; the inverter will still deliver reliable performance. The good thing is that WZRELB power inverters do not get any complaints related to their rated power and efficiency. It is reliable because it has 2mm thicker PCB board that helps work on substantial load. Such power inverters are perfect for home appliances. Read more…