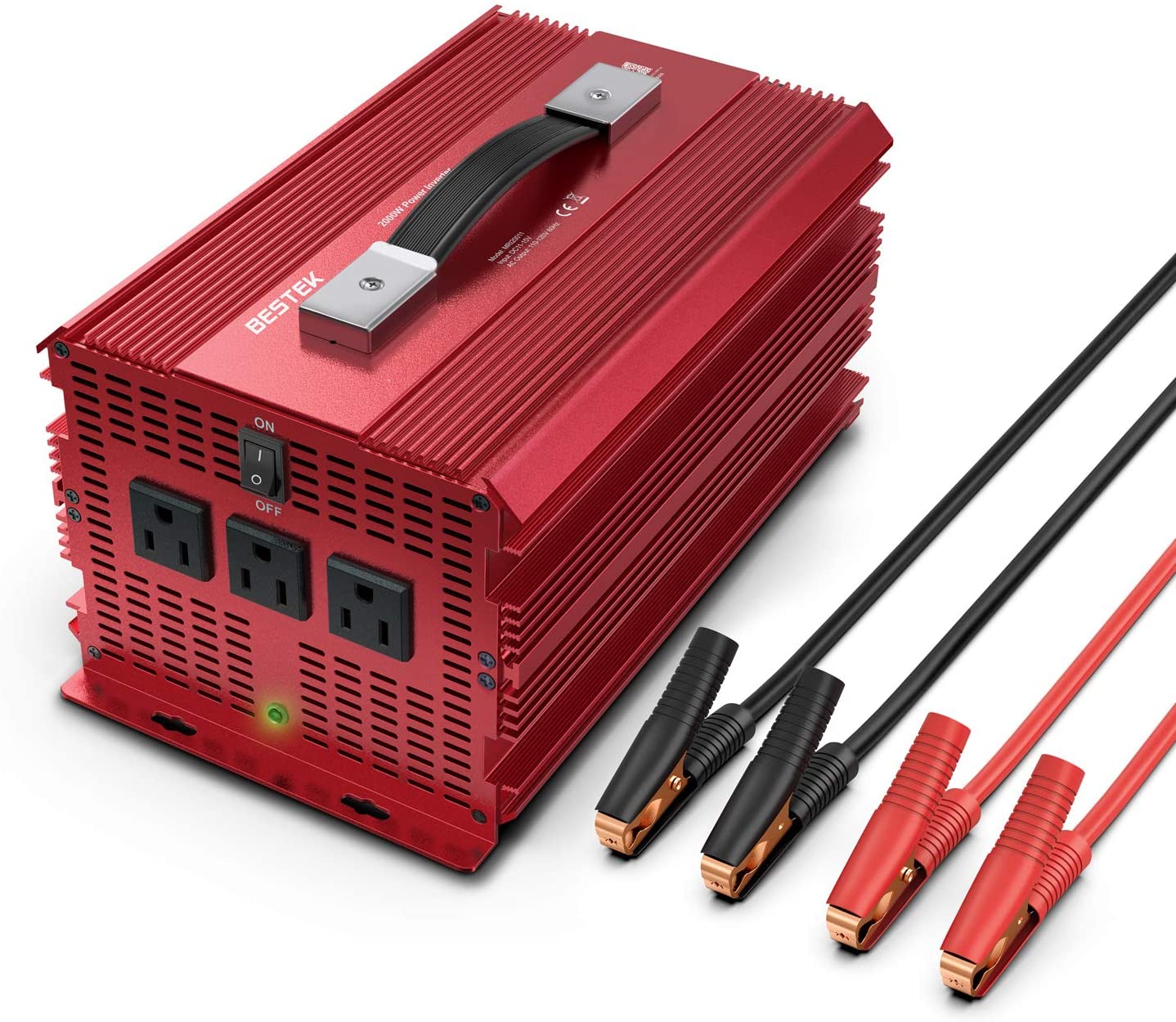 On InverterReview.com, various Bestek inverters are reviewed. Now please check this 2000-watt Bestek power inverter. The specialty of this inverter is that it is an ETL approved product. Also, most power inverters do not come with a carrying handle but it does.
Well, Bestek tagged themselves as the leading inverter brand in the USA. At some extent, it is true. Bestek power inverters are in high demand by Americans.
Coming to this Bestek 2000watt inverter, Bestek claims that it has rated output power from 2000W to maximum 2300W. You get 200% surge power of the continuous power. I will say that it has more than 200% surge power because according to the product description, the Bestek 2000-watt inverter has 4600-watt surge power. Well, all of you would be familiar with the surge power of an inverter. However, some people may not be aware of surge power. Well, surge power in an inverter is only for few moments. Usually, surge power is needed by some heavy appliances at the beginning for few seconds. To meet this power demand, most of the inverters come with extra power, which becomes surge power.
For your information, the main task of an inverter is power conversion. Mainly, they perform DC to AC conversion. Well, you will find some power converters that converter AC power to DC power. Bestek 2000W power inverter converts 12V DC (battery) power to AC 110V power. You can use the inverter's output power to run several devices, appliances such as microwaves, fridges, washing machines, bread toasters, hair straighter and many others.
The Bestek 12V power inverter features three 110V AC outlets. You can use these AC 110V outlets to supply power to your home appliances. These outlets are 3-prong outlets that are often found in the houses in America. Well, you not only supply electricity to your home appliances, but also use it for vehicles, camping, business trips and emergency electricity requirements.
The Bestek power converter has multiple protection features. Most power inverters have four fuses but it has six external fuses, 50A capacity each. These built-in fuses safeguard the connected devices from over-current and other electrical faults. You can also count an audible alarm as a protection feature. This safety alarm informs you about inverter problems, short circuits, over-voltage and many other electrical problems. The protection based LED indicator informs you with the help of different colors. Red light means under-protection/shut-down and green light means normal working status.
The Bestek 2000W inverter has aluminum case that makes the inverter strong enough. This robust inverter can work anywhere even in opposite situations. Such powerful power converters are perfect for campsites, vehicles and emergency power requirements.
Additionally, you not only get just this 2000W power inverter, but also you get required accessories such as four battery clamps with cables, six spare fuses and an 18-month manufacturer warranty. Read more…